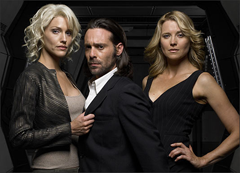 I still watch Survivor. Blow me. If you like reality shows, it's still the most successful format. If you don't like reality shows, make sure you say so loudly at every opportunity. That way other people will think you are smart and like you more.
Or secretly hate you. Whatever. I just wanted to mention reality TV before I launch into my personal list of top TV shows for 2006, because although there are no reality shows on the list, I still don't understand why it's cool to watch Lost and uncool to watch Survivor. I'd still rather watch real people in artificial situations and all, than watch people recite dialogue written by hacks.
Dialogue written by genre-busting geniuses is another matter, and so:
OK, big surprise -- I never shut up about it. But if you're going to write about TV you must bow down to the best TV series now and arguably ever. Season Four has now concluded and -- surprise again -- it was bleak. If that's all it was, few would care. The Wire is much more. Check the letters (subscribers only) written to Salon.com about the season finale; people are moved and shaken by this program.
A character died in the finale and people were genuinely upset. And yet a few seasons earlier that same character had cold-bloodedly murdered a sweet, innocent kid, a death that stunned Wire fans just as much. Why didn't viewers cheer the killer's death, then? Watch the show and you'll know. You'll also see a likeable kid who needs to look after his little brother and another likable kid who tells the truth at the wrong time. The first kid follows a trail of circumstances that will make him a monster; the other enters a spiral of street vengeance and institutional dysfunction so wretched you'll be praying he wasn't based on anyone real. And those are only a few of dozens of the people whose stories intertwine in this fictional/real Baltimore.
Season Five has already been guaranteed by HBO, which may explain why season four was able to leave so many plotlines unresolved. Rent the DVDs and you'll become permanently dissatisfied with every other facile, good-and-evil, solve-that-crime cop and law show on TV.
On the season finale of The Wire, there's a quick shot of a hospital patient watching HBO stablemate Deadwood. "Haw, haw," brays the patient in The Wire, "he called him a c***sucker."
Doesn't narrow it down much, episode-wise. That particular obscenity is the blood and sinew of every Deadwood script. Play that Deadwood "cs" drinking game and you'll end up drunker than Calamity Jane. Cast members have joked about a new spin-off called CSI: Deadwood, but in this case the "CS" doesn't stand for "Crime Scene."
Deadwood is another leading candidate for Best Series on TV (a.k.a. Best Series on HBO), but it has not been as lucky as The Wire. For some c***sucking reason, David Milch's baby was denied the fourth season its creator/writer desperately wanted. After three full seasons Deadwood will be wrapped up by a couple of concluding two-hour movies sometime next year. Too bad. The show deserved to play out as Milch intended. It's an intoxicating, complex, idiosyncratic ensemble drama that features one of the greatest characters on TV -- Ian McShane's creation of saloonkeeper Al Swearingen. It's remarkable to check McShane's resume and realize that, despite a long and thoroughly respectable career dating back to films like The Battle of Britain, he's never really had the chance to do something like this before. Hope the scripts are piling in now. (Deadwood is now on the History Channel.)
'Moyers on America: Capitol Crimes'
An occasional series of long documentaries on PBS, Moyers on America offered up one of the most compelling pieces of TV I saw this year. The documentary Capitol Crimes offered a clinical dissection of the Jack Abramoff/ Tom Delay corruption scandal, and even worse, a convincing picture of endemic Congressional corruption. It's one thing to hoist a beer and say politicians are crooks -- it's another to go out and make the case with damning clarity. Exit polls in the US midterm elections showed a surprising number of voters listed corruption as a key issue. Wonder how many saw this show? (Honourable mention here to Frontline, the consistently excellent PBS documentary series.)
I include this increasingly acclaimed series with some hesitation. As much as I like it is as much as it frustrates me, frequently. Wonderful when it's good, facile and/or turgid when it's not. And this has not been its best year. Is it a coincidence that this season has also been lighter on Vancouver's own Grace Park The Vancouver actor's tormented Cylon character(s) represent what's best about Battlestar: emotional complexity, existential angst, mixed with the combustible possibility of betrayal and disaster. More Grace please, and more forward momentum in the central story. Cylons and humans: what is their ultimate destiny? I'm predicting some sort of rapprochement in the end.
'The Daily Show' / 'The Colbert Report'
They are having their moment, these guys, and it is richly deserved. Jon Stewart and Stephen Colbert have helped to redefine political humour in America and have had a genuine impact on the political climate while doing so. Jon Stewart is still the kingfish, but Stephen Colbert is the one getting new words into Websters. While Colbert's true target is the Fox News model of right-wing media pandering, Stewart is freer to attack anybody who deserves a harpoon. Thank God Stewart arrived in time for the Bush Administration -- it took someone this funny and writers this perceptive to gradually defeat that endless episode of Political Fear Factor. Long may they puncture.
What's the top show of 2006 in your opinion? Make a case for it below in the comments section.
Related stories