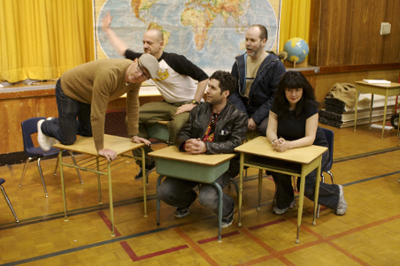 Q. Is school: a) A factory system designed to churn out worker bees who wouldn't dream of challenging the status quo? b) A nurturing environment where friendships are forged, young minds developed and emerging talents and identities safely explored? c) An elaborate restaging of Lord of the Flies? d) Some amalgam of the above.
Whatever the answer-and it's different for everyone-the K to 12 experience marks us all. Two new art exhibitions aren't so much providing answers as playing with the structural elements in order to recontextualize the school and the playground, respectively.
'VANCOUVER SCHOOL'
Vancouver School is the title of a collaborative sculptural installation exploring the culture of school. It was created by five acclaimed B.C. artists-Douglas Coupland, Graham Gilmore, Angela Grossmann, Attila Lukacs and Derek Root-who have been friends since their student days at Emily Carr in the 1980s. As the raw material for the installation, the artists were given access to a soon-to-be-demolished North Vancouver school complete with all its contents-from urinals to ukuleles; everything but the guinea pig. Using the available objects, they've created a teaching exhibition in support of an innovative arts program called Artists for Kids.
"The school locked the door a year ago and there was still homework in the desks and retainers in the lost and found," says Coupland. "It was as if dinner was on the table and everyone just vanished."
'Diffusing authority'
Had you visited the abandoned school before its contents were transformed and installed in the Artists for Kids Gallery in North Vancouver (where it will be visited by a busload of schoolchildren every hour for the next month), you might have heard the artists broadcasting comic messages over the still-working PA system, which echoed to the neighbouring condos. Kitsch '70s educational film strips were spliced into a new film set to French children's songs and Bob Dylan. Bathroom stalls were dismantled to create an outdoor maze. And overhead and slide projectors were converted into a hanging sculpture called the Death Star.
Though they have previously exhibited together, this time the five set aside their signature styles (all but Coupland are painters) and determined each aspect of the project by consensus. Given their independent natures, they knew it was a risky endeavour.
"We're not a nurturing group," says Grossmann. "We care about each other deeply but we won't sugarcoat. We aren't afraid to say, no, that's terrible, stop."
"I actually thought there would be more psychodramas than there were," says Root. "Of course, it's not over yet. But what was really invigorating was having an idea and then someone makes a suggestion you'd never think of that jolted us out of our personal systems of thought."
The diverse installation includes a principal's desk and PA system scaled to children's level, where they can play the wizard behind the curtain. "It's the idea of diffusing authority," says Grossmann.
Wall o' urinals
Many of the objects have been repurposed in Duchampian ways. Urinals were commandeered to make a "climbing wall." Another hanging sculpture is made of school trophies. When a group of retired principals and vice-principals came by to volunteer their services to the labour-intensive project, one of them stared at it wistfully. "We worked so damn hard to get that," he said, pointing to a high school volleyball trophy from the '70s "and now look where it is." That, perhaps, is the point: a symbol of all the achievements and objects we're conditioned to strive for that are soon collecting dust.
High on the gallery wall are blackboards with questions derived from a true-false questionnaire used to determine whether parents are fit for child custody "I was on the cover of several magazines last year," reads one. "If someone criticizes me for making a mistake, I would quickly point out some of that person's mistakes." "I have not seen a car in the past ten years." The questions are both inane, shocking and somehow perfectly reasonable. Their combined effect is a sly commentary on society's obsession with standardized testing that also merits questioning.
"I always thought that if I was a teacher-which I would never be, because I don't have the patience-I would hire a troupe of four gymnasts and have everyone sit at their desks as they did a performance, bouncing from desk to desk and jumping out the windows," says Coupland. "Afterward you could never look at the space the same way again. It would become a space of possibility and options. We did this as a teaching exhibition and my hope is that kids are going to come away with this same sense that I came away with: a sense of this space being more flexible and mutable than you think it is."
'ADVENTURE PLAYGROUND'
Across town at the Or Gallery, artist Corin Sworn has set the stage for an interactive adventure playground. When I dropped by to witness the exhibition in process, a class of grade three students were building structures out of cardboard, scissors and duct tape. At first glance, it looked like utter chaos: children sliding through cardboard tunnels, a girl popping her head through a window she'd made in a makeshift house.
Tomorrow's artists and designers and architects were engaged in a mode of play that has all but gone extinct. Adventure playgrounds-where play architecture is built by the children themselves-were popularized in post-war Europe but, as the children's teacher explained, this type of "unstructured play" is usually no longer allowed due to concerns about "liabilities."
That word comes up a lot at the exhibition. A woman charged with building this particular school's new playground noted that she has few options because all designs must accord with safety regulations "which can make things a lot more boring for the kids." In fact, adventure playgrounds-based on "free" rather than "fixed" play-have largely fallen victim to the modern desire to eradicate risk.
Corin Sworn, who holds an undergraduate degree in psychology and art history, as well as a fine arts degree from Emily Carr, exhibited a series of retro playground drawings at ZieherSmith in New York last year. She developed Adventure Playground to recreate a similar experiment by artist Palle Nielsen at the Moderna Museet in Stockholm in 1968. In the 1960s, Sworn says, the chaos of the adventure playground was viewed as offering "new social possibilities." The 80's were a "nervous period" where the concept of the bully and victim and fears of pedophilia came to the fore. "Adventure playgrounds were re-narrated as dangerous," she says. Not only that, but skyrocketing real estate prices in many urban centres made safety concerns a convenient excuse for converting lucrative property to commercial purposes.
Risky risk?
In part, the participatory exhibition questions the consequences of banishing risk and unstructured play from childhood. Though closely supervised, the project has been construed as subversive, even downright negligent. One volunteer supervisor told Sworn that the gallery could be shut down if a child was hurt. Not surprisingly, the woman worked in the insurance industry. "What you call paranoia, I call due diligence," she warned.
Sworn left the conversation concerned that the exhibition, despite its innocuous materials, might be an inadvertent death trap. "Then I realized that I'd just been told all these bogeyman stories. It's like yellow journalism. It's emotionally powerful but very difficult to counter."
Historically, she says, the role of the adventure playground has been "to get kids to participate in the environment and control it at a time when the urban environment offers less control. Is the goal of education to get people interested in learning, or it is to make complicit subjects who fit into the social system?"
Good question: one these artists are putting to the test.
Deborah Campbell discusses risk and the changing nature of play in conversation with Corin Sworn as part of the Canadian Art Magazine Gallery Hop on Saturday, April 22 at Or Gallery, 103-480 Smithe Street, 3:00 pm. Kids can come and play at the Adventure Playground on Saturday the 22nd from noon to three.
Vancouver School runs from April 18 to May 13 (grand opening April 22) at 810 West 21st St. North Vancouver. Weekdays, 3-6 p.m., weekends, noon to 4 p.m.. Admission by donation. Info: 604-903-3798.