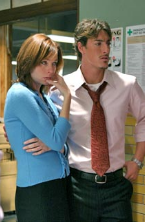 When Dennis Franz bared his behind twelve years ago on NYPD Blue, it was a groundbreaking moment in primetime television and ass-flashing in general. The "reveal," a gutsy move for the time, showed audiences that not all sides of life are pretty. But the sight of that ill-shapen backside should serve as a warning to current crime dramas in search of ratings: be careful when you mix skin and the law.
If you've been watching NBC's latest crime drama, Conviction, the unofficial fourth spin-off of Law & Order and proof that creator Dick Wolf needs a new hobby - it's clear that producers may have missed that point. The show follows the lives of seven young New York assistant district attorneys, all apparently graduates of a double major in law and modeling.
Unlike in other Law & Order courtrooms, the people are represented by two not-so-separate groups: the lawyers and the porn stars. In the first few episodes, the characters have spent as much time in the bedroom as the courtroom. It's an awkward blend of romantic and legal moments.
Tart up or take off
It was obvious after the failure of last spring's Law & Order: Trial by Jury that audiences could only take so much pure, gritty legal procedure. Suddenly, the Law & Order series found itself in the unfortunate position of occupying three nights of a primetime largely devoted to sexy bodies, sexy voices and sexier stories. The clear message to Conviction: tart up or take off.
Accordingly, the show follows the template made successful by last year's breakout hit, Grey's Anatomy. That show takes the traditionally older medical profession and populates it with an attractive, youthful cast, equally concerned with sex and surgery. What Conviction couldn't capture, however, was the lighthearted tone of that poignant hospital drama, which preaches the healing power of laughter the quest for the upside of things, even in the face of death.
The inherent problem of a crime drama is that it's hard to make crime funny - and even harder to make it sexy. Conviction's pilot episode featured a domestic abuse case and the senseless slaughter of a teenage drug mule - just the kind of aphrodisiacs needed to spark chemistry between several cast members. At least, that's the kind of cynical feeling a viewer gets.
Cleavage and crime
What's worse, these shows keep getting grittier and the sex factor is being forced to follow suit. Turn on any variation of CSI and you'll be bombarded with images usually reserved for an R-rated movie, but you'll also see just about as much skin. Consider an episode where Marg Helgenberger attends to a grisly bathtub murder scene wearing a tank top and salon-fresh hair. In the most tasteless moment, viewers are treated to a lot of cleavage - as she leans over a bloated corpse.
This isn't an argument for the return of Victorian-era prudery. Nor is it a denial that these characters are supposed to be people who have sex lives. It's just that it's difficult to juxtapose the interrogation of murderers and rapists with dating and romance. It takes a certain amount of skill, one that's missing in Conviction.
So is Conviction that bad? Not if all you expect from television is entertainment and enough salacious gossip to extend those water-cooler talks. But if you were hoping for a sober look at the realities of the criminal justice system or the real relationships and personal lives of the characters who inhabit that world, then this kind of sexualization isn't it. The important themes of victims' rights and justice are in danger of being trivialized by the pandering to a horny public.
Ryan Austin is a law student who watches too much TV and writes the Lawyerlike blog.