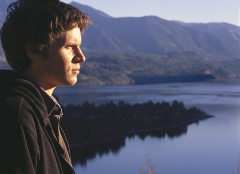 When A Simple Curve opened in Nelson recently, I wondered who all the strangers in the audience were. I'm used to seeing people I recognize when I go to a movie here.
"It's the entire population of New Denver," a friend told me. That small town, population 600, about an hour north of Nelson on Slocan Lake, is where A Simple Curve was filmed.
During the first New Denver street scene, an appreciative murmur arose in the theatre. More of those soulful recognitions of home followed, inspired by unhurried shots of the local mountains, with a small float-plane finding its way through from the outside world and landing on Slocan Lake. I thought I would have to make some allowances for A Simple Curve -- it's the first feature by a young, local filmmaker. But I needn't have worried. Director Aubrey Nealon, 37, has created a wise, funny and visually stunning film based on his experience growing up in a hippie family in the Slocan Valley. A Simple Curve was recently named one of the top 10 Canadian films produced in 2005 by the Toronto International Film Festival Group and it was a finalist in the Best British Columbia Film category at this year's Vancouver Film Critics Awards.
Tractors and placentas
It's based on a phenomenon from the 1960s and 70s when the Slocan Valley attracted back-to-the-landers from across the continent. In the U.S., a new longing for the land and objection to the Vietnam War converged to send many young people across the border and into the Canadian forest. They cleared land and built houses and they raised cows and chickens and planted huge gardens, even though most of them knew nothing about building or farming. They made tofu and yogurt, ate carob and sprouts, lived with outhouses and no running water, tried cultivating the land with horses and learned to repair ancient tractors. And some of them ritually ate their children's placentas. (There's actually a joke about that in the film.)
A Simple Curve is about two of those young people, 30 years later. Jim (Michael Hogan) came from the U.S. to the Slocan Valley in the 70s and stayed -- he and his wife turned a piece of raw land into a small farm and set up a woodworking business. Jim's friend Matthew (Matt Craven) returned to the U.S. after the war and went on to become a successful entrepreneur there. And now he's come back to visit, flying his own float plane, with big plans to build a tourist lodge on the lake.
On the first evening of their reunion, Matthew and recently-widowed Jim drink a few bottles of wine and entertain Jim's 27-year-old son Caleb (Kris Lemche) with a story about their near-disastrous incompetence in falling a tree back in the old days. Then Jim, in the middle of the joke, suddenly becomes nervously aggressive. "It was more than a lark for us," he tells Matthew. "Marjie and I stuck it out here. It's OK to laugh, some funny shit happened back then, but it was a holiday for you, a pit stop and some of us were building a life here."
"I have nothing but admiration for what you've done here," says Matthew.
To which Jim replies, as he ends the conversation by abruptly clearing up the wine-glasses, "Of course you do. All the tourists do."
Simple wood
Caleb still lives with his father and is his woodworking business partner. With the arrival of Matthew, Caleb is forced to figure out a few things about who he is, what kind of man he wants to be and where he fits in the spectacular natural paradise he wakes up to every morning. It's a coming-of-age story in which Caleb is already more flexible and sensible than his grizzled mentors. Caleb, as director Nealon's alter-ego, approaches his elders' lifestyles with a compelling combination of impatience and compassion. The relationships are subtly drawn and the story is well crafted.
So, it's probably no coincidence that woodworking plays such a central role. In fact, some of the conflicts and much of the beauty in the film involves woodworking. Jim has strong ethical standards when it comes to woodworking -- so much so that he can't make a living at it because he refuses to build anything but fine furniture. A symbolic centrepiece of the film is a chair he and Caleb build, which would be at home on the cover of Fine Woodworking magazine. Jim reacts with disgust when Caleb suggests they simplify the chair design so they can mass-produce it for Matthew's tourist lodge. Caleb wants his father to save time by using a simple curve, rather than the complex one that forms the back of the chair.
The cars in the film have a lot to say, too. Jim and Caleb drive an aging Tercel wagon that always needs to be push-started. Then Matthew rents a huge, new black crew-cab pick-up and tells Jim and Caleb they can use it whenever they want. "I feel like I'm in the presence of a sex toy," observes Jim. And then there's Matthew's float-plane, making the connection with the outside world seem so elegant and efficient.
The film does not pander to the 60s counter-culture, but it doesn't smirk about it, either. The jokes about Jim's youthful back-to-the-land foibles are very funny, but they are also gentle. The laughter in the theatre that night in Nelson -- it seemed that many in the audience knew the film's cultural territory quite well -- was easy-going and generous.
Naïvely correct
And, thankfully, the film doesn't take a simplistic view of the Slocan-Nelson area, which is actually a diverse collection of different kinds of people and activities. For a change, the area doesn't come across as the throwback, hippie, pot-smoking haven often portrayed by lazy journalists who come here from the outside for a few hours looking for something clever to say about the place.
Like in 2004, when the U.S. media got wind of a proposal for a monument and conference in Nelson to honour Vietnam War resistors who came to Canada to avoid the draft. The idea created a lot of controversy locally and in the U.S. The Our Way Home Conference will be held in July, 2006, in Castlegar, with George McGovern, the 1972 Democratic presidential candidate who opposed the war, as guest speaker.
Many of us who were involved in the youth counter-culture of the 60s and 70s marvel at how our ideas then were simultaneously correct and naive. The Vietnam War shaped our lives in many ways -- it was clear evidence that the world was spinning out of control and it intensified our desire to simplify our lives and connect more closely with nature. It was one factor in my decision, as a Canadian born in B.C., to drop out of everything, including the entire North American continent and live in Europe for many years in the 70s. Why did I come back home? I was reminded of the reason when I saw those shots of mountains and lakes in A Simple Curve. See the film on a large screen if you can.
A Simple Curve allowed me to look back at the 60s through the eyes of an artist young enough to be my son -- and the film is, after all, about fathers and sons. I enjoyed seeing veteran actors Hogan and Craven skilfully portray two of my peers, Jim and Matthew -- we're certainly getting older, that's one thing I noticed.
The trick with getting old is to stay as mentally and emotionally flexible as Caleb. Once we start approaching 60, (and I think this applies more to men than women) it's so easy to get grumpy, fussy, eccentric and set in our ways without realizing it. The presence of thoughtful and creative young artists like Aubrey Nealon is a good antidote.
Bill Metcalfe is a writer and broadcaster in Nelson, B.C.