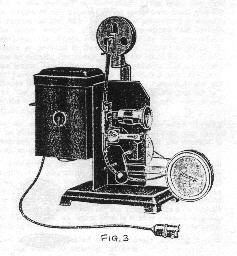 It's the end of an era. The Capitol Six Theatre in downtown Vancouver is closing. If you've seen a movie there any time recently, likely you knew this already. The place has been in a state of decline for quite a while now, the seats are broken, the carpet threadbare and the popcorn substandard. The theatre has two more weeks to live, and it's looking like it will crawl towards the end on its hands and knees. On the day I was there, there was a huge ragged leak in the ceiling with plastic tubs underneath to catch the drips.
The man who took my ticket is happy to be moving to a new theatre on Burrard and Smithe. "It's swanky!" he says. "Swanky is good," I say. But the fact that the Capitol Six has gone so precipitously downhill makes me a little sad. There was a time, when every snack bar was busy, and every theatre packed with punters. But then movies used to cost $2.50 on Tuesday. Man, I am old. My eyelids are falling down the same way the theatre seats are cracking, time the great leveler marches on.
When The 6 closes it will join the ranks of Vancouver movie theatres since passed, including Royal Center which is now a food court. I still miss Royal Centre even though it wasn't much of a theatre, more like many little living rooms with screens. I liked it despite the fact that there were pillars in the middle of rows of seats, because they played any number of strange art house films, and often if you went in the middle of the day, there was no one there but you. Vancouver Centre is gone. The Fine Arts, the theatre that used to be out on West Georgia where The Gods Must be Crazy played for approximately 120 years is long gone. And now The Park Theatre as well. It closed on Sunday. The last time I saw a film there, every person who walked in the theatre asked the manager whether something or someone else would keep the place open, to which he dutifully informed them, that they were a number of parties who had expressed interest. Whatever that means, your guess is as good as mine.
The old days
I am old enough to remember when the Stanley on Granville was still a movie theatre, though mostly what I recall is standing in line out on the street, waiting to get inside. I also remember a time, when I opened the paper and realized I'd seen every film that was currently playing. Those days are gone, and maybe that's for the best. When you're younger, your judgment or taste is not always what it should be, if you find yourself thinking, "Have movies gotten a lot worse recently or is it just me?" It's probably it's a bit of both. If you take small children with you to something like Robots, for example they may emerge from the theatre tootling in piping tones, "That was AWESOME!!" whereas you will be bemoaning the fall of modern culture where there are no new ideas, just an endless rehash of already slung hash.
Theatres come and theatres go, but mostly they go. And now it's the Capital Six's turn to darken the houselights.
Twenty years ago, the notion of six theatres in one building boggled my imagination, Wow!!! Bright lights, big city. Since it's been here the almost 20 years I've lived in Vancouver, I have spent many days and evenings and so on sitting in the dark, staring at the screen. One summer, in a somewhat misguided attempt to take my sister's mind off a broken heart, we saw every film that was playing including the vehicular homicide that was Madonna's Who's that Girl, Jaws: The Revenge, and Howard the Duck. After seeing these, she forgot all about her sadness and decided that she wanted to kill me, her helpful sister, instead.
Drunk or sober
So yes, I paid good money to sit through Howard the Duck in the theatre, but I tell you it was in pursuit of a higher cause because nothing takes your mind off a broken heart like the sight of a talking duck from outer space, or Michael Caine being eaten by a mechanical shark, it simply doesn't get any worse than that, which has the odd effect of making you feel a little better about your own life. At least that's not you up on the screen. Over the years I have gone to movies for many reasons, often alone, so that I could watch things in secret. My Jean-Claude Van Damme years. I've gone drunk, I've gone sober. Although unlike many other people, I have never gone stoned. Upon hearing that the Capitol Six was closing a friend of mine said, "But that was my stoner theatre!"
Some of the film going experiences that mark you are the ones you're least prepared for. For example, during a particularly bad breakup I got a pass to see a film with Geena Davis and Susan Sarandon, something called Thelma and Louise. I went because it was free, and when Louise pulled out a gun, and shot a would-be rapist, I felt the back of a head blow off, because killing men seemed like a really good idea at the time. Where and when you see a film can have a major impact on your feelings about it. Sometimes you go back, wanting to recapture that initial thrill. Nothing has come close to seeing Aliens in Theatre Number 1 at the Capitol Six. It was so huge and dark, that you could virtually feel, the blackness around you rustling with xenomorphs, creeping up behind you and your bucket of popcorn.
On this last, and probably final visit, the movie won't start, and when it does, the framing is all wrong, there are a few quiet groans, but the nice man at the door gives everyone coupons "to make up for trouble we had there at the start." The people who work at the theatre all seem remarkably cheerful, maybe it's just me that feels sad. The movie Beauty Shop, is full of sassy black mamas, 'oh no you di'nt', and fried cat fish, but even Queen Latifah's magnificent bosoms fails to cheer. I feel like a little bit of my history is passing, a tiny little piece, but it is going nonetheless.
Thanks for the memories
All you have left eventually is memories, a movie screen in your brain that features flickering, scratched images from your life. Many movies about movies have made this link explicit whether its the sappy Italians in Cinema Paradisio, or introspective Chinese in Farewell, Dragon Inn. To paraphrase John Prine, "Old trees just grow stronger and old rivers grow wilder every day, but old people (and theatres) just grow lonesome. Waiting for someone to say hello in there oh. . . ."
Over the years, with friends, boyfriends, family, and now my own kid I have gone to the movie theatre. And even now when I walk in, and the lights go down, I feel comforted. Thank God, I am at the movie theatre. I am home.
Dorothy Woodend reviews films for The Tyee.