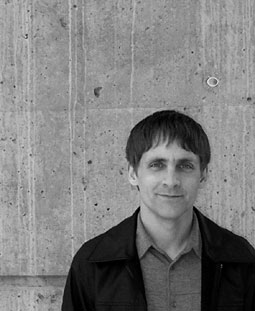 Here's a great premise for a novel. A young writer finally achieves his dream, the publication of his first book, but in doing so he causes an international scandal that will climax in nuclear holocaust and the end of life as we know it.
Jan Lars Jensen didn't just invent this story. He lived it. His descent from success to the psychiatric ward is depicted in the memoir Nervous System, or, Losing My Mind in Literature, released this month by Vancouver-based Raincoast Books.
"Crazy is not a word I would use to describe other people because it's a pejorative term," says Jensen, in Vancouver to begin his promo tour for the book, "but for me only crazy seems to do it. 'Mentally ill' can sound innocuous, or it can sound like you're the next Hannibal Lector. I went, temporarily, crazy."
At age 29, the graduate of the University of Victoria's Creative Writing Program was deep in a rut. A lack of income forced him to move back home to the Fraser Valley, where he worked in a cramped community library. What sustained Jensen was his work-in-progress, a sci-fi thriller called Shiva 3000, in which he imagined how India's caste system and Hindu pantheon might manifest themselves in the distant future.
Imagination turns ugly
It was a bold piece of speculation for someone who had never visited India, but Jensen had two things going for him: a fertile imagination and the Internet. Ironically, both would contribute to his undoing.
In 1998 Jensen got amazing news -- a large New York publisher had decided to buy his book. He and his wife celebrated. But, late one sleepless night, he discovered a web site where devout Hindus condemned the misrepresentation of their faith and suggested lawsuits. Over several more insomniac nights the future became clear: the publication of Shiva 3000 would cause an eruption of religious fury in India. Outraged Hindus would go after Jensen, his publisher, his family and friends, and eventually all of North America, causing a clash of civilizations that would end in nuclear war.
After several valiant but unsuccessful attempts to derail the publication of Shiva 3000, Jensen decided he had only one alternative. He went to the library with a bottle of sleeping pills in his pocket, and as his shift ended he took as many as he could swallow.
Waiting for assassins
The memoir begins with Jensen confined to the psych ward after his suicide attempt. He sits close to a window and waits, expectantly, for American government assassins to take his life. When a fellow patient walks nearby he screams at her to keep away so that she won't be caught in the gunfire. In his delusional state, everyone from his psychiatrist to the air conditioner repairmen to his own wife (bearer of "poison" grape juice) is involved in the international plot triggered by Shiva 3000.
For a long time, Jensen tried to suppress memories of that disturbing period in his life. "I wanted to forget those events, put them behind me, never think about them again," says Jensen. "But I also wanted to know 'Why did this happen to me?' "
Thankfully, Jensen does not try to convince us that he is another glowing beacon in a long line of mad, tortured, artistic geniuses. It's not just humility that holds him back from this conclusion, but his belief that mental breakdown - and mental health - are woven from many threads.
Jensen traces one thread of his delusional thinking - the belief in a coming apocalypse - to the culture of the Fraser Valley, the Bible Belt of British Columbia. He describes the placard-bearing congregations that walked the streets, and high school classmates who had been told by church leaders that the Day of Judgement was just weeks away.
Billboard was one loose thread
Even motorists passing through were warned, by a giant billboard, to Prepare to Meet God. (The sign was recently taken down after it was altered to read Prepare to Meet Gord--no one has admitted yet that the stunt was an attempt to improve Premier Campbell's decline in the polls.)
Of course, not everyone in the Fraser Valley is delusional, and Jensen finds other contributors to his breakdown: stress at the upcoming publication; a family history of "nerves"; nights of insomnia; web sites that corroborated his worst fears; pessimism; introversion; and, to some extent, his chosen profession as a writer.
"In fiction or journalism, you're always looking for telling details to give your story detail and character," says Jensen. "In my psych ward mindset, too, even the mundane details around me confirmed my delusions."
While hospitalized, Jensen promised himself that he would never write again. Stories were too dangerous. Not only that, his illness and his medications made it difficult to read. But when he eventually returned to the keyboard, it was with a new awareness of the power and responsibility that come with stories.
"I would like to think that my writing these days has some purpose in the grand scheme of things, which wasn't a concern before," Jensen says. "I don't want to write moralistic fiction, but it is necessary to get at some kind of truth."
Along with truth, Nervous System is laced with Jensen's wry sense of humour. Of the ever-cheerful recreation therapist in the psych ward, he writes, "Even delusional, I could not cast Denise in the role of government operative. It didn't seem credible that an agent would be so keen to have us bake muffins." When a fellow patient insists upon watching The Lion King, Jensen, a Disney-hater, admits that if there was ever a time to "reconsider one's opinions and give Disney movies a second chance, it was while committed."
Free to speculate again
It's been five years since Jensen climbed out of his illness, which was ultimately diagnosed as "major depression with delusional thinking." He's writing at full bore. In addition to Nervous System, he's written a novel from the point of view of Goliath, of David and Goliath fame, and he's working on Unfinished Winter, a novel based on the premise that early Viking explorers stayed in Canada, establishing a Norse nation instead of the English-French colony.
Jensen is glad to be writing speculative fiction again, rather than memoir. "If I could give back this book and not have to go through those events again, I would," says Jensen. "It was not worth the pain it caused me and my wife and my family and friends.
"But I have to admit that depression, typically, does come back to people. Maybe it will happen again. I hope I'm better prepared for it, and having gone through it I can look for warning signs and do preventative things."
In Jensen's final analysis, our ability to create stories, or to fall deeply into narratives that someone else has created, is both pleasurable and risky. He cautions people to think carefully about the stories they fixate on -- whether they are tales of apocalypse, or the dream that everything thing will be perfect once you've published your first novel.
Jan Lars Jensen's web site is at http://www.jensen.ca/Chris Tenove is a contributing editor to The Tyee.