Gemma McNeill holds out an open palm, full of tiny lime-green ovals, speckled with a darker green. They look like tiny watermelons, almost too perfectly miniature to be real. "They're cucamelons" she says with a smile, "have one." I pop a melon in my mouth, feeling the firm, slightly waxy exterior give way to a fresh, clean taste of cucumber with just a hint of sweetness. "We get a lot of calls for these from restaurants," McNeill says, proud.
I found McNeill, and her cucamelons, on a suburban stretch of Surrey, five minutes' walk from a SpeedWash and across the street from a cul-de-sac of McMansions. It's a stretch of suburb that you could find anywhere in North America, aside from the farm. Behind a wire fence, along a path of hodgepodge garden greens and a ramshackle greenhouse, two young farmers are quietly growing produce for something like half of the high-end restaurants in Vancouver.
McNeill and her partner Doug Zaklan run Zaklan Heritage Farm, eight acres of farmland that's grown food in Surrey since the '20s. Right now, they grow tomatoes, herbs, veggies and an endless variety of special-request items — including those cucamelons. They drive most of what they grow a half-hour north to Savio Volpe, Nightingale, Bao Bei, Kissa Tanto and their ilk. Zaklan is 29, McNeill 31, and neither grew up thinking they wanted to farm in the suburbs.
The pair met at UBC farm, where McNeill was working and Zaklan had enrolled in a practicum. Zaklan came to agriculture looking for a meaningful career producing food sustainably. McNeill was less sure of her path, even after her time at UBC farm. "If I hadn't ended up with Doug I don't know if I would still be farming," she says.
"What did I think of you at first..." McNeill says to Zaklan, laughing, "I thought you were pretty good-looking... in your early 20s, you know, the things that matter."
They had been dating a little while before McNeill moved to Peru to help build a farm. After what Zaklan says was a test of their relationship, he flew down to Peru and the two of them decided to move into a trailer in Surrey and start farming.
Zaklan realized, then, that he had access to something very few young farmers do: land. The "heritage" in Zaklan Heritage Farm isn't a marketing ploy: the land goes back to Zaklan's great-grandparents, immigrants from the former Yugoslavia who came to Surrey in the 1920s, just as it was being clear cut for farmers. They were part of a generation of East-European migrants arriving in B.C. after the First World War. They were so-called "stump farmers" because they had to blow up the remaining tree stumps with dynamite before the land could be turned over to agriculture.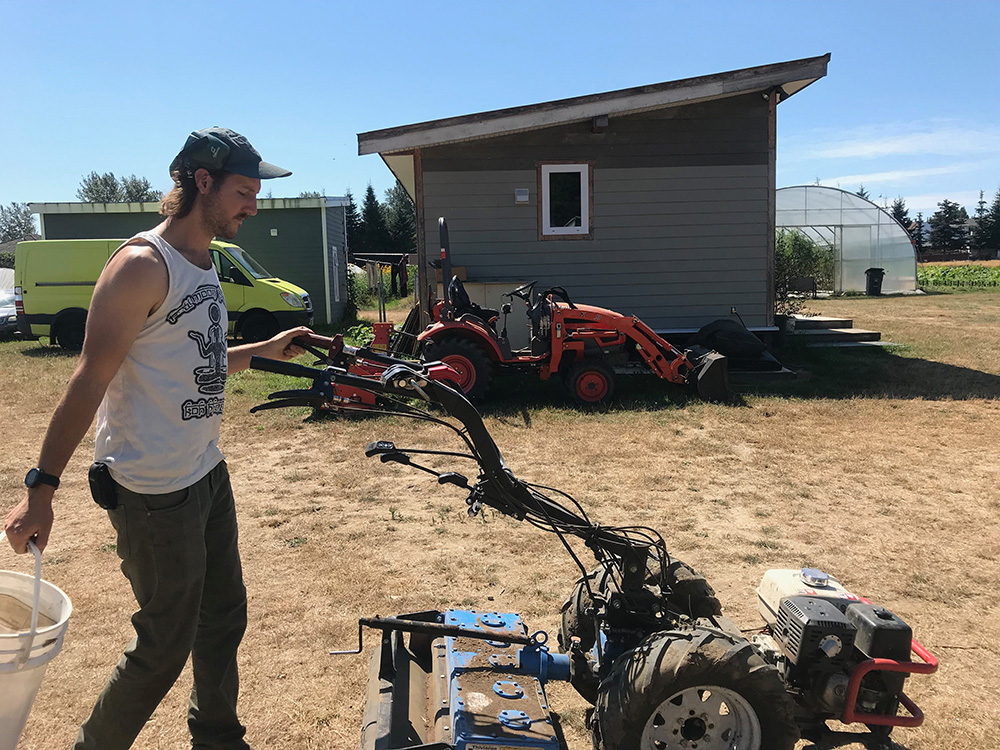 The Zaklans initially farmed beef cattle on the eight-acre property, producing enough to feed themselves. Over the years they had pick-your-own raspberries and various private gardens. When Zaklan and McNeill took it over, the farm was beef pasture with a potato patch and a few fruit trees. The land is still owned by Zaklan's uncle George, who lives on the property and keeps his own garden there. "He's the stronghold behind keeping this a farm," says Zaklan. "If he wasn't around it probably would have turned out condos by now."
Zaklan started farming casually on the property nine years ago, still without ambitions to take it over. When he returned from Peru with McNeill, they told the family they intended to reshape the farm into a place for intensive, sustainable agriculture. "I think the family's happy with what we're doing," says McNeill, "I think they were worried for us at first though. I think we were pretty worried too."
They practise a style of farming called "intensive cropping." The idea is to grow the maximum output in a limited space, without relying on chemical fertilizers and pesticides. Zaklan and McNeill will regularly grow three crops in a single bed; a lettuce bed may be harvested and then replanted almost immediately. Their fields are either all planted or in the process of being replanted. The pair make use of a tiny two-wheeled BCS tractor, which is small and maneuverable enough to keep the beds closely spaced. They do a great deal of hand-cultivation as well.
It's a method that's labour intensive, but it allows them to put out a significant amount of produce from a small amount of land. They keep their business growing, and employ a seasonal staff of three, while only farming one-and-a-half acres of the eight-acre property, leaving the rest for a flock of chickens and a single ornery llama.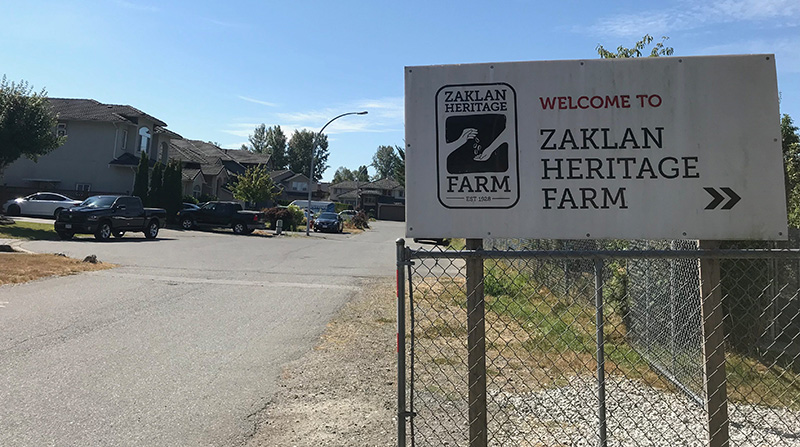 They almost didn't make it. The initial business model was to sell local produce just to Surrey and the Newton area, something that Zaklan and McNeill felt was less accessible. But they quickly realized that the local demographic couldn't support them, and started taking produce to farmers markets further afield. They also partnered with a farm-to-table middleman service called Ello Foods. Ello started shipping their produce to Vancouver restaurants, a market that was proving lucrative for Zaklan and McNeill. "We had made a plan with Ello to grow a bunch of food for them," says McNeill, "and then they went out of business in March of 2016."
"We had a huge deficit in our budget and we were asking 'what do we do now,'" says Zaklan. "We didn't have a delivery vehicle, and we had never directly talked to these restaurants, but we had to work out something really quick or that year wasn't going to add up." They jerry-rigged Zaklan's truck into a delivery vehicle and started cold-calling restaurants. Ello gave them a few contacts, but their big breakthrough came when they met Phil Scarfone, head chef at Nightingale, which was just getting ready to open that spring.
"We work with all the farms in the Lower Mainland, and their veggies are the best to work with," says Scarfone. "You can tell that someone gave a shit." Scarfone now works closely with Zaklan and McNeill, meeting once a year to peruse seed catalogues and review how much of the kale or arugula planted got through.
The collaboration has been a learning experience for the farm and the restaurant, both of them learning how to deal with orders, delivery times and product condition. Scarfone is happy with what he gets, and happy to provide consistent support to a small farm. Nightingale, in peak season, spends as much as $3,000 per week on produce from Zaklan farm. "We use the word 'all' a lot when we talk with them," says Phil, "like 'we'll have all the cauliflower' or 'we'll have all the tomatoes.'"
They've since gotten out of the farmers market game, selling exclusively to restaurants and their local community-supported agriculture group. "It's really awesome because the chef community is super small," says McNeill. "Our business has taken off because of word of mouth now." They've been deepening their relationship with restaurants over long-table dinners, where a restaurant sets up at the farm with a family-style table for sometimes as many as a hundred people. Produce served all comes from the farm, and dinner is eaten out in the field, rustically charming despite the distant sound of SUVs endlessly speeding down suburban streets.
The farm remains a daily grind for Zaklan and McNeill. In the busy harvesting season, 14-day stretches of planting, tilling, picking and planting again are not uncommon. Technology helps, with timed drip irrigation systems and auto-feeders for the chickens, but keeping up with ever-growing restaurant demand takes work. "We're always looking for more clients, though," says Zaklan.
"No we're not!" McNeill exclaims, laughing, "we're busy enough as it is!"
To hear Vancouver Magazine's interview with Doug Zaklan and Gemma McNeill, click here.