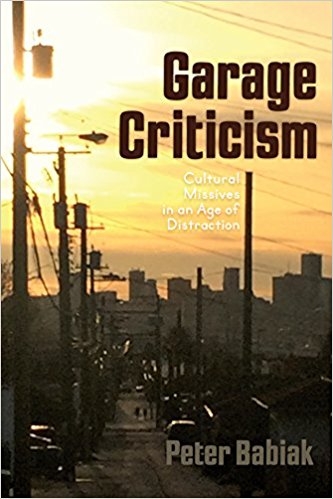 Garage Criticism: Cultural Missives in an Age of Distraction
Peter Babiak
Anvil Press (2016)
Those who think humanities academics don't earn their coin would do well to read Peter Babiak's collection of essays, Garage Criticism: Cultural Missives in an Age of Distraction.
One essay in particular suggests that Babiak's job, teaching English at Langara College, should come with danger pay. In "Hot for Teacher: What Fifty Shades of Grey Taught Me About Scandalous Grammar, Salacious Women and the Conflation of Culture and Economics," he tells of his adventures in studying the hilariously bad soft-porn novel.
All critics do the noble work of reviewing things so we don't have to, but Babiak went above and beyond in prepping for his class teaching this book. He actually joined a site where the enthusiastic fans would meet to gush over the story and circulate their own badly written erotica in homemade ebooks. (That was Fifty Shades' author E.L. James' secret to publishing success: she wrote fan fiction inspired by the vampire tales in Twilight, and found her audience online. Then she sexed it up with her own weird fantasies, which she projected onto renamed characters, and voilà, she's a literary legend. And very rich.)
Before reading Babiak's essay, I couldn't have told you why the thing was such a hit. Don't say sex: the sex scenes are dumb and so badly written that Anais Nin starts spinning in her grave every time someone opens the book.
Kudos to Babiak: he decided to ask the fans why they were fans. On joining the site, he makes the appropriate ethical decision to give them his real name and bona fides in exchange for chats about their views on the book. I was torn between laughing and yelling at the page: "No! STOP! Are you mad?" Ethical it may be, but as anyone who has seen the inside of a chatroom knows: here there be dragons.
But as the essays reveal, he's a very proper guy. Babiak's essays often have a slightly stuffy tone that is reminiscent of every stereotypical professor in Hollywood's comic films. Think of Cary Grant's starchy academic in Bringing Up Baby, as the poor indignant fellow is being dragged across Connecticut chasing a leopard, and you'll have the tone of many of Babiak's pieces. Pop culture, particularly screen culture, is the Katharine Hepburn character in this scenario and she both fascinates and horrifies him.
Inevitably, one of his correspondents on the fan site decided to send Babiak some of her own fan fiction, inviting him to "edit" it. "Hot for Teacher" is her banal fantasy involving a professor and a naughty student who turns in a bad essay, for which she receives a spanking.
His deadpan recollection of this makes no mention of whether he sent back her "literal-minded roman-a-clef" covered in blue pencil — he seems the sort who might — before using it as an example to support his thesis that the book is a commodity, not literature.
It's that dry tone that makes many of his think pieces as amusing as they are refreshing — they contain distinctly unfashionable views about all sorts of fashionable nonsense. And they reflect a general crankiness about screen culture, with which many book-loving grown-ups will sympathize.
But I'm not so sure he's always interpreting the clues accurately. As in the case where he argues reading skills are in decline. He recalls an incident in which he was sitting reading a book and a student walking by read the title aloud — "Allergies of Reading." No. That would be Allegories of Reading. "A-leh-go-reez," says the prof, recalling how he gave the "snot-flicker" his best performance of a finger-wagging pedant.
Personally, I think the kid was baiting Professor Cranky-Pants. Why? Because that's what I would do. And did, when I was a student. Allergies of reading is a zinger. And really, who can resist the urge to needle the sort of curmudgeons who forget The Who's immortal words: the kids are alright.
The book gave me the urge to argue with Prof. Cranky-Pants myself, which is high praise. There's no faulting the essays for their long, thoughtful investigations of things we all wonder about but don't have the time to examine. Why are zombies all the rage? What are the Hunger Games books and movies saying to adolescents?
He's also persuasive in his arguments about the power of language. In "Poetry Isn't Elsewhere," he discusses why it's important to read local poets — including George Stanley, Heather Haley, and Brad Cran — writing about Vancouver. "...there's a sensuality in knowing a nicely cut cluster of words about how we mythologize desire."
He could get a gig in the poetry-marketing biz with that line. Babiak is a kind of literary evangelist, making writing of all sorts seem irresistible. This year, the original young adult novel, The Outsiders, marks its 50th anniversary, and much is being written about it. I've never read the book and I had no desire to until I saw Babiak's take on it. He weaves together Ponyboy's influence on his wild teenage self in the context of the existentialist views of Camus. Suddenly, I have the feeling I may have missed something essential in my reading history.
The essays are much too complicated and wide-ranging to cover all 21 of them in a single review, which is exactly why they're worth reading. He offers a depth of thinking about supposedly shallow things that reveals how our trivial amusements are bringing about profound changes. One recurring theme is his provocative and particularly interesting idea that online culture is altering language and reshaping our thinking — perhaps even our ability to think deeply.
The book is a collection of articles that ran over several years in the local literary magazine with the camel-caps name, subTerrain, so it also contains some personal essays that don't fit comfortably with the sophisticated think pieces. Perhaps because I'm not particularly fond of the confessional genre, they seem flimsy in contrast with his pop culture musings.
But one, "The Ellipsis and the World Suspended by Some Unique Tear," about the immediate aftermath of the unexpected death of his estranged wife, whom he describes as his best friend, is a poignant, cinematic piece. It suggests that the curmudgeonly English prof might have the chops to take a run at writing fiction himself.
© Shannon Rupp. For permission to reprint this article please contact the author: shannon(at)shannonrupp.com.