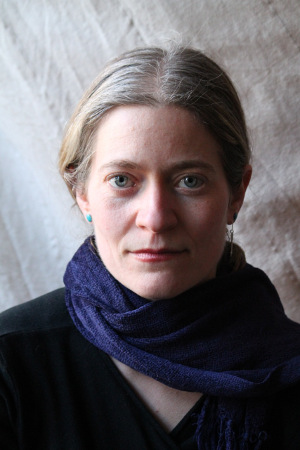 Opium Eater: The New Confessions
Carlyn Zwarenstein
Nonvella (2016)
[Editor's note: Diagnosed with a painful autoimmune disease while raising young children, Carlyn Zwarenstein was eventually prescribed opioids to ease the pain. With a nod to Thomas De Quincey, she chronicles her desperate search for physical and emotional relief in a new, short memoir, Opium Eater: The New Confessions, out now from publisher Nonvella. We're glad to share a few excerpts with Tyee readers below.]
Ankylosing spondylitis is a degenerative autoimmune disease. A form of inflammatory arthritis, it typically strikes young people in their prime -- in my case, at twenty-eight, shortly after the first of my two sons was born. AS is roughly analogous to having rheumatoid arthritis in the spine. My immune system attacks my body, causing chronic inflammation that began in the sacroiliac joints at the base of the spine and for the past 10 years has been gradually moving upward.
It came out of the blue. The disease and resulting pain have devastated my life. I'm still trying to find my way now, a decade later.
In severe AS, inflammation causes the vertebrae to fuse together by a process of erosion and remodelling of the bone. If I'm unlucky, bone will form between my vertebrae and I will be left with a completely immobile, terribly fragile spinal column, or "bamboo spine." Two gut-shredding years of anti-inflammatory medicines left me with an ulcer, debilitating heartburn, and various food intolerances, as well as constant fear of potential side effects -- like sudden and occasionally fatal gastrointestinal bleeding and heart attacks.
"I will never take those again," I told the rheumatologist, standing uncomfortably rather than sitting in the chair I'd been offered. The doctor wrote me a prescription and handed it over across his desk. It was only after googling "tramadol" that I learned I'd been prescribed my first opioid.
Ages of opium
The opium poppy has been cultivated for over three thousand years. The Sumerians called it hul gil, the joy plant. The nineteenth century -- the Romantic and early- to mid-Victorian period -- was the great age of opium, with derivative medicines used by patients of all ages for all manner of ailments. Addiction at that time was viewed for the most part as a weakness rather than either a criminal act or a medical condition, and the opium trade itself was a cornerstone of British imperial policy.
Morphine -- named for the god of sleep, dreams, and transformation -- was first isolated from the sap of the poppy (that is, opium) by 1805 by a German pharmacist's apprentice. Friedrich Sertürner was also an opium addict, and later, not surprisingly, a morphine addict. Morphine is the most important active constituent of opium, and its isolation -- along with the development of the hypodermic needle mid-century -- allowed for more straightforward and effective pain management. In all cases, an injection makes the drug dramatically stronger and faster-acting, and more dangerous.
Morphine remains the gold standard drug against which all other opioids, including the synthetic ones, are compared, dosing of all of them being calculated in terms of equivalencies of morphine. Morphine and its derivatives are the most effective and powerful painkillers around today. While legal and prescribed for medical reasons, these substances are related to currently illegal drugs such as heroin -- itself synthesized by an English chemist and once sold freely as a cough suppressant. (It works.)
While heroin was made illegal in the United States in 1925, in the late forties and fifties you could still pick up your prescription for heroin pills at the Boots pharmacy in Piccadilly Circus in London -- in fact, under its medical name diamorphine, it is still used in the U.K. as a strong painkiller.
Refills regular
I call in prescription refills regularly. The pharmacist is used to my frequent visits. When the doctor once fails to renew a prescription before the long weekend, she re-sends the request, looking at my face and writing URGENT on the fax.
By overlapping doses, I finally -- at the very end of the day -- feel the weight of my head lift from my shoulders and the burn in my lower back ease. It is wonderful to be able to turn my head without pain or unbearable stiffness for the first time today but I have to work to keep the clear and focused dreaminess I have been claiming to feel when on tramadol.
And -- testing, testing -- I still feel a painful resistance if I try to lift my head back to look up in a normal way. The stiffness caused by acute inflammation in my spine is simply too much to mask anymore (or at this dose). Though I know that if I hadn't been taking tramadol I would not have been sitting down as I wrote this. Because I simply wouldn't have been able to sit down. Or, for that matter, to make dinner for my family, wash dishes, sweep crumbs off the table, or help my son floss his teeth.
A new frontier?
The Holy Grail for researchers and pharmaceutical companies: a non-addictive, non-dangerous opioid. They've certainly tried. The really hard part is selecting for analgesic effects while avoiding the deliciously reinforcing reward pathway. Over the decades and centuries, creators and purveyors of pharmaceuticals have enthusiastically marketed such alternatives as:
• morphine (non-addictive alternative to opium);
• long-acting oxycodone (non-addictive alternative to morphine);
• tramadol (non-addictive alternative to oxycodone);
• methadone (non-addictive alternative to heroin); and
• heroin (non-addictive alternative to morphine), among others.
More recently, rising fears about overdose and addiction rates are making former pariah drugs like marijuana seem an innocuous alternative. Indeed, cannabis is a very promising alternative or adjunct to lower doses of opioids or other drugs -- but its long-term effects are largely unknown, and its effect on cognition and motor skills means that it is definitely not a good option for all pain patients. Then there is the Butrans transdermal, an opioid patch that is, in the traditionally flippant way, proposed as a less-easily abused alternative to the strong, long-acting fentanyl pain patch.
In practically every case, the marketing pressures and inducements placed on doctors and government regulators by pharmaceutical companies have been relentless and, often, shameless.
In the last few years, researchers at the Memorial Sloan-Kettering Cancer Center have announced the development of new, powerful opiate analgesics that do not cause physical dependence or reinforcing behaviour (or a number of other common opiate side effects like respiratory depression and constipation). The science behind it is interesting and based on an evolution in our understanding of the diversity of opioid receptors -- but only time will tell if these, or other newly developed opium-inspired painkillers, are the long-sought non-addictive opioids.