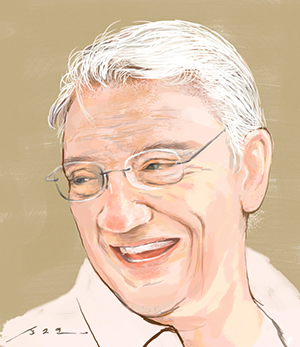 George Bowering has written over 100 books. It's so many you'd have to spend a lifetime devoted to his work to read everything he has produced.
He was the first poet laureate of Canada and he is turning 80 this year, but if you think that is stopping him from producing more books, you are very wrong. He is not stopping anytime soon, and his age isn't keeping him from being the loudest guy at the party. (We know, we've shared more than a couple glasses of wine with him, and even peeped his Hello Kitty Pez dispensers).
We caught up with Bowering ahead of the Vancouver Writers Fest to chat about his birthday plans, baseball memorabilia and the fall books on his reading list.
Dina Del Bucchia and Daniel Zomparelli: Ok, George, since you already have four books coming out this year, for your 80th birthday how many books will you write?
George Bowering: Well, I don't know whether I can write them as often as I publish them. I am halfway through the sequel to the sequel of Pinboy. I can't write books for my birthday. But I have two books coming out next year, and maybe more. I have to get over this laziness and get down to work. I am a Protestant, after all.
You have so many poetry books. Which one do you feel is the poetry book to get started on the entire George Bowering bookography?
GB: One is tempted to say start at the beginning, but then you would be reading ordinary little post-Williams poetry, and might quit because it is no better than the stuff that makes people "award-winning" poets. So why not begin with Kerrisdale Elegies, but first read Rilke and visit Kerrisdale before you start?
Do you ever think to yourself, "this world does not need another poem"?
GB: Yes, I do, but this usually happens when I am looking through a poetry magazine or the poetry books that have been reviewed in Quill & Quire.
Would you rather: give up all of your Hello Kitty collection or your Baseball memorabilia?
GB: The Hello Kitty stuff, even the Pez dispensers, because they would probably go to a kid, while the baseball stuff would go to an idiot.
You've been interviewed so many times and we're continuing that trend right now. What are the best and worst interview questions you've ever been asked?
GB: The best was "May I touch you right there?" The worst was "You know there is a fee for this interview, don't you?"
How many books or book ideas have you abandoned and never finished?
GB: I have notebooks full of book ideas that I hoped I would get to. I have about six books that I started and didn't finish. I have four long prose books that I did not publish for various reasons.
All right George, real talk: what is the most humiliating thing about being a writer?
GB: Maybe humiliating, maybe a useful check: in the hometown that I have so often written about there is no bookstore. You can't even buy a copy of Maclean's magazine. No one knows about my writing. I like this in the neighbourhood where I now live, but my hometown?
We all do our fair share of complaining, but what would you say is right with CanLit?
GB: No matter how much the bigger Toronto publishers and certain creative writing schools try to homogenize our writing, curious writers and publishers still bring us new writing that is exciting for what it is rather than what it is about.
Can you explain that a little more?
GB: I have heard some students have agents before they even graduate. Those A-gents [sic] want manuscripts that will sell because they are like the previous books that "did well." In Toronto they talk about something called the "A-List," meaning (usually) Toronto writers who get their pictures in the magazines and write books the reading public likes. Have you ever been pissed off by online movie purveyors and big-box booksellers who send you a note that says "If you liked [such and such a book] you will like these others?" And these others are crap you would never open. When the market gets hold of you they try to make you as much like their previous successes as possible. And you know that the real artists start off by saying "How can I do something unlike the norm?"
If you could only read one of the upcoming fall season books, what would it be?
GB: Brian Brett's Tuco, which I will read soon, because I bought it at Mosaic Books in Kelowna. When Brian figured out what kind of writer to be, he turned out to be a terrific writer. Tuco was a wonderful bird and lifetime companion for Brian, and Brian made my wish come true when he decided to write his memoir.
Follow up question: may I touch you right there?
GB: I keep telling you no way. When will you ever learn?