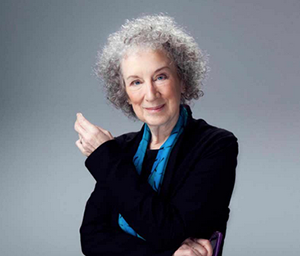 [Editor's note: Famed Canadian author Margaret Atwood recently sat down for a broad-ranging conversation with Canadaland's Jesse Brown ahead of the release of her latest novel, The Heart Goes Last. The discussion took place weeks after an Atwood column for the National Post dissecting Conservatives' hair-mocking attack ads was published on the web, disappeared, and then later reappeared. Atwood speaks on that brouhaha, along with her Twitter addiction and the latest trends in publishing, in this excerpted version of the Canadaland convo. Thanks to Jesse Brown for the permission.]
On the National Post's decision to pull her story on hair and the election:
"I don't think my mouth has ever been open for so long continuously as that evening. The first thing was Twitter saying 'Where did it go?' And then I get an email saying, 'We're sorry, we didn't follow the right protocol, we have to fact-check the facts.' And I said, 'What facts?'
"There was nothing in there that wasn't already in the press, and multiple times. No new news. Maybe it was just the way I framed it, but it was very odd and we know it didn't come from editorial.
"I think it was completely the wrong thing to do. You let the wave flow past and people go 'Hahaha,' and they forget about it. But that isn't what happened; they drew attention to the very things they wanted to conceal."
On Twitter and the 'pigeon principal':
"With my Twitter, I see it like a little radio program. I invite guests, as it were. I have little conversations with them as you might have with a phone-in thing; if they get rowdy, I kick them off.
"It's not my job, but it is my public service, if you like. I can put out other people's books. I can put out pieces of information. I can refer people to articles I think they might want to read...
"Everybody finds it hard to turn off. It's an addictive thing, and the reason it's an addictive thing is that it's like Easter eggs. You wake up in the morning: is there going to be an Easter egg for me?
"I used to have the same relationship with the rural mailbox when I was a teenager. I was living in the country for part of the summer and I had a boyfriend. You'd go down to look at the mailbox and there wouldn't be one and then the next day there would be.
"My dad was a biologist so I used to get these biological examples. The pigeon principal was an experiment with pigeons, and they taught the pigeons that if they pecked on a lever they got one grain of corn per peck.
"The first group of pigeons found that if they pecked the lever they didn't get any corn anymore, so they stopped pecking. The second group got corn every five times, and they kept pecking because they knew it was predictable. The third group, it was random, they never stopped pecking. When it's random but there's a possibility of a reward, people become like gamblers."
On the writing gamble:
"I cannot remember a time when publishers were not moaning and crying, but of course they're gamblers. Publishing is gambling, writing is gambling. It's the most entrepreneurial thing you can do.
"There are a lot of creative and good books that don't get readerships. You can dedicate your life to writing your book, and it can be a very good book, and it could go nowhere.
"Self-publishing was trumpeted as being the big answer to everything. It's out there, but how do you let the readers that you want to be your readers know about it? It's the same problem it always was.
"About five years ago we were told it was all going to be digital. That has not happened. There are neurological reasons for that, but digital went up to a certain level and then it went back down and it sort of stayed at that level, and the paper book has come back."
On puffery and the dawn of Canlit festivals:
"A lot of the things that are with us today were invented by my generation in the '60s, because they weren't there [before]. There were no creative writing schools, maybe two. There were no book tours. Jack McClelland basically invented the book tour, because Canada is so big. He did that before people started doing it in the States. There were no literary festivals.
"The first freestanding authors-only literary festival was at Harbourfront and it evolved out of the Bohemian Embassy Authors' Night back in the early '60s. There was a coffee house called The Bohemian Embassy and they would get mail from people who wanted a visa because they thought it was a real embassy. That's where the author's festivals came from. Because there weren't any and people felt a need, especially in a country like Canada, to connect people, to connect readers with writers.
"Once upon a time there were only the Governor General's Awards, and they weren't covered by the press, hardly at all. They were a very obscure thing. You may now think of that as puffery, but consider the alternative."
On the end of fossil fuel:
"There's a piece recently in which the head of Saudi Arabia was saying we know there's going to be an end to oil; it's not going to be that we run out of oil, it's that the demand is going to fall.
"You know, I'm so old that I remember the following things: I remember when everybody had a coal furnace. How long did it take before oil furnaces came in and the coal wagon disappeared from the streets? About 10 years. How long did it take [for] the first cell phones? They were enormous, they were called satellite phones, they were $1,000, you had to carry them around in a case.
"Everybody went 'Hahaha, nobody will ever get this -- why would you have one?' And look at it now. The cassette tape deck, that was even faster. As soon as CDs came in, bang they were gone. You can just go through all those things that have fallen out of favour."
On optimism about the possibility of technology saving us:
"Unless you're an optimist, you don't bother writing books. In itself, it's a very optimistic thing to do."