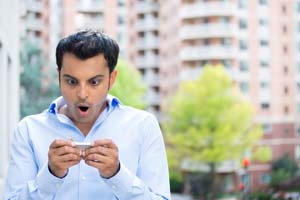 As the chatter about nude celebrity photos invades legacy media, it's hard not to recall the wise words attributed to PR masters a century ago: there's no such thing as bad publicity as long as they spell your name right.
Of course, publishing images of people without their permission is an offence that is even more offensive when the target is naked -- and in some jurisdictions it's a crime.
But to me, this sort of citizen porn -- I pinched that clever term from Brit writer Zoe Williams -- seems the ideal profile-raising scheme. A sex video was the key to Paris Hilton's rise to fame, after all, and her only obvious talent was shopping.
In a world where teens are sexting each other casually, does anyone make a moral judgment about celebrities snapping naked selfies? Of course not. It just intrigues existing fans and possibly attracts new audiences.
Other than Jennifer Lawrence and Rihanna, the targets all seem to be B-, C-, and D-listers likely to benefit from the attention, which is why so many critics have suggested it was probably some social-climbing D-lister behind the shocking -- shocking! -- invasion of celebrity privacy.
Before you dismiss this notion as cynical, give a thought to how notoriety is celebrated. For example, the potty-mouthed and barely-clothed Miley Cyrus is now so famous that she can add New York art show to her list of bizarre accomplishments. For Dirty Hippie, as the show is called, Cyrus has glued stuff she found around the house to other stuff, also found around her house. Her found objects include a dildo (naturally) a hamster toy (I'm not touching that), teddy bears, cameras, masks, and a pineapple. I'll spare you her insights into the magic of drinking pineapple juice, which inspired her to add this fruit to the gluing frenzy.
Sure, sex always sells. But for the marginally talented it has always been shame that leads to fame. Or, more accurately, being shameless.
From mediocre to meteoric
Nothing has ever enabled the shame-insensitive like the web. It has certainly been a boon for folks like the newly famous self-published author Stephan J Harper. He's no relation to our prime minister, but he has an urge to control what people say about him in a way that makes you wonder about the power of names.
Harper is an iBook author, one of the book trade's eternal optimists, who is willing to pay to have his peerless prose published on an eBook designed for iThingys. As part of the business of encouraging authors, Apple publishes a blog, called Tidbits, where Harper's latest book was reviewed in May. That led the author to pen thousands of words in hilarious response to the reviewer, his fellow posters, and as it turned out, the world.
I discovered Harper's obsession when he made the Guardian in a story headlined: "How not to respond to a bad review."
I disagree with that sentiment. If you're trying to market something mediocre, causing a stir is the quickest way to pull an audience. In this case, Harper's pompous prose and delusions of grandeur are the source of his newfound fame. He's like a reality TV star, only in text.
The book, Venice Under Glass ($2.99), is about crime-solving teddy bears. The author argued that his work could be compared to Fitzgerald and Keats after the reviewer had the nerve to call it "juvenile" and "workmanlike." Had Harper slunk away quietly, he'd have remained an obscure self-publisher in California writing a blog in the voice of a stuffed animal. Instead, he's hit the media big leagues and is the toast of the blogosphere, with notices from such major traffic generators as Reddit, Boing Boing, and the Daily Dot.
Crazy, or crazy genius?
Even before his performance at Tidbits, Harper clearly had a plan. He reviewed himself under a pseudonym, a practice he insists is common in MFA writing programs. Or rather, he wrote in the guise of one his teddy bear characters, Neville Addison-Graves III, at BasilBaker.com. That's the blog of another stuffed bear, and another character, who is the sleuth in Venice Under Glass. (It's just so meta.)
Once Harper trotted out the views of one stuffed bear to defend the story of another stuffed bear and prove the reviewer was oh-so-wrong, his fellow posters went wild (with laughter). As the old shampoo commercial said, they told two friends, who told two friends, and so on until the American story made it to French and British newspapers.
For writers and readers who might turn up their noses at the likes of reality TV's beauty pageant tyke Honey Boo-Boo, the adventures of Harper/Basil/Neville offer a similar thrill, with a literary theme. Is he insane or a marketing genius? You decide!
The whole four-month-long saga can be found here, capped off by the website editor's bemusement earlier this month as he announced he's finally shutting Harper down.
"We have been shocked by how this comment thread has gone viral, and we've been watching it closely, because many of the posts have crossed over the line of civility we require of commenters. It was so unusual, though, that we let it grow organically despite the vilification that Harper continually heaped on Michael's review and increasingly on his person."
I'm not shocked. That was a first-class publicity stunt. And I'd bet Harper's notoriety sold some books.
I tried to contact him to confirm my suspicion that his performance was less a psychological collapse than a marketing tour de force. Sadly, the email on the press release no longer exists. Even his fuzzy alter egos have been silenced. Basil Baker's seven-year-old blog hasn't been touched since last March.
I feel quite sad about this. I suspect Harper may have found the Holy Grail for which every self-published author is hunting. For novice writers, the big question is how to get noticed by mainstream media like the Guardian.
The chatter factor
Media attention is crucial to authors for the same reason it's crucial to celebrity-wannabes. While it's well known that reviews don't sell books, being part of the public chatter does have an impact on the sale of just about everything.
And it doesn't have to be flattering chatter. It's the equivalent of the way name-recognition attracts votes. People are more likely to vote for someone they've heard of, even if what they heard was bad. (This explains two mysteries: why the boring 50 Shades of Grey is a bestseller and why Toronto seems open to electing any Ford in a storm.)
With that in mind, I hope Harper isn't discouraged at losing his commenting platform. He's done some fine work with the teddy bear rants. And while his book is tedious, as a reality character he's more fun than a house full of Kardashians.
If a canny old PR genius like circus showman P.T. Barnum were here today, I'm sure he'd advise Harper to take a tip from the bare celebs and find a hacker to circulate photos of his bear characters. Preferably, they would be frolicking naked at picnics while drinking pineapple juice, smoking crack, and/or tying each other up.
And Harper needn't worry about embarrassing himself either. In the pursuit of fame, there's no such thing as being too shameless.
© Shannon Rupp. For permission to reprint this article please contact the author: shannon(at)shannonrupp.com.