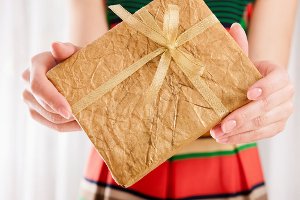 After a year of frying our eyes in front of computer screens and squinting at impossibly small headlines on electronic hand-held devices, we at The Tyee take some sentimental pleasure in recommending hand held devices capable of providing enjoyment in a more old-fashioned, low tech manner. Books, they're called. And, yes, we know that nowadays you can download most of them into glowing tablets if you want to. Still, there's nothing like the heft of a book-shaped present retrieved from under the tree and the anticipation of ripping away the wrapping to find out what your loved one, this year, thinks goes on in your mind. Here are suggestions from various Tyeesters to help you match titles to persnickety tastes and proclivities.
For your teenager who thinks Vancouver is boring and yearns for adventure:
Something Fierce: Memoirs of a Revolutionary Daughter by Carmen Aguirre (D&M Publishers, 2011)
When her Chilean refugee mother and stepfather left Vancouver to work underground against the Pinochet regime in Latin America, young Carmen found herself part of their cover. Then she became an agent herself. The suspense is real, and often really scary.
For the fiction lover who likes thrillers with a chilly, gothic twist:
The Outlander by Gil Adamson (House of Anansi, 2012)
From the first page, the "widow by her own hand" is running. Fleeing, actually, the vengeful wrath of her dead husband's twin brothers, though we quickly learn she committed her crime to escape his abuse. It's 1903, and the hunt doesn't stop 'til the final page of the novel is turned. First published in 2008, Gil Adamson's The Outlander is one of several reissues by Canadian indie publisher House of Anansi, in celebration of its 45th anniversary. Along with Margaret Atwood's Survival, Al Purdy's Poems for All the Annettes, and Rawi Hage's De Niro's Game, the reissues, old and new, come with fresh introductions by notable writers. House of Anansi calls it a crash course in Canadian literature, and we agree. The covers are beautiful, the books classic.
For the guy who won't stop complaining that his conference trip was dull:
The World is Moving Around Me by Dany Laferrière (Arsenal Pulp Press, 2012)
When Montreal writer Dany Laferrière returned to his native Haiti in January 2010 he expected to visit friends and family and attend a colloquium on contemporary Haitian literature. Instead, he witnessed the devastating earthquake that toppled the country's infrastructure and is estimated to have killed over 300,000 people. Comprised of a series of vignettes set in Haiti and Montreal, The World is Moving Around Me highlights the stoicism and resolve of the earthquake's victims and presents considered thoughts on Haiti's past and best way forward.
For the insufferable pragmatist you carpool with:
The Art of the Impossible: Dave Barrett and the NDP in Power 1972-1975 by Geoff Meggs and Rod Mickleburgh (Harbour Publishing, 2012)
When Crawford Kilian reviewed this for The Tyee he concluded it might just be the best book every written about B.C. politics. And no, just because it's about a New Democrat who sweeps to power and implements a staggering array of lasting progressive changes before business interests rise up and throw him out, it's not a fantasy novel set in the near future.
For your niece planning to teach English in China:
Phoenix: The Life of Norman Bethune by Roderick Stewart and Sharon Stewart (McGill- Queens University Press, 2012)
The Canadian Communist surgeon was a drunk, a womanizer, and a hard guy to like. But he was also tough and brave enough to save lives in horrendous wartime conditions. China still reveres him. This is the definitive biography, with many insights into both Canada and the People's Republic. The Tyee reviewed it here.
For the American who moved here for all the right reasons but keeps sneaking peeks at Fox News:
America, But Better: The Canada Party Manifesto by Brian Calvert and Chris Cannon (D&M Publishers, 2012)
Brian Calvert and Chris Cannon saw an opportunity this fall and went for it. Their modest proposal was to win the U.S. presidency by running as The Canada Party. As Calvert told an interviewer for Public Radio International's The World program, "We just want to come and help America, fluff its pillows and serve it some soup and let it just kind of rest a little bit, and let us take the helm for awhile. There's been some drinking going on and we want to take the keys and get you home safe." They didn't unseat the incumbent but on most days they were funnier on purpose than even Mitt Romney accidentally. And they produced a great book that's even easier to laugh at now that the torture of the campaign recedes in the mind.
For your neighbour who's thinking of running for the NDP, Liberals, or Greens in 2015:
Harper's Team by Tom Flanagan (McGill-Queen's University Press, 2009 edition)
The Prairie Machiavelli may not be coaching Stephen Harper any more, but he wrote the play book, and it tells the opposition what it's up against. Rule #1: Fear works. Don't bother getting this book for your local Tory; he or she already has it. Here's a Tyee review.
For the SUV driver you love:
Extract: The Pipeline Wars Vol. 1: Enbridge by Carrie Saxifrage, Tzeporah Berman, Alexis Stoymenoff, Jenny Uechi, David P. Ball, and Beth Hong; photography by Andrew S. Wright; edited by: Linda Solomon (Vancouver Observer, 2012)
Enbridge's Northern Gateway Pipeline is now ground zero in a battle whose outcome could mean life or death for civilization, according to experts like climatologist James Hansen and 350.org founder Bill McKibben. The Vancouver Observer's new e-book is the result of one year's in-depth reporting by a team of VO journalists, and is written in an easy to read, engaging, and fluid style that grips from the first lines as its opening chapters flash between people living in Northern Gateway's path and big oil executives planning it out. Give this to the person you'd like to invite to consider questions such as: What price development? Must peaceful protests against Northern Gateway escalate into violent clashes? Could we instead be investing in green collar jobs, such as solar, geothermal, or wind energy?
For your sailboat-crazy husband who dreams of summer up the B.C. coast:
The Private Journal of Captain G. H. Richards: The Vancouver Island Survey (1860-62) by Linda Dorricott and Deidre Cullon, editors (Ronsdale Press, 2012)
Richards mapped our shores and witnessed B.C. in a turbulent era: the gold rush, the smallpox pandemic, and the "Pig War" that could have ended in a real war between the U.S. and Britain. He was a perceptive observer of the First Nations, a good boss, and sometimes a very funny writer. Whether you're jogging past Brockton Point or anchored in Bedwell Bay, Richards was there first, and named it. Reviewed on The Tyee.
For any kid:
Paddle to the Sea by Holling Clancy Holling (Sandpiper, 1980 edition)
First published in 1941, this book about the journey of a carved wooden canoe from the Nipigon country through the Great Lakes to the Gulf of St. Lawrence is spellbinding. Beautiful watercolour illustrations create images that last a lifetime, and the text is a blend of ecology, economic geography, transportation and engineering.
For that pal who's always trying to organize the ultimate soiree:
111 West Coast Literary Portraits by B.C. Authors, photos by Barry Peterson and Blaise Enright (Mother Tongue Publishing, 2012)
A blend of silvery photographs and golden words by their writer subjects, this is a perfect gift book -- one that is itself a gift to British Columbian culture. Lovingly put together by Mona Fertig, proprietor of Mother Tongue Publishing on Salt Spring Island, it's an addictive experience with surprises at every turn of the page as the deft duo of photographers try all manner of angles and frames on their subjects. After a while you feel like you're hanging out with the brightest literary minds in B.C. Pass the wine and some of that Salt Spring Island goat cheese! A sampling ran on The Tyee here.
For your friend who says Canada's biggest export is loveable pop stars:
The Ugly Canadian: Stephen Harper's Foreign Policy by Yves Engler (RED Publishing / Fernwood Publishing, 2012)
Loveable Canucks? Actually what we're putting out there these days is causing the world to not like us much at all, as Yves Engler relentlessly documents in his devastating little book sized just right to stuff down your favourite right-winger's, um, stocking. By the time Engler's done showing how Harper has been pushing tar sands and mega-mines, along with militarized foreign policy to seal the deals, you'll be ready to rip that maple leaf off your backpack. Excerpts ran in The Tyee here.
For your smug nephew with the brand-new MBA:
The Spirit Level: Why Greater Equality Makes Societies Stronger by Richard Wilkinson and Kate Pickett (Bloomsbury Publishing PLC, 2009)
The Occupy movement made income inequality part of our political debate, and this book has the ammunition to win that debate. Wilkinson and Pickett organize a century's worth of research to show how unequal societies are literally sick societies -- with more disease, more violence, more social and personal stress. Even the richest are better off in an equal society.
For the natural artist in your life:
Canada's Raincoast At Risk: Art for an Oil-Free Coast, foreword by David Suzuki, afterword by Wade Davis, art by various (Raincoast Conservation Foundation, 2012)
A rich and complex ecosystem, the Great Bear Rainforest gives nourishment to some great human inspiration. Proof lies in the beautiful work of 50 B.C. artists including Robert Bateman, Robert Davidson, Julia Hargreaves and Roy Henry Vickers presented in this gorgeous feast for eyes and soul.
For your grandfather, who was there, or your grandchildren who wish they had been:
The Chuck Davis History of Metropolitan Vancouver by Chuck Davis (Harbour Publishing, 2012)
Writing with curiosity, humour and a keen sense of human interest, Davis turned the regional history into a whole new genre that few other city historians could ever master. Younger readers may be shocked at how funky and down-market Vancouver used to be, but they'll also see how much fun they missed by not being here in the olden days.
For the cook in your life who thinks there's no new way to prepare that salmon you keep bringing home:
The Salmon Recipes: Stories of Our Endangered North Coast Cuisine by The Prince Rupert Environmental Society (2012)
Compiled by Gitgat elders, Haida cooks, Prince Rupert stevedores, and mothers that live on the endangered Pacific north coast of British Columbia, this book offers wild stories for the table and rich recipes for the family.
For the great aunt who won't stop gushing over the royal baby-to-be:
Freddy and Fredericka by Mark Helprin (Penguin Press, 2005)
With the constant bombardment of royal couple pregnancy news, even the most zealous monarch-fans need a break. This satire of the British royal family by American author Mark Helprin offers a twist; a fresh look at the frivolity of the uber-privileged. This whirling misadventure follows Freddy and Fredericka (the prince and princess of Wales) as they attempt to conquer the new frontier (present day America), after they've been banished from the kingdom. Helprin isn't afraid to wander briefly into the realm of the absurd with slapstick comedy and wordplay. Most of the time he manages to get out, and amidst the humour Helprin constructs at once a biting satire and an epic love story.
For the river urchin in your life:
The Wind River Variations by Brian Brett with photographs by Frits Mueller (Oolichan Books, 2012)
One of B.C.'s master writers plunges into the river systems of the Wind, Bonnett Plume and Snake, all of which feed into the Mackenzie and onto the Beaufort Sea, and emerges with a slim, invigorating volume of poetry. The black and white photos of vast vistas and paw prints etched in silt make a scrapbook you wish you'd accumulated yourself last summer. But then, your feet would have hurt and now they don't have to.
For the stoner friend who dabbles in neuroscience:
Hallucinations by Oliver Sacks (Knopf, 2012)
Neurologist and writer Oliver Sacks recalls his own experiences on LSD, morphine and a plethora of other substances in this detailed anthology of humans and their hallucinations. Sacks dives into the unconscious and discovers talking spiders and spooky apparitions, but these are not outlandish tales of people gone mad. Rather, Sacks describes an experience that is deeply human and widely shared. With his characteristic wit, this book provides a fascinating look into how the brain works.
For the econ major who returned from Occupy Vancouver with dreadlocks:
Meme Wars: The Creative Destruction of Neoclassical Economics by Kalle Lasn (Seven Stories Press, 2012)
With the disparaging, ironic, and occasionally uplifting art style for which Adbusters is famous, this weighty tome is intended to be an alternative to the Economics 101 textbooks sold at the university bookstore. Meme Wars is full of suggestions like "Ask your professor: How does climate change factor into our study of economics?" and invitations to orchestrate walk-outs, disrupt lectures and otherwise stir up trouble to bring attention to the problems of modern economics.
For the person who thinks she gets it done all by herself:
Energy of Slaves: Oil and the New Servitude by Andrew Nikiforuk (Greystone Books and the David Suzuki Foundation, 2012)
When modern society banned human slavery, fossil fuels allowed us to keep our slave-owning lifestyles, according to Andrew Nikiforuk. Rebranding modern conveniences such as cars and computers as "energy slaves," and comparing the easy lifestyles they afford us those of Roman elites, he makes a compelling case. The trade-off hasn't all been to our benefit, however, as he takes us through the social, moral, economic, and especially environmental consequences of our addiction to fossil fuels. Here's Nikiforuk himself keying off his book in The Tyee, where he is a regular contributor.
For the irony deficient ones in your midst:
Sussex Drive by Linda Svendsen (Random House Canada, 2012)
Svendsen writes a wickedly funny send-up and take-down on the sort of Canadian prime minister who can't control his urge to prorogue. It's the kind of political satire that Brits do so well but Canadians aren't as prone to produce. Now in Svendson we have a sharp knife in our very own drawer. Here's a Tyee interview with the author.
For that semi-creepy uncle who conducts his "business meetings" at strip clubs:
Liquor, Lust, and The Law: The Story of Vancouver's Legendary Penthouse Nightclub by Aaron Chapman (Arsenal Pulp Press, 2012)
Keep your mildly offensive retro-uncle (or maybe your queer theorist burlesque aficionado) occupied this Christmas with this retelling of the lurid history of the night club that managed to survive for more than 60 years, The Penthouse. Either will be mesmerized by exotic dancers such as Sandy King and the original owners, the Filippone brothers, while poring over recently unearthed photos, police documents, and untold stories of the goings on at the Vancouver hotspot. The Tyee ran some highlights here
For the teenager who thinks Chinese people are new to these parts:
Escape to Gold Mountain: A Graphic History of the Chinese in North America by David H.T. Wong (Arsenal Pulp Press, 2012)
Wong's book is a great illustrated yarn -- make that several generational yarns woven together -- telling the story of Chinese families coming to North America (or "Gold Mountain" as those immigrants called this continent). Wong doesn't flinch from showing the discrimination and hardships Chinese faced as they sought to build new lives here, nor does he neglect the triumphant contributions they have made. Told and drawn with humour and bravado, this is a no digest of historical facts. It's a page turner for all ages that is likely to become a classic. Look for a Tyee interview with Wong in the coming days.