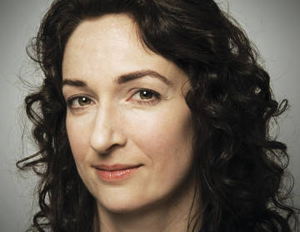 The Golden Mean
Annabel Lyon
Random House (2009)
Once her husband has herded a couple of giggling, screaming youngsters out of the room, Lyon and I are free to chat... for a few minutes, anyway. The three- and five-year-old are Lyon's official occupation. She balances writing with motherhood. "I'm not a full-time writer. My husband is a taxi driver and I have two kids. I'm at home with them, and I have to fit writing around that."
You'd have to say she's efficient with that time. Her first novel, The Golden Mean, was nominated for several major fiction prizes: the Governor General's Award, the Scotiabank Giller Prize, the Amazon.ca First Novel Award, and the Rogers Writers' Trust Prize, the last of which she won. Before this book's success, she published two short story collections, Oxygen and The Best Thing for You, and wrote a children's book. Lyon has also freelanced for several publications, including Geist. Tomorrow she will speak as one of the headliners at the Sunshine Coast Festival of the Written Arts, before heading off to Edinburgh, Scotland, to take part in a festival there.
With the kids' bedtime at 8:00, Lyon devotes a few hours each evening to writing. Delving into the deepest recesses of history after what could only be an incredibly long day might not be everyone's idea of a good time, but Lyon relishes it. Her passion for ancient philosophy and ethics guided her studies in university (she attended UBC and SFU).
Lyon also teaches. "You never just write fiction, you have to have a number of things on the go," she says. "I can't think of a writer who doesn't also have a teaching job and also sits on a jury once in a while. It's just a lot of work. You do lots of different things and scrape it together as best you can." The family of four lives in New Westminster in a one-bedroom apartment.
Lyon's mind (at least after the kids are in bed) is firmly rooted somewhere closer to the Mediterranean. The Golden Mean recounts a seven-year period in the life of the famed Greek philosopher, Aristotle, and imagines his relationship with one of his pupils, the teenaged boy who would later be known as Alexander the Great.
Though the novel is based firmly in history, Lyon makes departures that bring Aristotle's life into focus for modern readers. Her thoughtful, flowing prose links facts and carefully constructed fiction, and brings to life the corporeal, intellectual, and intangible aspects of life in the ancient world. The result is a novel that begs to be discussed.
So after chatting briefly about Hellenic philosophy and the routines of her home life, Lyon and I leave the G-rated behind and move to what, at the very least, constitutes 14A. At one point, in asking Lyon why she's so good at writing male characters, I bring up a movie in which Jack Nicholson plays a male author who, when asked how he writes female characters so well, responds with the rather questionable, "I think of a man, and I take away reason and accountability."
Lyon laughed. "I got a rejection letter for The Golden Mean from an international publisher that was basically one line. It said, 'This doesn't read like it was written by a woman.' I don't know. I don't think intellect is gendered in any way. I don't think with my vagina, I have a brain. I want to come up with a Jack Nicholson-ish retort. I guess it would be 'I thought of a woman, and added a penis.'"
Here is some of what else Lyon had to say...
On becoming Aristotle:
"To take on somebody who was such a great genius was absolutely daunting. He's one of those minds that only come along very rarely, like Shakespeare. A rare mind. He worked in so many areas, far beyond the scope of what we would call a 'philosopher' today. He was a scientist, a literary critic, an ethicist, a logician, he did animal dissection for the first time, he was a doctor. Yes, it was absolutely daunting to take on, and the only way to do it was to make it my project to remind people of Aristotle. I don't have any miniscule part of his genius or intellect. It was trying to give him back to people that allowed me to write this book."
On finding an audience:
"I've been told on more than one occasion, 'Okay -- historical fiction. The market for that is women, and they want romance,' which is completely patronizing to the audience, and completely untrue. I've done an awful lot of book clubs with the 'book club ladies,' as they like to call them, the supposed audience for the schmaltzy historical novels. These are completely intelligent women with broad-ranging interests, open to an incredibly wide variety of things to read."
On the book's sexy opening:
"I was so careful to be true to Aristotle. There's a passage in his writing where he describes female genitalia at different times of the month, but his writing is very clinical. It's not lascivious at all. I did wonder, though, how can you be so objective and then go out and have a sex life? He had two kids, so he must have managed."
On having a pottymouth and writing like a soldier:
"I think we're used to hearing the ancient world filtered through a British diction. If you think of Robert Graves or the HBO series Rome, we're used to hearing 'good lord' or 'bloody hell.' It makes it really jarring to hear words like 'fuck' and 'cunt,' for me to be writing in a North American idiom. I considered the language, and thought, 'This is my intellectual inheritance as a 21st century Canadian woman, I shouldn't have to filter it.' That makes no more or less sense than having characters say, 'Fuck you.'
"As far as the modern day obscenities in the book go, there are direct equivalents to those words that were just as socially unacceptable in ancient Greece. It was a warrior's culture. The men weren't sitting around after a battle saying, 'Darn, that hurt.'"
On linguistic integrity and alienating readers:
"Maybe one person in 10 that I speak to says, 'I really enjoyed the book, but why did you have to use those words so often?' And that includes my own dad. I actually took out some 'fucks' because of my dad. Generally, the language is something that I don't feel apologetic about. It felt right for the way I wanted to tell the story.
"This stuff amuses me to no end. It says something weird about our culture, that all the things that are visually acceptable on TV or on billboards are somehow not acceptable when you put them into language. In prime time, you can watch an episode of CSI, and it is gory and nasty and violent, and they're saying 'bitch' five times an hour or whatever they're allowed to under the prime time rules. But then pick up a work of literary fiction and encounter the same thing, and somehow it becomes really shocking. I've heard from one bookseller in Toronto that a woman hit the first instance of 'cunt' on about page three, and actually returned the book. BC Ferries won't stock the book because there's a bare bum on the cover."
On taking liberties with the past:
"The great advantage of writing a historical novel that's set so long ago is that so little is known. If I was setting something in 19th century London, the research would never end. I tried to be as true as I could to the historical record. That being said, you get to make up an awful lot. Who's going to contradict you? His kids certainly aren't going to.
"There's a great tradition of people elaborating on history from Aristotle and Alexander's time. I tried to be as true as I could to the historical record. In medieval times, the Germans wrote 'Alexander Romances' about the relationship between the two. No one really knows what happened: Aristotle could have given him a couple of half-hour lectures and that was that."
On whether a "golden mean" exists:
"No. It's an ideal. I think Aristotle had a mature and tragic view of the world. He knew there was no such thing as perfection in this world. You can work towards it, you can strive for it, you can do your best and live a good life trying to achieve it, but I think he knew that you could never achieve it entirely. It's a very tragic understanding of the world but a poetic, complex, and adult one as well."
Annabel Lyon will be speaking tomorrow, August 14, 2010, at the Sunshine Coast Festival of the Written Arts. She is currently working on a sequel to The Golden Mean. If you can't wait until then, read more at her blog.