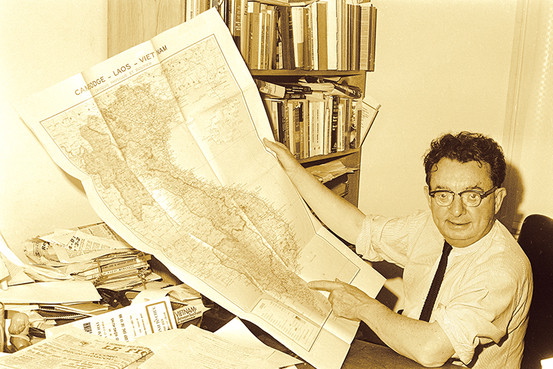 American Radical: The Life and Times of I. F. Stone
D. D. Guttenplan
Farrar, Strous & Giroux (2009)
I.F. Stone died at 81, in 1989, but his legend lives on among journalists: the tough, deaf, nearsighted little radical who reported the news his own way.
Stone, who was done before the Web came alive, might anyway be considered "the best blogger ever" according to one expert in digital journalism. You do have to wonder what Izzy Stone's impact might have been had the Internet been at his disposal.
A different era
After 20 years as a reporter and commentator for left-wing papers like PM, Stone came out of World War II too independent for anyone in the Cold War media. He praised his enemies when they did the right thing, and damned his friends when they erred. The big newspapers wouldn't touch him because he was too left-wing; the left-wing media like the National Guardian and Monthly Review resented his willingness to criticize the Soviets.
Effectively blacklisted by the late 1940s, Stone the radical became Stone the small businessman, publishing I.F. Stone's Weekly for a few thousand subscribers. Lacking the resources of a big-city newspaper, he drew on his many contacts and his readiness to dig into dull government documents for the outrageous details.
So while his colleagues were crowding into presidential press conferences and acting as stenographers, Stone was beating them to key stories: nuclear weapons testing, the civil rights movement, the decay of the Soviet system.
D.D. Guttenplan's biography is not definitive. It tells us a lot about Stone's times, but not much about his life. Once we get past his childhood in Pennsylvania and his brief university career, we learn almost nothing about him as a husband and father; his life is simply that of a journalist, his job taking him and his family from Philadelphia to New York and then to Washington.
Well, we don't know much about the family life of Jeremiah either. And like Jeremiah, I.F. Stone was a prophet.
Prophets as policy wonks
The prophets of the Old Testament did not foretell the future, except in a general sense. They were policy wonks, perennially warning their fellow Israelites about the predictably awful results of straying from the principles laid down by Jehovah. I.F. Stone, an atheist, took his principles from the U.S. Constitution and his voracious reading in history and philosophy.
And once he absorbed those principles, he didn't let them go. As a "pre-Depression radical," he was shaped by the execution of Sacco and Vanzetti. At times his politics and those of the Communist Party seemed identical. But he never joined the party, and when the party line veered away from his principles, Stone said so.
He didn't judge only the reds. In the 1940s he sailed to Israel on a freighter carrying illegal Jewish immigrants to Palestine. That made him a lifelong supporter of Israel, but also of the Palestinians. Only a binational federal state would give justice to both peoples, Stone said, and nothing in the last 60 years has proven his argument wrong.
Outliving the opposition
Stone's integrity got him into plenty of trouble, and it also made him, late in life, an icon. By sheer stubbornness, he had outlived and out-argued the trimmers and opportunists of left and right: the apologists of Stalin and the supporters of nuclear testing and segregation. And he had done it by running a mom-and-pop newspaper for twenty years. While he cranked out the articles, his wife Esther looked after the subscription list and the cash flow.
The Old Testament prophets always had plenty of material for their jeremiads, because the Israelites were always screwing up and ignoring Jehovah's very clear policies. Stone was in the same position, with more policy scandals than he could cover. That's wonderful for prophets and serious journalists, but it's literally bad news for the rest of us. And Guttenplan's book makes it clear that not much has changed.
The shock of Pearl Harbor brought the U.S. into World War II. Then it fought the Cold War on the fear of a Soviet Pearl Harbor with A-bombs, aided by the American subversives who supposedly wanted the Soviets to win. I.F. Stone was a casualty of the Cold War because he called a plague on both houses.
He would not have been surprised by 9/11 and its consequences. He would have seen the War on Terror as just another red scare, stampeding the U.S. and the world into ceding still more of their rights and freedoms. He would have seen George W. Bush's weapons of mass destruction as little different from Joe McCarthy's 205 Reds in the State Department. And he'd now be giving Barack Obama a more-in-sorrow spanking for hanging on to so many of Bush's unconstitutional powers and policies.
Flashbacks
To one who lived through I.F. Stone's Cold War as a boy, this biography is almost like opening my high school yearbook and seeing the faces of my youth.
It was a time when the U.S. actually detonated nuclear weapons in the atmosphere over Nevada, letting fallout drift east over millions of Americans in Utah and the Middle West. Black kids were sitting down at whites-only counters and waiting for service. Peace or World War III was a decision to be made by John F. Kennedy, a bootlegger's privileged, womanizing son, and Nikita Khrushchev, who had overseen the 1930s destruction of Ukraine.
We've progressed since then, or Stone's era wouldn't seem so backward to us. But we haven't progressed enough. Like the ancient Israelites, we keep ditching the policies that made us what we are, and adopting policies that will ruin us.
And that is why the warnings of the prophets, whether Jeremiah or I.F. Stone, don't go out of date.