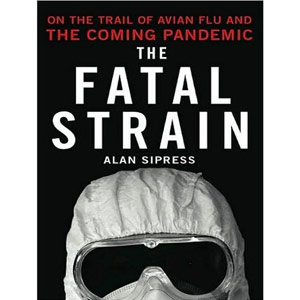 The Fatal Strain: On the Trail of Avian Flu and The Coming Pandemic
Alan Sipress
Viking (2009)
This book looks like a victim of bad timing: Washington Post reporter Alan Sipress covered bird flu in the hot-zone countries, wrote this account, and got blindsided by swine flu's eruption last spring.
No matter. This is the essential prehistory of the present pandemic, and of the next one -- which could well be bird flu after all. It also raises issues about the interaction (or lack thereof) between new and old media.
Sipress starts with an account of the Ginting family on the Indonesian island of Sumatra in 2006. All told, seven members of the family died after sharing a chicken dinner -- but chances are that most of them caught it from one another.
This looked exactly like the kind of "family cluster" that could lead to a full-blown pandemic, and epidemiologists had already mapped a plan to smother such an outbreak in its cradle: Send in swarms of outsiders to administer Tamiflu to everyone in the area, while culling all the poultry.
Punished by spirits
But the Ginting family patriarch was a well-known local gangster who had gained his power, his neighbours believed, by making promises to a local spirit. When he broke his promises, the spirit punished him by killing seven of his descendants.
This was obvious and logical to rural Sumatrans. Stories about bird flu, however, made no sense to them, so when outsiders came in to cull their poultry, they got a hostile reception. So much for the illusion of smothering the pandemic.
Sipress learned about this by interviewing the locals as well as surviving family members -- including Jones Ginting, who trusted a local witch doctor more than the local medical doctors when he contracted H5N1.
Much of the value of Sipress's book comes from this on-the-ground reporting and face-to-face interviewing with the people involved -- not just in Indonesia but Vietnam, Thailand, and other hot-zone countries.
The courage of Margaret Chan
But he also takes us back to the ominous start of H5N1 in 1997. So we see the young Margaret Chan as Hong Kong's top health officer just as China took over and the first human H5N1 cases were breaking out. She had the courage to order the culling of every chicken, duck and goose in the Special Administrative Region. That stamped out H5N1 for six years.
Chan set an example that other Southeast Asian countries steadfastly ignored. Instead they lied and covered up their first bird flu outbreaks. When H5N1 returned in late 2003, Thailand saw only an economic threat to its chicken-export and tourism industries. Vietnam at first didn't want to admit a big team from the World Health Organization to investigate human H5N1 cases. Then it decided to cull millions of chickens by using bare-handed, unprotected peasants. A few months later, human-to-human transmission almost certainly took place. Vietnam said nothing. To maintain good relations, WHO was silent also.
One reason for the silence, Sipress makes clear, was that the stakes were so high. Not long ago, chicken was a luxury food in southeast Asia. Every family kept a few in the back yard, more to sell for ready cash than to eat. Then industrial chicken farming arrived, and many farmers became richer than they'd ever dreamed. H5N1 could destroy that prosperity in an afternoon.
What's more, cockfighting is an ingrained culture in southeast Asia, intensely popular and bringing huge fortunes to the owners of successful birds. Some breeders have hundreds of birds, and live in close contact with them. Between rounds in a cockfight, the owner may even suck blood out of his bird's throat to help it breathe.
Attacking the scientists, not the virus
As Sipress says, "I would come to learn that every Asian country with major outbreaks in livestock had hidden them from view, for months or even longer... But even then, when it became untenable for governments to keep up the lie, they often chose to discount the danger rather than mount a serious campaign to defeat it. Instead of attacking the virus, they too often went after the scientists, journalists, and other whistle-blowers who tried to reveal the threat."
This may explain one frustrating aspect of blogging bird flu: The lack of media coverage and local blogs in the hot zones. During SARS, blogs in China had covered the outbreak in detail -- not only local Chinese blogging in English, but foreign teachers telling the world how the disease was affecting their own schools and communities.
So it's now clear, thanks to Sipress, that the hot-zone countries were systematically lying to the world, and WHO couldn't do much about it. Ironically, this deliberate cover-up spared the world a major panic in the summer of 2005 that we never heard about.
Yan Li, a Canadian microbiologist working for WHO in Hanoi, had found a shockingly high number of H5N1-positive results from tests of patients with suspected bird flu. His Vietnamese colleagues were also finding such results. It looked as if a pandemic was about to explode.
Operating in secret, WHO checked the results and found they were "false positives," the result of unreliable test methods. But first WHO had had to walk a narrow diplomatic line to get government cooperation.
Blame the chicken smugglers
That cooperation has been almost zero in the case of Indonesia, where the health minister stirred up a dispute about the bird flu virus as her country's intellectual property, not to be given away to WHO and then to the drug companies that would make vaccines to sell back to the Indonesians. (The new health minister says she'll continue her predecessor's policy.)
Even when countries admitted they had a problem and began culling properly, economic forces renewed the threat: The poultry shortage in Vietnam, for example, created a big market for smuggled chickens from China, many of them carrying H5N1. And misuse of antiviral drugs by Chinese poultry producers has only encouraged drug-resistant strains of the virus.
Transparency and clear communications are critical to the success of fighting outbreaks of new diseases. But hot-zone countries have clearly preferred lies and coverups. As a longtime flu blogger, I was generally aware of this, but I had no idea how pervasive such coverups have been. And that raises another issue about fighting 21st-century pandemics.
We flu bloggers have been proud to provide a valuable new source of information. We access medical journals' websites as well as those of WHO, the Jakarta Post and Xinhua. Our readers (including journalists and doctors) benefit from this additional information.
Blogs miss critical details
But our online sources didn't always tell us the important details. We covered the Ginting family cluster, but had no idea about the family's background or the reasons for the hostility to outside attempts to fight H5N1. We knew about Thai chicken exports and the popularity of cockfighting, but not how important they were economically and culturally.
And while I was ransacking cyberspace in the summer of 2005, looking for new sources, I evidently missed Sipress's own coverage: All I can find on my blog from that period is a link to an excellent story he did on the first Indonesian H5N1 deaths, in an affluent Jakarta suburb. Nor do I recall posting any other reports from him.
The lesson I draw is that we bloggers face not only the suppression of news in many online sources, but our own inability to find and evaluate all the good material that does make it onto the web. We are getting a little better in our search techniques, but it's still hard to find the most important stories in the flood of routine media reports. Despite our good opinion of ourselves, we are almost entirely dependent on information from hard-working journalists and articulate experts willing to go online.
Sipress finished his book recently enough to mention swine flu's outbreak last spring, but that's not important. He's done us all a service just by putting together a history of the people and events that led up to the pandemic, based largely on his own leg-work. Thanks to him, we have a much clearer idea of what we're bringing to this fight: the experts, the politicians, the cultural biases, and our own use of new media.
This is not the pandemic the experts expected. But it would be worse without their years of worrying and preparation. What we learn in this pandemic will save lives in the next one. And we will see a next one.