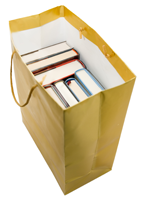 Okay, we've made a list and we've checked it twice. Time to start shopping for Christmas books. What? Christmas is less than a week away? It's a good thing we're right on it then. And let's face it: books are a last-minute shopper's best resort. Especially now that CDs are becoming an anachronism for all these young people with, whaddya call them, "iPods?"
Herewith, the first of two instalments describing worthy books, natural accompaniments, and probable recipients, because at this point if you haven't done all your shopping, you're going to need all the help you can get.
Best book to give with keys to the new Prius:
A Road for Canada By Daniel Francis (Stanton Atkins & Dosil) The folks at B.C.'s small but skilled Stanton Atkins & Dosil publishing house won the Booksellers' Choice award at this year's B.C. Book Prizes with James Delgado's Waterfront, an elegantly presented book on Vancouver's maritime history. This fall's equally beautiful A Road for Canada, by the prolific and engaging historian Daniel Francis (LD: Mayor Louis Taylor and the Rise of Vancouver), actually tops its very worthy predecessor on the strength of its writing. The book is not just the story of a highway, it's a richly detailed and idiosyncratic political and social history of the car in Canada.
Best book for a religious puritan, or an easily-aroused history aficionado:
Red Light Neon: A History of Vancouver's Sex Trade By Daniel Francis (Subway Books) Did you know that a successful Japanese-Canadian madam operated a thriving brothel in early 20th century Vancouver that charged twice as much for trysts with in-demand Asian girls as for white ones, until she was interned during the Second World War? Did you know that moralist tsk-tsking in municipal politics has routinely made life more difficult and more dangerous for the city's sex trade workers? Those are the questions you may be hearing three eggnogs into post-turkey conversation after this book goes over like gangbusters on Christmas morning.
Best gift for a Stephen Harper Conservative:
Fun Home By Alison Bechdel (Houghton Mifflin) This graphic novel about a lesbian growing up in a funeral home run by her closeted dad will leave Reformatories ™ speechless. And besides, all of your lesbian friends already have a copy of Fun Home, which has vaulted Bechdel (see Tyee's "A Dyke to Watch Out For") up beside Art Spiegelman and Joe Sacco as a graphic-novel deity.
Best book for the creepy guy down the hall who's always sharpening knives:
The Book of Assassins: A Biographical Dictionary from Ancient Times to the Present By George Fetherling (Vintage Canada) All your favourites are here, from Abram (who tried to kill George Harrison -- my sweet lord!) to Zasulich (the Russian gal who popped two caps into St. Petersburg's chief of police in 1878). Vancouver's Fetherling has put together a tremendously impressive, alphabetically listed series of write-ups on assassins from around the globe -- in fact, the list is so exhaustive that he couldn't possibly have acted alone; there had to have been a second writer on the grassy knoll! While shelving this gift, remember: keep it back and to the left.
Best book for Freddy, Jason or Leatherface but not for Paul George, Adriane Carr or Betty Krawczyk:
Chainsaws: A History By David Lee (Harbour, 2006) Okay, so it's only been a week since we featured this book ("Chainsaw Love"), but trees have been falling all over the South Coast since then. (Gusts to 157 km/h? Yikes!) Someone has to buck up those windfalls. And those people need a book to tell them about their tools. The book's camp artwork is something Vancouver baristas can proudly give to Kamloops heavy-equipment mechanics.
Best book for horror lovers with pretensions:
Blood Sports By Eden Robinson (McClelland & Stewart) Vancouver's inferiority complex owes at least something to "the dearth of mythologized crime history in our neck of the woods," wrote Charles Demers in "Big Cities Need Bad Actors." Robinson's Blood Sports, which owes a debt the dark side of Hansel and Gretel, helps right that wrong. Blood is spilled across the east side of Vancouver by a writer with literary chops who still likes Stephen King. (Reviewed by Charles Demers in "Big Cities Need Bad Actors.")
Best book to give to somebody whom you want to marry:
Carol Shields: The Collected Stories By Carol Shields (Vintage Canada) Well, okay, that's only because a Tyee contributor got this one for Christmas last year and is now engaged to the giver. Too many writers less talented than the late, great, Carol Shields like to pretend that you have to choose between literature that's smart or writing that's warm and beautiful and speaks accessibly to everyday life. Her stories are the ultimate holiday treat: there's definitely a sweetness, but no empty calories.
Best book for a coffee table in a Ron Thom home on Sentinal Hill:
B.C. Binning By Abraham Rogatnick, Ian H. Thom and Adele Weder (Douglas & McIntyre) There are people who are great because of what they make and people who are great because of what they inspire. B.C. Binning fits the bill on both counts. As Arthur Erickson recounts in his introduction to this book, Bert and his wife Jessie were important mentors to him. And to Ron Thom, and many others among the generations of artists and architects who created and were inspired by the West Coast modern movement. He was also a very accomplished, versatile artist who helped make contemporary international styles part of local practice. This handsome book suitably honours Binning's art and influence.
Best book for that friend whose apartment looks like a storage locker:
Apartment Therapy By Maxwell Gillingham-Ryan (Bantam) Ignore the pseudo-psychology, including the "therapeutic questionnaire" for diagnosing your home's physical, emotional, and energy flow "issues," and jump to AT's practical eight-week plan for clearing your tip. Despite the silly self-help metaphors, MGR has a common-sense design philosophy that makes living in Manhattan's (and increasingly Vancouver's) micro-apartments possible. This book -- excerpted at ApartmentTherapy.com -- is full of smart ideas for small space living. In the end you'll see you're not the lazy social canker your mother always said you were, you're just a wounded soul in need of therapy. And a warning from the health department.
Best book to give your Jewish in-law trying to navigate Christmas dinner with the goyim:
The Rent Collector By B. Glen Rotchin (Véhicule Press) Shortlisted for the Amazon/Books in Canada first novel award, The Rent Collector is chock full of two things likely to be missing from your Christmas Day festivities: Jewish religion and garment-industry ethnics. Glen Rotchin's staggering first novel weaves a tale of multicultural Montreal through the lens of Orthodox Judaism. Show your sister's slightly uncomfortable, olive-skinned hubby that you know there are meatier dishes to devour on Christmas than grandma's ham.
Best book for your cousin visiting from a small town s/he hates:
This Will All End in Tears By Joe Ollmann (Insomniac Press) Comic artist Joe Ollmann is Canada's answer to the question "What if Raymond Carver could draw?" His new collection of graphic short stories (not Chuck Pahlaniuk-style graphic, with one deer-hunting exception) quite simply could not be better. Tales of religion, family, small-town life and body-image issues are drawn and written with care, attention and overwhelming humanity. Never mind the old trick of hiding a comic book inside a literary one; Ollman's pulled off precisely the opposite.
Best book for a mechanic who has orchestra dreams:
Bow Grip By Ivan Coyote (Arsenal Pulp Press) Whitehorse-raised Ivan Coyote is renowned in certain discerning Western Canadian circles for her storytelling and personal essays. Her first novel is entirely the equal of her reputation. The form may be different, but the turf is familiar: honest, sympathetic portraits of working-class people and the extraordinary nature of their "ordinary" lives, in this case an Alberta mechanic who trades a car for a cello.
Best book to give with two tickets to a summer heritage house tour:
Vanishing British Columbia By Michael Kluckner (UBC Press) Like many of the recommendations included here, this one actually contains two worthy books. Kluckner's 2006 Vancouver Remembered is also an elegant elegy to the buildings we've lost and the stories they expressed. Kluckner doesn't complain much, though; he just shows us what we're losing, through thorough research, the reminiscences he collects and his own watercolours, which beautifully capture British Columbia light, in the sun and the rain.
Best book to give to with an all-expenses paid trip for two to see the World Junior Hockey Championships in Sweden, starting Tuesday:
Hockey: A People's History By Michael McKinley McClelland and Stewart (2005) Another hockey tome worth mentioning, along with recently reviewed books Bill Gaston's brand-new Midnight Hockey and Ken Dryden's classic The Game ("Beer League Underbelly"). The companion volume to the CBC series is a lively history of the game that addresses unexpected questions. Was 1916 women's hockey star Albertine Lapensée a man? How did the aboriginal Alkali Lake Braves come so close to beating a bunch of pros in Vancouver in 1932? Why did Mabel Leaf the Chum Witch, a radio-station promotional persona who hexed Toronto opponents, become such a star in 1964? (For a Tyee interview with McKinley, see "Opera on Ice.")
Best book to give with tickets to the Nat:
Baseball Love By George Bowering (Talonbooks, 2006) Bowering grew up in baseball, in Oliver. It's always been part of his life, and our life, in British Columbia. Sure, it's their game, too, in the States, somewhere south of here. Bowering shows how much it's also our game, with a poet's eye for detail. Brilliant Alberta writer Robert Kroetsch said this about it: "Baseball Love is so good there is no memoir in the league that can go up against it." Buy 10 tickets to see the Vancouver Canadians at the suitably retrograde Nat Bailey Stadium and you'll get another five tickets to give away as you choose. Let's do the math: you keep the 10 tickets (cheap at $60), and the book and five bonus tickets cost you $19.95. At Christmas, to survive, you've got to play the angles.
Best book for a hip 20-something to read out loud to a blind person:
Cockeyed By Ryan Knighton (New Star) This memoir from a blind Capilano College English prof ("Blind Man's Bluff") explores everything from the nature of disability to the nature of Ikea furniture. It's sharply observed, self-deprecating and often very, very funny.
Best book for someone who creates their world view half an idea at a time:
The Master Plan By Heather Pringle (Viking Canada, 2005) This Vancouver author's look at Heinrich Himmler and the Nazi "Ahnenerbe" think-tank devoted mainly to establishing evidence of Aryan greatness. Stan Persky's Tyee review of the book provides a useful addition to the groaning bookshelf of Nazi history because of its "recognition of the tempting plausibility of bad ideas." Pringle's nose for the idiosyncrasies of history and science always results in interesting reads.
Best book for someone who believes flavonoids are the best medicine:
Red, White & Drunk All Over By Natalie MacLean (Doubleday Canada, 2006) It took a recent review in the New York Times to alert us to this Canadian wine writer. Then we learn that she counts Sideways author Rex Pickett among her fans. MacLean's book cuts through all the wine-world pretense with self-deprecating, funny writing that's engaging, thoughtful and full of information you might remember, as opposed to those wine guides that expect you to recall the difference between a 2005 proprieter's reserve and a 2004 winemaker's selection. In short, wine wonks won't be bored, while wine dorks won't feel patronized. Her wide-ranging website -- Nat Decants -- contains some solid wine recommendations. There's a blatant new-world bias, but she pays attention to and likes some B.C. wines worthy of our own attention.
Best book to give with a subscription to the dangerous Vancouver Review:
Cease to Blush By Billie Livingston (Random House Canada) A young woman discovers her feminist mother's secret Las Vegas past. "The book's title," John Moore wrote in Vancouver Review and on The Tyee, "is lifted from an observation by the ever-controversial Marquis de Sade: 'Women without principles are never more dangerous than at the age when they have ceased to blush' -- when they have discarded all disguises of false modesty and the 'weaker' sex and can no longer be embarrassed for daring to be themselves. The same might be said of writers. With Cease to Blush, Livingston has made her rep as one of the most dangerous writers you will ever be lucky enough to encounter."