The documentary program at this year's Vancouver Latin American Film Festival (VLAFF), which kicks off next week, is not concerned with offering a broad summation of the region. Two of the docs, though directed by Latin Americans, are set in Asia; Brazil, Latin America's largest country, is not represented. Nor is the program concerned with tackling the region's major political crises. Poverty, corruption, violence and drugs make appearances but are never the overriding concern of any film.
If one were to find coherence in the group of movies being screened, it would be in their stylistic approach rather than in the topics they cover. There are no abrasive Michael Moore-style tirades or wide-reaching investigative pieces á la Alex Gibney here. That isn't to say the best docs in the program don't touch on some of the more pressing issues of our time, only that when they reach for that level, these films do so gently rather than with the strident tone of polemic.
Eufrosina's Revolution and The Girl from the South
The two strongest, explicitly political docs at the festival are both portraits of pioneering women struggling to participate in their countries' political process. Eufrosina's Revolution begins after its titular protagonist has been rejected as a mayoral candidate in Santa María Quiegolani, Mexico because of her gender. Under Mexico's "uses and customs" practice, certain municipalities, particularly indigenous ones, are permitted to elect a mayor and local officials using their own political system rather than that of the Mexican state. In the case of Santa María Quiegolani this meant women were not allowed to run for office or even vote in elections until 2010.
After her electoral setback, besides fighting for female suffrage, Eufrosina also continues to be an activist for her native community which rarely receives the infrastructure and social-program investments that state and federal politicians promise prior to elections. Watching Eufrosina's double-pronged battle is as exhausting as it is inspiring to watch, and it dramatically confirms her contention that if you're born a poor, indigenous woman in Mexico, your future won't be an easy one.
The Girl from the South, meanwhile, follows Lim Sukyung, a South Korean activist and politician who illegally traveled to North Korea in 1989 as a student for a World Festival of Youth and Students sponsored by the USSR. When she crossed back into South Korea on foot afterward, she was promptly imprisoned for the crimes of subversion, espionage and, because she returned with a new pair of North Korean shoes, smuggling.
Argentine director Jose Luis Garcia was at the same World Festival where he became fascinated by Lim. He begins The Girl from the South with home video footage from that trip before jumping forward 20 years to when he finally finds Lim again teaching at Hankuk University.
But while Lim agrees to be filmed for the movie and takes Garcia and his translator out for dinner and drinks regularly, introducing them to her friends, she is reticent about doing an in-depth interview. What becomes increasingly clear is that Lim, a left-wing pacifist who to this day fights for Korea's reunification, finds it difficult to fit into the normal dichotomy of Korean political debate, where being left-wing, not to mention harbouring any sympathies toward the north, is equated with communism. After resoundingly staking out her position in 1989, the Lim we meet 20 years on is one who is afraid to delineate her views publicly for fear of having any nuances of her position misrepresented.
Eufrosina's Revolution strikes a similarly conflicted note toward political action at its end. After reaching a position of political influence, Eufrosina finds it hard to maneuver in a system that's more interested in long, unproductive meetings than producing actual new ideas. Both The Girl from the South and Eufrosina's Revolution have flaws in their execution, but they stand out for managing to profile brave and important individuals without ignoring the institutional and systematic setbacks they still struggle to overcome.
La Camioneta and Inori
The best offerings at this year's festival are two documentaries that strike the elusive balance between thematic weight and a unique, often audacious style.
La Camioneta traces the journey of a retired American school bus, one of many sold to Guatemalans who drive them back to their home country, refurbish them and use them to provide mass transit from city to city. It's a gentle doc -- probing but not intrusive. Director Mark Kendall clearly knows to keep recording at length whenever possible, and this allows us to watch as his subjects slowly gain the confidence to reveal themselves to the camera.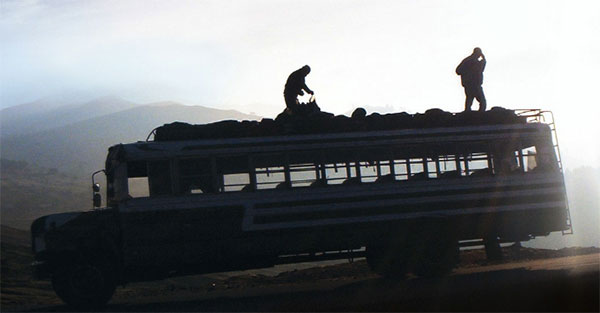 This patience becomes an even greater asset when the bus reaches its eventual destination, Quetzal City, where the film turns to explore the brutal violence that plagues Guatemala. The country is one of the world's most violent and Kendall details such turmoil -- the shootings, the intimidation, the hefty but often ineffective bribes that bus companies pay to protect their vehicles from bombings -- as a set of everyday tragedies that residents can only hide from for so long. He doesn't sensationalize the violence, nor does he attribute false heroism to those who involuntarily live through it. When we hear two bus drivers talk about the need to go back to work, regardless of the risks of doing so, their dilemma isn't embellished for greater effect but observed as sad, plain fact.
La Camioneta doesn't victimize anyone, either. Rather, as the daily Guatemalan struggles accrue, director Kendall uses the story of the school bus as a window through which to portray his subjects' pride. A highlight of the film is watching 26-year-old Mario Enrique Valle plan and execute one of the intricate, colourful designs that adorn the buses in Guatemala to distinguish one company's vehicle from another's. In a doc full of examples of resourcefulness, Valle is perhaps the best and certainly the most endearing, having managed to make a career from his artistic talent in a city where a large percentage of men are forced to make the precarious journey to the U.S in order to find jobs.
Mostly, Valle's story represents the scope of La Camioneta, which covers daily life in Quetzal City while also keenly exploring its socio-political reality. The result is a documentary about a poor and violence-stricken country that is neither reductive nor patronizing. It just watches and listens and asks us to do the same.
No documentary in the festival matches the poetry and scope of Inori, though. Pedro González Rubio's film profiles Kannogawa, a town in Japan with an aging, rapidly diminishing population that appears to number no more than a few dozen people. Rubio's doc is a moving tribute to the town and also a profound rumination on its current place in the transition between populated locale and abandoned natural landscape. In the short-term, Kannogawa might represent how Japan's changing economy and urban flight have turned small-town life into a quaint memory. Certainly one of the remaining residents longs for the time before the younger generation moved to the cities for jobs when the town's streets were bustling.
But Rubio's vision is much broader. He begins the film with wondrous shots of Kannogawa's natural surroundings before moving to the interviews and vignettes of the town's residents that form the core of the doc. By the end, as Rubio returns again to the nearby forests and mountains, one is repeatedly drawn to the thought that it's not just this town that must worry about the encroachment of nature -- the eerily pristine look of empty Kannogawa may not be so different from how our cities will look when we abandon them in fear of impending natural disaster.
This portrayal of an all-powerful nature gives the film an ambition one might describe as biblical -- from the Earth we came and by it will we be swallowed up again -- if its outlook were not so zen. The calmer attitude is a welcome one. It ultimately gives the doc a delicate, inviting tone and is no small reason for its tremendous success. Inori is not just the best documentary at VLAFF, but may turn out to be one of the best documentaries you'll see all year.