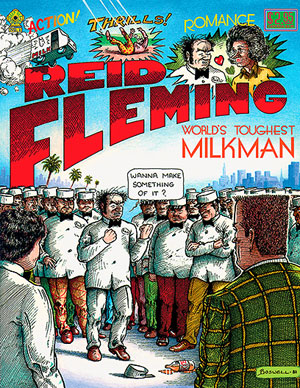 It's 1:30 in the afternoon when David Boswell enters a café on Vancouver's upper Main Street. He's come for his morning coffee. He shakes the rain from his jacket and runs a hand through his grey hair. In his other hand, he balances a stack of sketchbooks and a canvas bag packed full of cardboard poster cylinders. He's on his way to the post office to send off his latest batch of prints: poster-sized panels from his cult classic comic book Reid Fleming: World's Toughest Milkman. He looks around the café and makes his way toward an empty table in the back corner.
Boswell is a cartoonist, illustrator and photographer who seamlessly (and prolifically) works in all three media. His first published work as a cartoonist, a weekly installment titled Heartbreak Comics, ran in the Georgia Straight newspaper from 1977-1979. It was around that time when Boswell also embarked on his career as a photographer, snapping the likes of Al Purdy, Lillian Gish, Allen Ginsberg and Ginger Rogers (to name a few).
At the café table, Boswell points to a spot in the middle of his left cheek. "This is where Ginger Rogers kissed me. I didn't wash that spot for almost a month." He runs a finger over his cheek, as if confirming it still holds magic 35 years later. Another magic moment from his photography career came on a sunny afternoon in spring 1979. Leonard Cohen was in town and the Georgia Straight sent Boswell out to photograph him. His photos captured a relaxed and contemplative Cohen, lit by natural sunlight, leaning against the edge of Vancouver's seawall. One of Boswell's images from that afternoon became the cover for I'm Your Man, the 2012 biography on Cohen by Sylvie Simmons.
For all of Boswell's considerable acclaim, he is most celebrated for his comic strip, Reid Fleming: World's Toughest Milkman. Originating in 1979, it continues to be a "a saga with no end in sight." Boswell made the decision early on to self-publish the work, founding his own publishing house, Deep Sea Comics. To date, he's still Deep Sea's president and owner. He is also, according to his 2012 article "How I Do It: a statement of the author's personal philosophy," one of the minions at Deep Sea -- working under the illustrious, mysterious, and fictitious Captain Ralno Bimz.
How to be a cartoonist
The artwork, dark humour, and particularly prickly personality of the comic strip's main character, Reid Fleming, struck a chord with readers. Reid is a short-fused, smart mouthed, tough guy milkman, and the comic follows his daily anecdotes, as he engages in mortal combat with his scheming supervisor, Mr. Crabbe; pursues love with the beautiful three-time divorcee Lena; and slips under the radar of the insufferable Milk Company boss, Mr. O'Clock. Soon after its inception, The World's Toughest Milkman had more than just underground fans.
MGM optioned the comic series for film in 1982, and Warner Brothers acquired it in 1987. The actor Jon Lovitz campaigned to play the lead role of Fleming. Though the film was never made (at least not yet), the screenplay was performed for Hollywood executives with the central characters played by the late Phil Hartman, Lisa Kudrow, Ed Asner, Dan Castellaneta (voice of Homer Simpson), the late Charles Napier, and Maurice LaMarche narrating. In 2011, IDW Publishing in the United States released the collected volumes of the comic strip, printed and bound in two hardcover books. Later that year, Boswell was inducted into the Canadian Cartoonist Hall of Fame. By all accounts, he had achieved official celebrity status in the comic book world.
So it's curious that at 60 years-old, Boswell describes himself as "an eternally struggling artist." Sitting at the café Boswell looks out of scale, his tall form hunched around the tiny table. On a laptop, he points to two black-and-white photographs he recently posted online. "I took these in 1985. When viewed together, they form a diptych titled 'How To Be a Cartoonist.'" The first photo depicts a hand emptying a box of Kraft Dinner into a pot of boiling water. The second image shows a full bowl of Kraft Dinner placed neatly on a table -- the empty package to one side, a lone fork on the other. Next to the meal is a black rotary telephone.
Kraft Dinner, the ultimate in cheap food, and the lone fork evoke a sense of isolation, yet his personal life has been far from empty. Married to the same woman for 32 years, he helped raise four children. Now grown, his stepson and three other children range in ages from 25 to 40. His kids are intelligent, creative and successful: his son and stepson are computer programmers, one daughter is a librarian and the other just submitted her university thesis. One of his nephews, Charlie Tyrell, recently made a documentary film about Boswell, titled A Lesson to You All.
As a family, extended and immediate, they are close, supportive, and spend a great deal of time together. Other cartoonists in Vancouver he's forged friendships with, Boswell says, live generally obscure lives. "They have their art, and the ones I know are incredibly talented. But they usually live in little apartments by themselves."
The creative life
Boswell is particular about many things in his life, and most of all his creative process. His mornings begin around one in the afternoon and his highly productive time is from midnight to seven in the morning. "Something magical happens -- a certain kind of creative energy emerges when the rest of the city is sleeping."
It is with this same clarity that Boswell describes the moment that set him on the path to a creative career, when he first acknowledged in writing that [he'd] do something artistic in the future.
"It was a very real moment and very precise." So precise in fact, that he recalls the date he recorded it in his journal: Dec. 8, 1970. He was 17 years old. "I did not decide to become an artist. I decided to lead a creative life. But I knew it wasn't a choice -- it was a realization."
To lead this creative life, Boswell has lived on a schedule that very few people share. When his comic was appearing each week in the Georgia Straight, he worked with a deadline of Thursday at 8 p.m. On Wednesday evening, he'd skip dinner and sit down to draw. When you look at his comics from this time, it is hard to believe they were each constructed in just one night. They are precisely detailed, almost architectural, and reminiscent of film noir in their use of setting, lighting and atmosphere. It's not surprising that his influences don't come from other comics, but from film. He credits his drawing style to filmmakers Luis Buñuel and Joseph von Sternberg. When he's stuck for dialogue or story lines in the middle of the night, he watches old routines by Buster Keaton and W.C. Fields.
Though there have been times of economic success for Boswell, making a living on a steady basis has proved to be one of the greatest balancing acts. For the better part of his creative career, Boswell survived on an income that very few people (especially in Vancouver) could sustain, let alone a man with a family. There was a particular night in the 1980s when he realized just what hard times he and his family were in. It was around 2 a.m. when he took a break from work to have a snack.
"I went upstairs and started searching around the kitchen for something to eat. The cupboards were empty. So I opened up the fridge. The only thing in the fridge was a jar of maraschino cherries from the past Christmas."
At the time, Boswell and his wife had four young children at home. "That was the hard part. I could be hungry, but I thought -- what the heck are the kids eating?"
A 'grand lactic mission'
Boswell admits he has a certain level of admiration for his central character, Reid Fleming -- someone who doesn't take any crap, who wins the battles, and always gets the girl. Indeed, the milkman's signature line, "I'm not bald -- I get my hair cut this way!", was inspired by a fellow rooming-house tenant in Toronto who was trying to go straight after a life of crime. "But before long things fell apart for him big time," Boswell says.
In another article, an interview published in The Georgia Straight in Aug. 2011, Boswell credits the inspiration for Fleming to a bully in his kindergarten class who pushed other kids to the ground at recess.
"He's bits and pieces of real people, and a whole lot of invention. Can you imagine meeting a guy like Reid in real life? People like that don't exist," he says.
Jonathan Demme, the film director attached to the project when movie deals were on the table, describes his admiration for the world's toughest milkman in the foreword to Boswell's book: "I fiercely, passionately admire Reid, his work ethic, his kind of quixotic but no less grand lactic mission in life, his ferociously ever-ready, finely-tuned bullshit meter… his significant way with the ladies, his crisp white delivery uniform."
Demme could just as easily have been describing Boswell. Both men are carved from a distinct and original mold, and both demand a level of respect for their unwavering commitment to a way of living not suited for the faint of heart.
Boswell's artwork is as relevant now as it was when he began. The comic stories chronicling the adventures of the World's Toughest Milkman are still going strong, as Boswell continues adding to the canon and his fan base casts an ever widening net. It's a testament to the pursuit of the creative life. And what a creative, curious, and contradictory life it is for one of the world's toughest cartoonists.