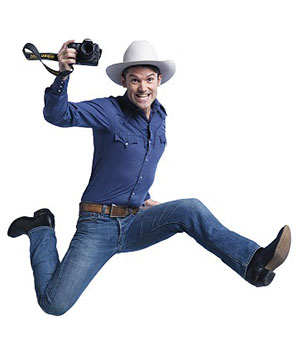 [Editor's note: To tweet or not to tweet, that is the question. At least that's the question for Canadian theatres that have been watching their U.S. colleagues offer tweet-seats. The trend is growing as theatres hope that patrons who used to be told to turn off their phones will start using them to broadcast glowing reviews, 140 characters at a time.


In May, Tyee contributor and playwright Mark Leiren-Young will be one of the first Canadians to answer the tweet question with a definitive yes. For the first time at Vancouver's Arts Club Theatre, patrons can book tweet-seats for some performances of the one-man show of his memoir, Never Shoot a Stampede Queen. It's a conventional piece of theatre, albeit a comedy, starring Zachary Stevenson in the role of the rookie reporter at a small daily in Williams Lake, B.C.

Adding tweet-seats is a risky move, but Mark sees it as a way to build younger audiences, many of whom won't do anything that requires turning off their phones for 80 minutes. And he was sure his old friend Tyee columnist Shannon Rupp would give him an enthusiastic thumbs-up. As an arts journalist who is also a tech lover she's inclined to embrace most of the new media tools, and the disruption that goes with them, as good for creativity.

So he didn't expect her to call him a Pied Piper leading audiences down the road to hell.


But she has a point. They both do. So we asked them to edit their email debate for profanity (Shannon) and shameless show promotion (Mark) and outline how social media platforms -- which aren't yet finished having their way with newspapers, television, and books -- are now setting their sights on the performing arts.]
Breaking news or brainfarts
Mark: What appealed to me about tweet-seats was that it fits with the show, which is about journalism in the ancient days -- the 1980s. Community newsrooms then had more than one reporter and there were cameras that still required photographers. Today Twitter is where people turn for big breaking stories.
Shannon: It's true, news doesn't break anymore so much as it tweets. But theatre reviewing isn't breaking news and there is no pressing need for anyone to hear the audience's brainfarts midway through a show.
Get a celebrity!
Mark: Because this play is touring, and will keep touring, it's exciting to be taking a shot at reaching a global audience through Twitter. I just wrote about "Kate Upton's doppelganger" – the Vancouver woman who got famous when she tweeted a picture of herself to Upton. One retweet by a celeb and she's being flown to CNN HQ to hang out with Anderson Cooper.
Shannon: If marketing is your real concern, then the typical banal tweet, "So-and-so just rocks!!!!" isn't likely to interest anyone or sell the show. Unless maybe Justin Bieber is doing the tweeting. Apparently he can sell anything.
Life as a Facebook photo-op
Mark: When we discussed doing tweet-seats, I realized that all the events I've been at lately felt like a Facebook photo-op. I've always been happy to have a souvenir of a great show -- maybe the program. But these days most people want the Instagram showing them at the concert.
I just did a reading where I had at least a dozen people ask me to pose with them -- this was a first for me. But I think it's also the future of mass communications.
Shannon: By encouraging self-involved Twitterati to use the glare of their smartphones as limelight, you may win the battle and lose the war. The novelty of tweet-seats might attract the sort of people who cling to their smartphones with the death grip of a toddler on a sippy cup. Briefly. But narcissists and children are easily bored with anything that doesn't revolve around them, so when they exhaust the self-aggrandizing opportunities, they'll be on to the next thing.
Meanwhile, you've pissed-off the audience that genuinely enjoys the show. Have you seen the hostility over people chatting and texting through films? It's contributing to the death of movie houses.
Citizen journalists or fame whores
Mark: I realized we had entered the future when I covered the hockey riot for The Tyee. There were people with their cellphones taking pictures of people with their cellphones taking pictures of the exploding car. And they were ALL blocking the fire department from getting anywhere near the fire.
I called it the social media riot, but it was more like a Tweetup with broken glass. You could argue -- and some people have -- that everyone was playing citizen journalist, but that's bullshit. That wasn't about reporting the news; it was about being the news.
Shannon: There's a high cost to encouraging that kind of anti-social behaviour -- what else would you call upstaging fire trucks and/or actors? And for the audience of tweet-readers there's not much benefit in the steady stream of self-promoters. Although I gather the police department appreciates this trend.
Not everyone's a critic
Mark: We're also trying new media because old media ignore the arts. Fifteen years ago there were easily a dozen theatre critics in Vancouver who covered shows regularly. Now there are a few, working freelance, and they don't cover everything.
Shannon: The problem with relying on tweet-seats for reviews is that the people who might have the wit and insight to fire off meaningful tweets are busy concentrating on the show. I thought the late, great theatre critic Lloyd Dykk was one of the few people who might have developed a line in Twitter-Reviewing because he had a genius for summing up a show in a single witty line that was layered with meaning.
Of the saccharine Phantom of the Opera he wrote, "If a Hallmark card could sing, this is what it would sound like." Can't you see that on Twitter? Along with Dorothy Parker's famous complaint about Katharine Hepburn's wooden acting: "She ran the gamut of emotions from A to B."
But they were critics; not celebrity wannabees.
A child shall lead the way
Mark: I was really glad we decided to try this after I mentioned Facebook to a student intern and she looked at me like I was a dinosaur. She said that when she and her friends are on their iPhones they're cruising tumblr and Instagram and that, "by the time it's on Facebook it's old; by the time it's on TV it's over."
Aside from simultaneously making me laugh and chilling me to the bone -- print media wasn't even in her equation -- it reminded me that today almost no one in the mainstream media is covering the arts. When I did shows in the '80s and '90s there were regular arts and culture segments on TV and radio as well as in newspapers and they did previews, reviews, and features. Now, how does anyone hear about a show?
Shannon: Sure, people are getting their news online, but just as in the old days they read what's interesting – so you'd better hope your tweeters are engaging.
Speaking of millennials, the clamour for tweet-seats reminds me of children at a Nutcracker matinee. Within minutes of the curtain going up they're not just dancing in the aisles, they're bolting for the stage. Of course, watching pint-sized egomaniacs upstaging the dancers is part of the charm of the Nutcracker.
But I can't say I find it quite as amusing when 30-year-olds are still displaying the ego and self-discipline of pre-schoolers.
Everyone is doing it
Mark: I was at Penn and Teller's Vancouver show and they kicked off by telling you to turn ON your cellphones. And then they did a killer trick using a cellphone from the audience. The thing is, while all the cellphones were on everyone was sitting in a theatre with the lights on taking perfect souvenir photos.
Shannon: Good on them for working cellphones into the act -- that's the sort of phone use I cheer. But I think with tweet-seats you're confusing the art with the marketing and actually trying to sell the wrong thing.
Theatre is a unique product in the marketplace and it's foolish to try and sell it by making it more like television. Audiences go precisely because it's an alternative to the canned art found on screens. Live performance is a warmer, fuller experience, because you're with other people who are focused on the show. It's a respite from that other world, not least because we're enveloped by the dark – it's a primal experience. All of which is ruined if someone next to you is pulling focus away from the show.
And you know what else gets branded…
Mark: Penn and Teller also hang out with the audience after every show, signing autographs and posing for pics. They started doing this when they began performing together as a duo -- it's how you sell merchandise -- but unlike most acts their size they've never stopped. I think this is cool on a lot of human levels but these days, on a social media level, I think it's genius.
I'm sure hundreds of people take pics of themselves with one or both of them after every show and put them in their Facebook profiles – which only builds their (I hate this word, but it's the right one here) brand.
Shannon: Whenever I hear people talk of branding themselves I always think about that other thing that gets branded -- a horse's ass.
The return of the impolite theatre
Mark: It's only in the last century that audiences have started behaving in theatre. Up until the 20th century people used to watch plays the way people today watch sporting events -- chattering off-and-on, all the way through. Throwing tomatoes, booing, having fist fights in the streets over who was the better Hamlet just fell out of fashion.
I'm fine with polite audiences, but mostly I'm a fan of audiences -- and those are scarcer and scarcer these days. If there's a way to get more people in seats, I'm game to try it.
Shannon: Ah yes, the Shakespeare-did-it argument. Do you know what else they enjoyed in the 16th century? Black plague.
In a civilized society, your freedom to swing your arm ends when it hits someone else in the face. I see tweet-seats as a slap in the face to people who came to see the show. If the Twitterati want to be the show, tell them to get agents.
Sneeze a little, tweet a little
Mark: I'm not sure tweet-seats could become the norm without some adjustment to the venues or to the phones, to control the light. This is the first time for the theatre and they were worried about complaints, so the seats are limited. And I wouldn't have done it if our actor didn't want to.
But it's not like there are no distractions in the theatre. Someone crinkling their candy or coughing in the seat next to you IS distracting. I once saw Dame Maggie Smith doing a show where every other person in the packed London Theatre had a cold. Years later, my most lasting memory of Gift of the Gorgon -- a play by Peter Shaffer I dreamed of seeing -- is of wanting to buy everyone in the theatre Nyquil.
Shannon: You're like the people who used to argue that we shouldn't prohibit smokers in restaurants because of all the pollution caused by cars.
Twittermission
Shannon: Theatre has always been about more than the show – it's a place to see and be seen -- which is why I'm all for what has been dubbed Twittermission. Theatres and galleries have been projecting Twitter onto walls in the lobby where everyone can see what's being said and throw in their two tweets worth.
I think this works because the point of social media is to give us a bigger village in which to do what we already do. Since intermission is all about people-watching in the lobby, gossiping, and comparing notes on the show, Twitter can serve to expand the social experience beyond the venue's walls.
Quipster's paradise
Mark: I do think tweeting at intermission may be the sanest way to go, because if you're thinking of something clever to write, or writing something clever, you've left the world of the show. But it feels a bit weird to be saying that as someone who works as a theatre critic and is constantly scrawling (hopefully) clever lines in the middle of a show.
Shannon: Did you just say you think it's okay to treat theatre reviewing as an exercise in quip writing? In that case, save me a tweet-seat.
Mark: Are you asking if this will replace the old paradigm in which a dozen theatre critics cover a show? Dunno. But there's only one way to find out…
Never Shoot A Stampede Queen opens at the Arts Club Granville Island Stage, May 10. Tweet-seats are available May 15 and 22.
© Shannon Rupp. For permission to reprint this article please contact the author: shannon(at)shannonrupp.com.