Can world-class arts and culture offer hope to struggling communities, and incubate tomorrow's creators?
This year's Talking Stick Festival hopes to prove it from Feb. 19 to March 3, showcasing some of the country's best aboriginal dramatists, playwrights, musicians and dancers on a common stage.
One of the best-known acts this year is Sagkeeng's Finest, the three-teenager dance troupe from Manitoba who won top prize on Canada's Got Talent last year. Their community's fast-paced, traditional Red River Jig, is now a household name across the country.
The renowned dancers are heading west to B.C. this month, performing their highly technical blend of jig, tap and square dance across the province. Their performance at Vancouver's Talking Stick Festival will mark the festival's 12th year -- and two decades for its parent-company, Full Circle.
The parable of the crayfish
For Sagkeeng's Finest manager Arnold Asham, the legions of screaming fans who have followed the teenagers' success are not simply a symbol of celebrity or a newfound dance-mania -- it's actually a sign of hope for aboriginal youth everywhere.
"This is our purpose as Red River jiggers: to bring hope to our aboriginal communities that are suffering," Asham tells The Tyee. "When they see these young boys on stage, they're so proud.
"That's why there's so much screaming and shouting. We're showing we can take something that's already done in our communities to the world stage."
For Asham, himself a competitive dancer in his community, bringing hope through art is a matter of parable.
"When we say that we're bringing hope to aboriginal communities, we compare it to a tidal wave coming in," Asham explains. His parable goes like this: Imagine a massive tide deposits thousands of crayfish along miles of beach. As the shellfish dry out and die, a little boy grabs one and throws it in the receding waters.
A passer-by questions the futility of the boy's efforts: "My God, there's 50 miles of this!" the man challenges him. "What you're doing just doesn't matter."
The boy doesn't hesitate in replying: "It matters to this one."
Though the metaphor might seem a stretch -- we're talking about three jiggers, after all -- the band sees its mission as much larger than their own particular tradition or choreography routine.
"Aboriginal people have always danced for fun," Asham ponders. "We're trying to take it the world stage.
"Our purpose is to bring hope to the aboriginal community. A lot of aboriginal kids don't have hope.... If we can save one kid from suicide, we've had great purpose in our lives. That's how we justify our purpose. I'm just very, very proud of these boys for what they've accomplished."
Talking Stick as creative incubator
Margo Kane has been organizing Talking Stick Festival since its inception.
"I have the scars to prove it," she says, laughing. In the 20 years since she founded Full Circle, Kane has seen artists of many stripes evolve and flourish through the company and festival -- spanning the worlds of hip hop, contemporary dance, theatre, spoken word and more.
Describing herself as "storyteller, dancer, singer, animator, video and installation artist, director, producer, writer and teacher," Kane's plays include Confessions of an Indian Cowboy and her acclaimed Moonlodge -- a one-woman play about injustices in Canada's child welfare system, which debuted in Vancouver in 1990.
"There's just a lack of aboriginal voices on our stages throughout Canada," Kane tells The Tyee. "Throughout the whole of Turtle Island, our artistic and creative voices need to be developed and supported. Hardly anyone or any Canadian institution is doing anything about that. So I said, 'I have to start something.'
"A lot of artists and companies have developed because we've given them a chance to perform every year over the this whole time. Full Circle has worked with these artist, nurtured them, and helped them when we can. Many have performed at the festival.... The festival has become a place if you have new work, or want to to try something, or just do what you do."
Getting dozens of creatives, across as many various disciplines, together in a room -- and on a common live stage -- is key to Kane's mission of "incubating" generations of aboriginal artists.
"There's a possibility of cross-fertilization -- a sharing in all the creative possibilities, all the different ways we can voice ourselves," she says. "In that way, there's a real sense of a growing artistic community.... This is dear to my heart."
As well as Sagkeeng's Finest, this year's festival features a host of acts: Vancouver slam poet Zaccheus Jackson ("He's gaining more and more notoriety!" Kane chuckles). Also performing, Circumpolar Soundscape -- "a remarkable collaboration" of celebrated far-northern musicians Leela Gilday (Northwest Territories), Nive Nielson (Greenland) and Diyet (Yukon).
'They mooned Chris Columbus when he landed'
Another notorious act is sketch comedy troupe the 1491s -- a cheeky allusion to the year before Christopher Columbus' arrival in the Americas -- an unfortunate historic event these jokesters claim to have mooned from the beach. Their YouTube videos, including one of traditional singing lessons reinforced with a drumstick in the mouth, and harsh life lessons from their character "Slapping Medicine Man," have gone viral.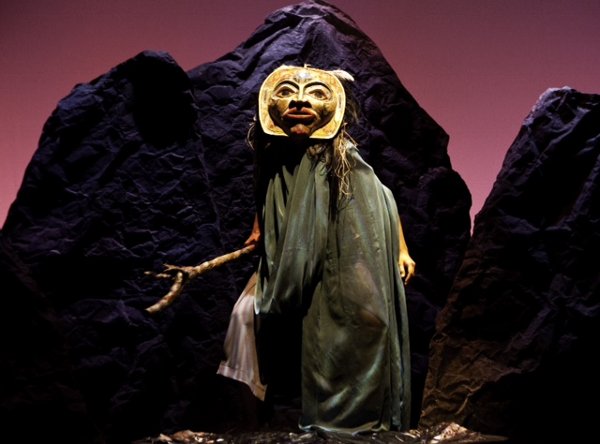 Among the 1491s other bold claims are that they emerged from the "wooded ghettos of Minnesota and buffalo grass of Oklahoma ... a gaggle of Indians chock full of cynicism and splashed with a good dose of indigenous satire. They coined the term All My Relations, and are still waiting for the royalties. They were at the Custer's Last Stand."
For Kane, humour is one of the key creative elements amongst many aboriginal artists, accompanying an exploration of ethics and values through their work, no matter how traditional or contemporary.
"There's a lot of humour in what we live with," she explains. "You know, in some ways I'm really traditional; I think we should be rooted in traditional knowledge.
"I had to seek that out -- it was not so easy to find it when I was starting out.... We have the knowledge and traditions based on principles. Those principles will never die, whether you consider yourself a traditional or contemporary performer. Whether or not you continue to tell stories in a traditional way, the stories are the stories. Some stories are old, some are new, but the principles behind what you share with people remain true. It doesn't matter if you're doing hip hop-based work, or you're doing traditional storytelling."
Just as she grew up absorbing lessons from her parents and home community -- Kane herself is Saulteaux-Cree, originally from Alberta -- the more artists can build community and common spaces together, the more they learn and "cross-pollinate," Kane adds.
"We're rooted in our traditions, and the principles of how we conduct ourselves on this Earth, and how we learn to live with each other and value each other and the land on which we have grown up," she explains. "So much of traditional and contemporary voices are voicing the same things: that we need to value what is valuable.
"We need to inspire each other through song, dance, story, whatever form that takes -- it's for the well-being of us as humans, working and living together on this Earth. That's what totally needs to be reclaimed: the Earth and our relationship to it. Aboriginal teachings are all about that."
'It's our turn ... to make our culture strong again'
Also featured in Talking Stick Festival is the return of Ontarian playwright Waawaate Fobister, whose play AGOKWE: Gay Love On The Rez has garnered critical acclaim, not to mention a staggering six Dora Mavor Moore Awards.
Now based in Toronto, Fobister originally hailed from Grassy Narrows First Nation in far northwest Ontario. AGOKWE follows the semi-autobiographical tale of Fobister's journey as a Two-Spirited man.
The term "Two-Spirited" is an indigenous concept describing genders and sexualities outside the male-female binary. Adopted by many gay, lesbian and transgender aboriginals seeking to celebrate their identities in their traditional culture, the term looks back to a time before the imposition of European homophobia on native culture.
"Two-spirited is basically when a male and female spirit live within the body," Fobister tells The Tyee. "Because of the assimilation and colonization through the residential schools -- and you've seen all the other things they've done -- we've been assimilated to Christianity; it's very homophobic.
"That's what happened through residential schools. They were run by the churches, so now [two-spirit teachings] are gone along with much of our language, and a lot of things. But they're not completely gone -- they're just faded. It's our turn to bring everything back and make our culture strong again."
AGOKWE chronicles a story of forbidden romance on the reserve, where two teenage boys -- one, an Ojibwe dancer, the other, a hockey player -- fall in love. The character Jake loosely represents himself, Fobister explains. And as the play explores the intricacies of coming out and seeking acceptance, the lesson about traditional respect for Two-Spirited people is a reminder of how much has changed in many communities.
"AGOKWE is based on events that happened in my life, about when I was a teenager and involved with this boy," Fobister says. "We couldn't love each other because of the society we live in now. The play talks about the older society, when Two-Spirited people were involved in the community.
"Back in the day, they had roles and responsibilities in the community. They were shamans, leaders and spiritual leaders of ceremonies. They were playing a lead in ceremonies which touched the core -- the soul, the spirit -- of a person deeply. It's a big responsibility to lead those. Our culture is based on the spirit world; [ceremony] is a liaison between them. When they saw a young boy or girl had the two spirits -- not more male or female, but between them -- they could also go into the spirit world and be balanced. They'd train them at a young age to become these shamans spirit leaders. That's what I talk about in the play."
But the message of AGOKWE is much bigger -- taking on everything from cultural survival to unrequited love.
"What inspired me to first approach the play was the idea of us having to write our own stories, because no one is going to write them the way we want to be portrayed," Fobister says. "It basically snowballed into an offer to produce my play, then the nomination for the Doras, then the national tour. Now we're on the second national tour.
"Vancouver absolutely loved AGOKWE. We were sold out every night, so it's exciting to come back again. If people were turned away [before], they get the opportunity to see it."
Springboard to the future
This year's Talking Stick Festival will kick off on Feb. 19 with Illumi'NATIVE, an evening gala event.
For Kane, it's a chance to celebrate two decades since the forming of Full Circle -- a gathering of the many performance artists and supporters who have risen through the company over the last two decades.
"I want to see everybody together," Kane says, when The Tyee asks what she's most excited about this year. "I worked in isolation a long time to get here, and only in the last few years I've seen something moving -- it's very exciting for me, because I'm lifting my head and having other people to share the work.
"I want to appreciate and enjoy that. We're all so busy running around, making money to keep our artistic chops together! We don't have a gathering place; that's one big wish I have for the artistic practice. It's kind of a springboard to the future."