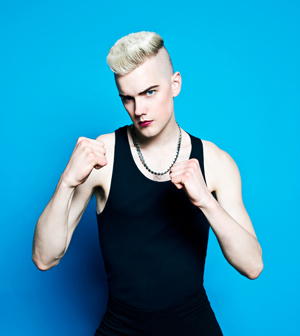 A big part of what made Diamond Rings' debut album, 2010's Special Affections, so endearing was its homespun charm. Torontonian John O'Regan's guitars were gritty and his beats cheap, and the humble production made his hooky love songs all the more intimate. Combine that with some glittery makeup and a charmingly corny music video, and the guy was practically irresistible.
Although his newly released follow-up, Free Dimensional, isn't a major departure in terms of songwriting style, the fidelity of this sophomore disc far outstrips that of its predecessor. The beats hit harder and the glossy synths sound like they were expertly crafted in a studio rather than programmed on a laptop. During live shows, the songwriter is now accompanied by a full band instead of backing tracks.
Despite the sonic richness, this isn't necessarily a flattering change; although catchy thumpers like "I'm Just Me" and "(I Know) What I'm Made Of" will undoubtedly sound great when you're grinding up against a stranger in a club, they lack the raw sweetness of O'Regan's best work.
Just as significantly, the newfound focus on sparkling synth-pop means that Free Dimensional is largely lacking the guitar-driven rockers that were previously Diamond Rings' bread and butter. Only the triumphant "Runaway Love" fits the bill here, and not coincidentally, it's easily the standout song of the bunch.
Despite its flaws, Free Dimensional is a relative success; none of the songs fall entirely flat and all contain memorable melodies, while "Hand Over My Heart" and "Stand My Ground" both boast some truly gorgeous retro synth tones. If O'Regan can find a way to marry his big-budget production with the heartfelt tenderness of his past material, there will be no stopping him.
For now, Vancouver fans can catch him live at Fortune Sound Club on Nov. 17 for some of that aforementioned grinding up against a stranger.