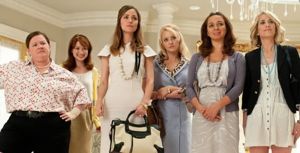 We have a genuine screwball comic on our hands. It's been so long, I almost forgot what they looked like. It turns out the new version is string bean lean, toothy, and possessed of noodle-like arms and legs. This one actually looks a lot like Kristen Wiig. This fine specimen of woman has brought the funny back to the cinema in the form of the genuinely dizzy dame. Ms. Wiig, I salute you!
It's been so long since I actually laughed in a movie theatre, that when I opened my mouth a puff of reddish dust came out. The screening of Bridesmaids I went to was sold out, and the theatre positively roared. It is funny? Really? Yes, Vagina, it's funny.
The premise of Bridesmaids is that weddings are hell, perhaps not the actual nuptials, themselves, but the planning of them. Like any event touched with serious intent, they attract gremlins whose only desire is to mess shit up. Annie (played by Wiig) is besieged with these creatures, they lay waste to her love life, her crappy car, her good intentions. When her childhood friend, Lillian, (played by the lushly lovely Maya Rudolph) announces she is betrothed and needs a best maid, Annie gets the call. In Annie's droopy life, the news of Lillian getting hitched releases a unique blend of regret, jealousy, happiness, a veritable stew of mixed emotions. These feelings play out across Wiig's mobile face like emotional semaphore.
Women are complex creatures, and Bridesmaids presents the reality of female friendship with a level of seriousness and due care that is all the more affecting for being so rare. Whether they're imitating an over-eager penis or nursing each other through emotional storms and squalls, Annie and Lillian's friendship is presented in all its spiky, tender, complicated glory. It is something to behold. It is also one of the sustaining forces in Annie's crisis-ridden life.
Our heroine is in the middle of a hard bit of road. A victim of the economic crisis that resulted in the death of her cake shop and the demise of her relationship, she is scraping the bottom of the bowl, looking for a little sexual sweetness. But even that has a bitter edge. The romantic realities of modern day babes are depicted en flagrante in the film's opening scene. Annie and every woman's dreamy creamsicle (John Hamm playing a modern version of his Mad Men cad Don Draper) are caught doing stuff that is largely illegal in certain U.S. states. Watching these two huff and puff and blow stuff down, I couldn't help but flash back to screwballs past, and wonder what the same scene would have looked like with Katharine Hepburn and Cary Grant actually pictured in the midst of sexy romping. While you dwell on that image for a while, things proceed apace. After being kicked to the curb after a night of meaningless, albeit fun, sex, Annie gets caught in what is only the first of many awkward and humiliating situations.
Screw today's 'romantic comedies'
This is just the kick off of an orgy of embarrassment that mixes tulle and poo in equal measure. Weddings being the contemporary equivalent of coronations, complete with tiaras, couture gowns, and enough money spent to relieve the entire national debt of Brazil, they require an army to mount such campaigns. To this end, the film assembles a gang of female shock troops. They are initially presented as types, the good girl (Becca), the socialite (Helen), the cynic (Rita) and the dude (Megan, who is still technically a lady). Over the course of the pre-wedding prep -- the shower, the bachelorette party, the dress fittings, etc., -- this ensemble evolves into a genuine fighting comedic troupe. Even as Annie makes a hash of everything she turns her hand to, unleashing a one-woman tornado of destruction, first in an upscale bridal shop, then on a flight to Las Vegas, and finally in the shower itself, her battalion of lady wedding soldiers slogs along behind. Men go to war, and women get married; who is to say which is worse?
There are a number of things that Bridesmaids gets very right. Unlike the satanic legions of "romantic" comedies unleashed upon the world, the film doesn't pretend that everyone has ready access to piles upon piles of money. Economic reality impinges here, jobs are dead-end, roommates are largely horrifying and nothing quite beats the shame of financial failure. Even pooping in the middle of the street, runs a distant second.
Another thing the film gets exactly right is that in order for a romantic comedy to work you actually have to want the two leads to get together. Does anyone really like Jennifer Aniston or Adam Sandler, much less care about their unbelievable romance? The women in Bridesmaids sweat, poop, barf, and, are even most shockingly, are depicted without makeup, looking exhausted, haggard, sick as dogs, alarmingly like real women. Despite all of this they, they are still deserving of love and passion, whatever their size or age.
Faithfully furious
The film plays out like beads on a string, episodic, and a little overly influenced by SNL-sketchy type comedy, but there are more than enough through lines to pull you along, the most central of these being Annie's on-again and off-again flirtation with a highway patrolmen played by the sweetly sad-eyed Chris O'Dowd (familiar to anyone with a penchant for British comedy). Their romance is allowed to come slowly to fruition, full of the stops and starts, misunderstandings, mistakes, and finally a glorious ride off into the sunset. In the style of the best screwballs, it is the crazy female who must woo the stiff male. Thus was it ever.
The other thing that it gets even more right is female rage, not the pretty pouting variety but the fucked up kind, that makes you kick giant cookies to bits and go ape-shit on chocolate fountains. Comedy is funniest when there is an edge of truth that twists the blade, so that it grates against your ribs as it goes in. That is especially true in the scene where Annie has a full-on attack of towering rage in the midst of a bridal shower. It is not only funny, it is exhilarating, and almost a little too real.
Eschewing the limp tones that women often address the world with, in favour of a full-on howl of fury that makes the hair on the back of your neck stand up, Wiig launches herself into the screwball sisterhood with gusto. This is some rarified turf, populated by only by a few serious dames, Hepburn, Ball, Loy, Stanwyck, but Ms. Wiig acquits herself well. Who hasn't wanted to say precisely what they feel in a group of women, simpering on about shopping, vacations, and their damn kids, to scream and scream and keep on screaming, kicking, stomping, knocking things over, to be free at last of the cobwebby stickiness of niceness. Sister, I am so there with you! Comedy is liberation. This is asking too much from one mainstream movie. All you get are a few moments, here and there, but those are enough. Or, as a friend of mine said upon leaving the theatre, "I think I related a little too much to that film."
When was the last time you even came close to such a sentiment in a romantic comedy? I don't even remember the last time, well, maybe I could speculate. . . It was 1938, and Bringing Up Baby had just entered the theatre.