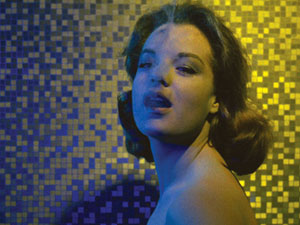 "... But to that second circle of sad hell, Where 'mid the gust, the whirlwind, and the flaw
Of rain and hail-stones, lovers need not tell
Their sorrows. Pale were the sweet lips I saw,
Pale were the lips I kiss'd, and fair the form
I floated with, about that melancholy storm." -- "On a Dream," John Keats
Co-directors Serge Bromberg and Ruxandra Medrea's film, L'enfer d'Henri-Georges Clouzot is a film about a film. To be even more precise, it is a documentary about the "making of" French auteur Henri-George Clouzot's infamous lost masterpiece Inferno. I'm already confused, but nevertheless we shall press on.
Bromberg came to make his documentary through a pure random moment of chance. Trapped in an elevator between floors two and three, Bromberg discovered, much to his amazement, that his fellow elevator captive was the widow of Mr. Clouzot. As the pair discussed the late great auteur (the maker of Diabolique, and The Wages of Fear) they began talking about Inferno. The former Mrs. Clouzot informed Bromberg than more than 185 canisters of footage from the film still existed, adding up to just over 18 hours. Although the images had no sound attached, there was also taped dialogue, music and soundscape experiments undertaken by the filmmaker during the production. It was, in essence, a documentary director's dream project.
What was Bromberg, along with co-director Ruxandra Medrea, to do but recreate the process that led to the production of Inferno collapsing, along with its director? The result is playing at the Pacific Cinematheque in Vancouver, March 19-22, 2010. 
Going mad in a French style
Inferno is a very French film about going mad, and L'enfer d'Henri-Georges Clouzot is a film about being in the midst of making a film about madness even as you're gradually losing your mind. It's a bit like a snake swallowing its own tail. But unlike the story of the making of the film, the fable at the heart of the original Inferno was quite simple. A happy couple run a small hotel on the banks of a river. On the surface they appear serene and satisfied. The wife Odette (played by the sumptuous Romy Schneider) is beautiful, the husband Marcel (Serge Reggiani) is successful. But there is a snake in the garden. (Isn't there always.) Sexual jealousy and desire form a potent cocktail -- a bubbling hemlock-infused mixture of deception, fantasy and some extremely disturbing cinematography that adds up to something that is truly out of this world. Which world it actually belongs too is hard to say.
Odette, it would seem, is a little too beautiful. Whenever she leaves the watchful gaze of her husband, things begin to go awry. Madness comes creeping on little cat's feet. The same was true, unfortunately, for Clouzot himself. With money from an American financial backer, he set himself up in a hotel suite in Paris and began to experiment with colour optics, sound design and any number of far out freaky stuff from the early 1960s. The reams of colour tests, wardrobe and makeup experiments with the actors and crew make for curious glimpses into Clouzot's process. One technician was even given the job of simulating sexual intercourse with a camera, zooming in and out, faster and faster, until the inevitable climax exploded on camera. You get the picture.
Any serious cinephile would emit little groans of joy at the sight of Romy Schneider en dishabille. At the time, coming off film roles that included playing Sissi (Elizabeth: Empress consort of Austria) Romy Schneider was ridiculously famous. One can clearly see why Clouzot cast her in the role of Odette. The woman is on fire. Even playing with a slinky toy, she exudes a certain leonine sensuality that unnerves as much as it entices.
Wages of lust and paranoia
With an enormous crew (more than 150 technicians) and his cast in place, Clouzot was ready to make his masterpiece. But when the entire crew moved out to the location shoot, things began to go terribly wrong. The second circle of hell is reserved for those consumed by lust. Blown about by storms and furies, they are the first souls to be punished for their sins. Clouzot's desire to make the agonies of lust and desire a cinematic one began with the film's star, Romy Schneider. Shot after shot, test after test, Schnieder's portrayal of the archetypal demon female is startling to witness. Take a look.
Wanting more? See this.
The wages of sexual jealousy are not usually pretty, but in the case of Inferno they were almost insanely beautiful. Marcel's fits of madness come on whenever he hears the sound of a nearby train (no symbolism there, of course). As his visions explode into colour-saturated sequences of music, blue lipstick and heated boiling sexuality, the true scope and power of Clouzot's plan for his film becomes apparent. Marcel's inability to discern between what is real and what is imagined gets stickier and more inextricably intertwined as the drama begins to ramp up. Soon enough, the line between real and dream is utterly gone.
Following his wife into town, or on a water-skiing jaunt around the nearby lake, Marcel is often glimpsed in the distance, just behind Odette's shoulder, running along the highway, or surreptitiously following her in his car, like some ghost of fidelity past. It is an incredibly effective technique, as the extended chase sequence in the local village makes explicitly clear. Ostensibly in town to visit her mother, Odette wanders the streets, sucking on ice cream, meeting a girlfriend. Whether this is, in fact, an innocent outing or an assignation, as Marcel suspects, is hard to determine. As Marcel lurks a few steps behind his wife, hiding behind lamp posts, and buildings, walking in tandem with an older larger man, the creepiness factor, along with a certain morbid humour, become almost agonizing.
The oldest joke around is older cuckold and his younger lusty wife. Here it is funny and disturbing almost in equal measure. There can be only one ending in sagas of sexual jealousy. Just ask poor old Desdemona. But in Enfer, the predestined demise never comes, partly because the film was never completed. 
Crazed and cut short
The most curious thing in Bromberg and Medrea's documentary is not the background detail, the endless tests, the footage of the crew being used as stand-ins to plan out shot structure to a meticulous degree. Although this stuff is interesting enough, it pales, literally, next to the full-tilt boogie madness of the film itself. Even in its current fragmented, disassembled state, the scenes from Inferno proper exert a bizarre spell. Dread, fascination, sex, colour and deep weirdness all add up to something that is positively mesmerizing. Herein lies the tragedy of the film. As one of the technicians interviewed says, "You have to see your madness through."  But Clouzot never got the chance. After three weeks of shooting, the film was abandoned after the director suffered a heart attack. Which is fitting perhaps for a film that is so much about the human heart, its yearning, agonies and propensity for breakage. 
But what is one to make of all this sturm und drang, this hysteria attached to fidelity or lack thereof?  Like the original film itself, the documentary draws no grand conclusions. There is some analysis of Clouzot's mental status and history of depression (he was in fact institutionalized for a time) but no greater connection is made between the artist and his art.  This is somehow disappointing. One wishes for a larger analysis, some attempt to make some sense of it all. But because there is no resolution, no concluding chapter to the story, Inferno lingers. I realize this is something of a contradiction. That's the most hellish thing about love, it confounds as much as it seduces.