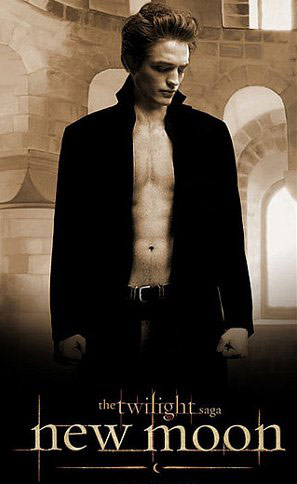 Move over, weak pop culture phenomena. Away Roland Emmerich's 2012, the movie apparently based on a Republican anti-health care ad. Begone Going Rogue, the Sarah Palin autobiography seemingly ghost-written by "Not Me" from the Family Circus. The bull goose pop culture sensation has arrived in the town of its birth. Late Thursday night Twilight: New Moon drew a lineup to the sidewalk in front of the Fifth Avenue Cinemas on a reasonably crappy evening. Here then is perhaps the most irrelevant movie review in history.
When one Yaletown restaurant is offering a Twilight pasta special (HE used to order it after a day of shooting), and the Twilight gossip beat has been full-bore all year (reported elsewhere: April 2, 2009 -- Twilight Author Stephenie Meyer Found Dead in Her Home; November 15, 2009 -- Twilight Author Stephenie Meyer appears on Oprah), it's clear that the studios won't be needing much help pushing this flick. The second adaptation of Meyer's vampire novel series follows last year's Twilight, which made a sparkling star out of young Robert Pattinson. Despite some bloody reviews, that movie was a perfectly serviceable bit of teen emo. This time budgets and expectations have been raised.
Blood and cheese
More money can buy you a better quality of cheese. Or you can just buy a whole lot more of the cheap stuff. Twilight: New Moon flashes more CGI and some lovely Italian locations, but mostly it's the same product -- romantic teen angst dialed up to 11, and vampires. Werewolves this time, too.
Bella Swann (Kristen Stewart) is a happy high school student whenever her bloodsucking darling Edward Cullen (Robert -- oh my God, oh my God -- Pattinson) walks across the parking lot in slow motion. He does that a lot, and when he does it's hard to remember that long ago young girls screamed at vampires for entirely different reasons. However, a birthday party for Bella, already fraught with implications for a couple whose male half is ageless, goes awkwardly wrong when a guest loses his head over a paper cut. Why, it's like holding an AA meeting in a bar. Soon afterward darling Eddie says the words every high school steady dreads: "Come take a walk with me." These days the most horrible thing a vampire can do is break up with you.
Bella is inconsolable. She sits in a chair for three months. She ignores her friends. Bella's a pill, frankly, but we forgive her because we know it is love eternal for which she pines. At first she seeks solace in wild thrills, thinking that her sbf (spectral boyfriend) will save her. Actually he almost kills her by popping up spectrally when she should be watching the road. But soon her old friend Jacob (Taylor Lautner) steps up to soothe her damaged heart. Then he breaks up with her, too, because he's a werewolf. It's a local aboriginal thing -- whether Coast Salish, Haida, or some other, they don't say.
Bella and her bad boys
Some young women have a thing for dangerous guys, but they've got nothing on our Bella. Next semester her Chem lab partner will probably be a hot, blue-eyed mummy. But I haven't read the books. At any rate, the romance is made to order for teen fantasy -- no sex but lots of rescuing.
The movie plays it all pretty straight. It has to, lest the whole thing dissolve into camp. Too bad though -- when Jacob says to Bella, "I'm begging you," I was hoping she'd hold up a Milk Bone and make him prove it. Edward's vampire sister Alice (Ashley Greene) gets the closest to comic relief when she calls Jacob's native clan a "pack of mutts." Vampires and werewolves are enemies, apparently. It makes sense -- this is not the first time First Nations people have had trouble with palefaces.
That Thursday night crowd at the Fifth Avenue Cinemas was a bit of a surprise -- lots of young folks, sure, but by no means a majority. Surprising, too, was the head count. The small theatre was no more than two-thirds full. Both surprises may be put down to the 10 p.m. start time on a school night. Anyway, the people who showed up sure had fun. The teenage girls screamed whenever dreamy Edward walked in slow motion, which meant a lot of screaming. But they were laughing, too. They knew they were being toyed with and they loved it. They saw a whole lot of abs and some local trees and even the lobby of the Ridge Theatre. Come the big Undead Harlequin cliffhanger finish, they all groaned, then they all laughed, and then they all went home. Everyone seemed to enjoy themselves. And the local economy benefits. See the movie, or simply try the pasta special. It's all a matter of taste.