Meta is ramping up its blocking of news in Canada in resistance to a passed bill requiring news outlets be compensated for links shared on Facebook and Instagram. Google, also made to pay, has said it will remove news results from its own vast network come December if the law isn't changed significantly before its enacted.
Meta and Google, whose combined worth is two trillion dollars, seem quite willing to torpedo major ways Canadian find and share news.
So how will you keep up with your favourite publishers during this war of brinkmanship? Well, one way might be Really Simple.
As in: Really Simple Syndication, or RSS.
There was a time when basic RSS feeds were a growing, straightforward way for users of the internet to receive a steady stream of headlines on their digital devices — sort of like a ticker from a stock exchange.
You could tailor your RSS feed to whatever you wanted to receive. For example, a mix of stories from Wired magazine, the Guardian and The Tyee.
If you saw a Tyee story you liked, you could click on it, and you'd be taken to the story on the Tyee's site.
No one would surveil your choice. You wouldn't have to look at ads beyond what accompanied the story on its original page. And no one would use you as a human guinea pig by folding you into a digital demographic to be sold to corporations or governments or to help program a coming generation of AI bots.
Nope, you'd just see a headline pop up on your screen and if it grabbed your interest, you'd click on it.
Really Simple Syndication indeed.
So what crushed the promise of RSS and its designed-in accessibility to everyone — otherwise known as "open standard"?
And how can we revive that version of RSS in an era when the big platforms are flexing their might by showing us they can strip news content for an entire nation if its government makes a law they don't like?
If you just want to know how to have RSS on your device, that's further down in this article — scroll down to the subhed "So how can you use RSS today?"
Everyone else, let's start with why, these days, (much because of tech giants) RSS is mostly RIP.
The short answer is that Google, Apple and Facebook each initially embraced RSS in order to quickly grow their user bases. But they tuned RSS to their own needs, and once once they captured audiences with their polished aggregators, they each pushed RSS creators and users towards their own proprietary versions of the tool. Over time, that pushed the original RSS technology out of fashion.
But if it gets to the point that Canadian news seekers can't find what they want via Instagram, Facebook, Threads or Google's platforms, it's a good time to revisit the promise of RSS. That's what a number of Tyee readers have told us, and we think they make a lot of sense. Here is why.
How RSS works
As we've explained, when a news outlet like The Tyee publishes a story via RSS, the content is summarized and bundled into a simple machine-readable list with display copy (some feeds include the entire article as well). No fancy endorsement, reactions and repackaging by celebrities, politicians or other (groan) influencers.
RSS can be partnered with RSS news "reader" applications, which routinely check the RSS feeds from publishers and let a follower know there is a new story. Usually, if you have one of these applications on your computer, new RSS-fed stories appear much like emails: as a potentially finite and manageable list of things you can go through and mark as "read."
Here is an example of how one RSS reader looks on a screen: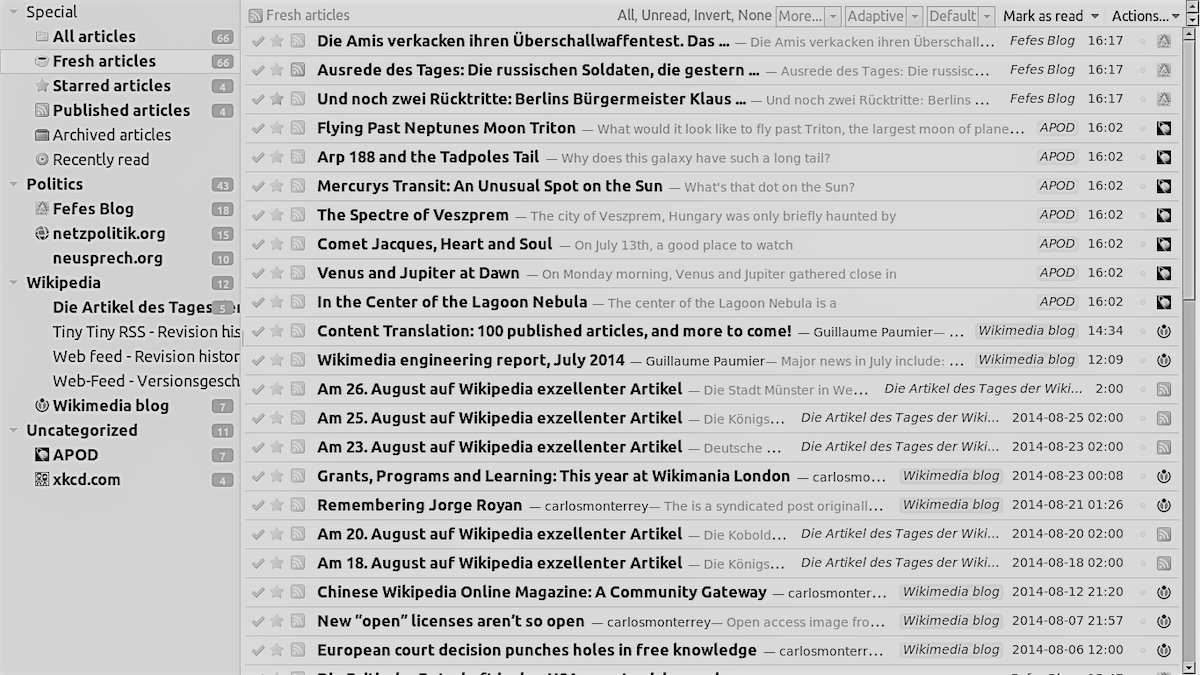 This is in contrast with the endless scroll that social media provides by tossing before your eyeballs all kinds of content you never asked for but algorithms think you might find irresistible. That's the game they play to keep you in their digital realms while they show you ads and harvest your behavioural data.
How RSS was hijacked
Google may not have set out to kill what was great about RSS. But it did use its technical might and bag of attention getting tricks to build up and promote the most accessible and likely most widely used RSS reader, Google Reader.
By the early 2010s this online offering had quickly become understood by the average person as the standard way to read RSS feeds.
Google added to the simple tech an array of adulterations like "infinite scroll" which, as you finished one story, queued up the next. The goal was to recreate the never-ending engagement feel of algorithmic social media. Google tried to integrate Reader tightly with its ill-fated social media platform called Google Plus, in an effort to boost the chances that (then already failing) Google Plus might compete with Google and Facebook.
But the effort failed. Google Reader users hated the "enhancements" and Google Plus never took off.
Then, in 2013, Google suddenly shut down Google Reader. For the average person who came to associate RSS with Google Reader, this effectively killed the technology standard. Google Plus slogged on for another six years until 2019 before it too died.
Google Reader peaked somewhere north of 30 million plus regular users (a triumph for any startup, but an abject failure on a Google product scale, as its creators remarked to the Verge). Many of those millions of users howled in protest when the app disappeared.
And as we are seeing today in the tussle over Canada's Online News Act, when a digital giant colonizes space in a nation's media culture and then suddenly withdraws its services, the ripple effects can be momentous. One of the casualties of the decline of RSS was serious harm done to a thriving blogger ecosystem. RSS was ideal for directing traffic directly to the sites of a very opinionated bunch rather than encouraging expression within social media arenas.
RSS detours by Apple and Facebook
Another Silicon Valley behemoth, Apple, played its own role in adapting and then abandoning RSS. Apple used to integrate RSS into its built-in "Mail" email client and as such, likely had millions of users fetching RSS feeds alongside their email. But by 2012 Apple had already launched its own offensive in the "war against RSS," as the Sydney Morning Herald put it, quietly removing any in-built RSS support from its operating system. That happened in 2012, a year before Google pulled the plug.
Why did Apple go to war against RSS? Some speculated that a possible motive was the mammoth corporation may have been considering gaining a stake in the social media companies, as reported by the New York Times.
When Apple News launched in 2015, a couple of years after it eliminated RSS in other apps, users could still add whatever RSS feeds they liked into the app alongside Apple's partner publishers. But Apple took a sharp turn from that open standard approach in 2019. Today, publishers who want their content shared on Apple's News platform can do so with an RSS feed only, but Apple offers incentives for them to convert to Apple's new format designed to encourage consuming the article entirely on the platform rather than directing traffic to the original website. That's cut against the original spirit of RSS say open standard purists.
What about Facebook? The company used to allow businesses to bring content into a "notes" section automatically so that content posts could be automated in a universal fashion, the way RSS was designed to work. But then Zuckerberg's empire killed its own RSS reading integration even earlier than the others, in 2011.
Why? Facebook hinted that content brought in without a personal message added would not drive enough of the kind of engagement it wanted.
What have we learned, then? In the case of three digital giants — Google, Apple and Facebook — all adapted RSS to their ends in ways that subverted the open standard of RSS that could be reused in other contexts.
So how can you use RSS today?
After Google pulled the plug on Google Reader, several hundred thousand abandoned users flocked to alternatives like the Old Reader, which kept the news-only experience alive and still works today.
And one Big Tech member, Microsoft, remains an outlier by still including an RSS feed reader in Outlook.
Most web browsers have dropped default support, but nearly every major one still has dozens of easy add-ons to re-enable RSS feed tracking. You can find them by searching for RSS or Atom feed reader in the "extensions" or "plug-ins" menu of your favourite browser, which should bring you to a "store" of sorts.
Among the extensions for Firefox is Feedbro. Even Google announced a "here to stay" RSS Feed Reader extension for its Chrome browser and android platform in 2021, a couple of years in the wake of officially giving up on Google Plus. Without even remotely trying to promote it, it has over 500,000 users. There are many more options.
Back to the future: RSS and email!
The Tyee's top recommendation is to kick it like it's 2013 and try out the Old Reader and plug in our simple feed.
Or even better, you can kick it like it's 1971 and subscribe to The Tyee's daily news emails (which you can set to text mode to be truly authentic).
Sign up for free secure in the knowledge that we don't share your information with anyone, and it's super easy to unsubscribe at any time.
The truth of the matter is that if Meta and Google make good on their threats, it will hurt The Tyee in our mission to reach as many people as possible (that's why we have no paywall).
Still, we take heart knowing that, by far, our most loyal and engaged audience members are people who read our offerings via our email list or come directly to our stories. They do so by heading to our cleanly designed and easy to scan home page which, may we suggest, you bookmark.
And some, even today, come to us via RSS feeds, keeping that open standard flame alive.
So get yourself an RSS feed and/or sign up for our e-newsletter. Either one should let you stay connected while the social media dynasties dangle tantalizing ways of becoming an informed citizen only to threaten to snatch them away.