Two days before Canadians celebrate their nation's birthday, Ontarians could see what Progressive Conservative Leader Doug Ford hopes will be the inauguration of Ford Nation when he is sworn in as Ontario's 26th premier on June 29.
Progressives, hoping that the New Democrats would replace the governing Liberals in a race their leader, Premier Kathleen Wynne, declared unwinnable for them less than a week before voting day, knew within lightning speed of the polls closing on June 7 that Ford's PCs would form government when the party won 76 seats, or 13 more than needed for a majority.
But one progressive, who earned his share of headlines on election night, believes he might be able to play the role of Ford whisperer on at least two of his ideas that might resonate with the Tories.
During the final campaign debate, Ford acknowledged that climate change is real and that humans are the cause of it, while vowing to scrap Ontario's cap-and-trade system to diminish the use of fossil fuels. However, Ontario Green Party Leader Mike Schreiner, who won the eco-friendly riding of Guelph and will become the first Green to sit in the provincial legislature, plans to advance his green agenda by presenting it as a business model for former businessman Ford.
"On the climate file, I plan to approach it in a way that could be appealing, such as by embracing the clean economy and recognizing what a huge opportunity it is for jobs and prosperity in what many economists believe is worth $6 trillion," explained Schreiner. "So if Ontario even captures one per cent of that, it's a bigger contributor to our GDP than the auto sector, which would play a key role in the development of electric and other low-emission vehicles."
Although Ford plans to resists any federal attempts to impose a carbon tax, Schreiner thinks the incoming premier might be open to a carbon fee-and-dividend system that would "put a price on greenhouse-gas pollution from fossil fuels and return the money to Ontarians as a dividend cheque."
An entrepreneur who started one of Ontario's first local organic-food businesses and co-founded a non-profit in Toronto to promote food sustainability, Schreiner also hopes to get Ford's Tory crew on side with a related issue.
"Because the Conservatives hold almost all of the rural seats in Ontario, my hope is that I can find some ways to push forward support for local food and farming," Schreiner said. "Sustainable food production is essential, particularly as climate change is going to affect food production."
Still, Schreiner will be an opposition MPP and remains concerned about how far Ford, who has vowed to cut corporate and personal income taxes, will go in cutting back on government programs from healthcare and education to public transit and social services.
Schreiner also bristles at the mention of Ford Nation — a populist expression coined during the infamous Toronto mayoralty of Ford's late brother, Rob — since it, he insists, does not reflect the fact that the Conservatives only won 40 per cent of the popular vote and that 60 per cent of Ontarians chose candidates mainly from the New Democrat, Liberal and Green parties — a shining example, for Schreiner, as to why electoral reform through proportional representation is necessary.
"Ultimately, I was hoping for a minority government consisting of a progressive coalition where the NDP, Greens and Liberals worked together that could have led to great legislation," he said.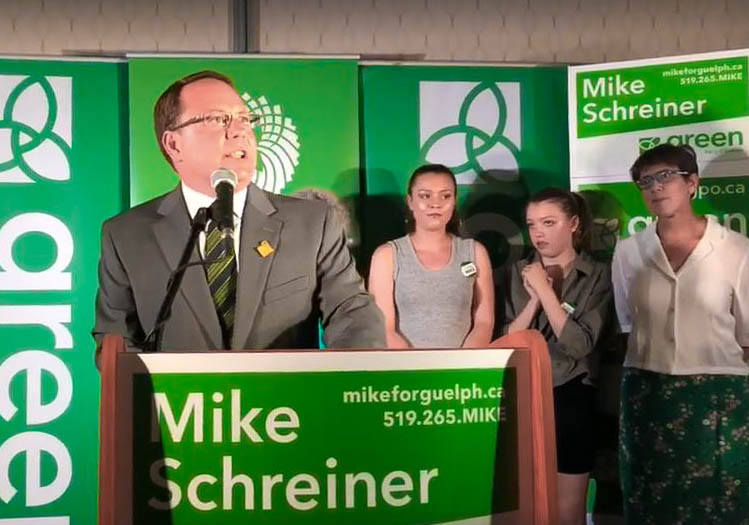 The incoming Official Opposition NDP, with its 40-member caucus — the largest opposition bench of any party since 1985 when Bob Rae's 25-member NDP caucus supported David Peterson's Liberal minority government — won't be forming any official alliances, according to New Democrat Leader Andrea Horwath.
Affordable housing and childcare are among the issues the NDP plans to raise, explained Horwath, who completed her third provincial election campaign as party leader.
"I don't think those are priorities of this government, but they're certainly priorities of families," she said.
Thus far, the NDP's "biggest issue is not knowing" what to expect from Ford's PCs, who ran "without a fully costed platform" and made "lots of expensive promises in terms of tax cuts," Horwath explained. "I'm pretty concerned how that might look like and how it might hurt families."
Ford was unavailable for an interview. But the Tory campaign promised to impose a 20-per cent income-tax cut for the middle class that would cost $2.26 billion annually starting in year three, and reduce the corporate tax rate from 11.5 to 10.5 per cent, at a cost of $1.3 billion per year starting in year two.
"I fear that the people who will get left out are the 60 per cent who didn't vote for Mr. Ford or his party — who don't want to see more cuts to healthcare and education," said Horwath. However, she acknowledged sharing the same goal with Ford to end so-called hallway medicine caused by overcrowded hospital emergency rooms. But their approaches to reaching that target are decidedly different.
The Ontario NDP's election platform called for an immediate cash injection of $1.2 billion for hospitals, which would include opening 2,000 hospital beds. The PCs said that "it's time to listen to front-line medical professionals, including nurses and doctors, to ensure that long-term stable funding is available to do the capacity planning that our health care system deserves."
Horwath's healthcare plan also included universal pharmacare and dental care, neither of which is on Ford's radar.
"This is worrisome, because in this economy, when so many more people are working part-time and doing casual or contract work, it's more important than ever to have these kinds of plans," she said, particularly, when such ideas as prescription drug coverage, get "less and less oxygen" under conservative governments.
Ontario now joins Manitoba and Saskatchewan as blue provinces, with two more — Quebec, later this year, and Alberta in 2019 — also poised to have conservative governments, according to polls.
However, Peter MacKay — the last leader of the federal PC party before it merged with the Canadian Alliance to form today's Conservative Party of Canada — does not see the Ontario PCs taking a sharp right turn under Ford's watch.
"We wore that for a long time as federal Conservatives," said MacKay, who held several senior portfolios in Stephen Harper's cabinet.
However, he explained that Ford is going to have to "really burnish his business credentials that will force him to make some tough decisions."
He added, "I think he made the very smart decision to have the finances of Ontario fully audited before he even begins to make some of his tough calls. That also sends a really important signal about his fiscal acumen, his respect for taxpayers, his understanding that campaigning and platform announcements are one thing and governing is completely another."
MacKay, who campaigned for several PC candidates in the Ontario election, said Ford has a capable transition team, which includes MacKay's former federal cabinet colleague John Baird and Baird's former chief of staff, Chris Froggatt.
Ontario's premier-designate also has "a lot of good wood to build a cabinet," according to MacKay.
Two of Ford's former leadership rivals — Christine Elliott, the widow of former Conservative finance minister Jim Flaherty with Queen's Park experience, and Caroline Mulroney, the daughter of former PC prime minister Brian Mulroney and the newly elected MPP for York-Simcoe — are almost certain to be handed ministerial assignments.
But MacKay is positively pumped about Peter  Bethlenfalvy, another political rookie in Ford's caucus whom MacKay believes is perfectly poised to become Ontario's next finance minister.
"This guy is a rock star, who worked on Wall Street and Bay Street with TD [Securities USA, as president and chief operating officer]," said MacKay, a partner with Baker McKenzie LLP law firm in Toronto. "I haven't seen anybody in the last number of years that could hold a candle to this guy in terms of his private sector experience, and that would include [federal Finance Minister] Bill Morneau and Jim Flaherty."
The talent Ford assembles for his cabinet will form a PC government with, perhaps, a Ford Nation flair, said MacKay.
"Everybody brings their past with them. But I fully expect that he's going to grow in the job — and it's almost unprecedented to have someone elected a leader for just [two months] before coming into a full-blown election. So he's had a steep learning curve, but he also sat on Toronto city council and ran for mayor in the aftermath of his brother's untimely death," said MacKay. "He's no neophyte in terms of politics. And the Ford Nation was a rather tight geographic area in and around Etobicoke [a riding within that west Toronto district which Ford will represent in the legislature] and he built that moniker into his campaign. But I think you're going to see a Progressive Conservative — and smaller — government with a lot of really dynamic people and a large number of extremely capable female MPPs."
Added MacKay: "Part of the Ford Nation motto is 'For the People,' so I expect that you're going to see an early attempt to really show inclusivity, responsiveness and a lot of outreach in the early days."
Horwath views Ford's victory as not one so much for populism but "given to someone who was able to run without a platform."
"I don't know how that happened," added Horwath, whose NDP was running neck-and-neck with the Tories in the final week of the campaign. "But when you have a lot of money to spend on advertising, and you pick little pieces of untruths and push them out there, people can't help but be impacted by that."
The PCs targeted several New Democrat candidates, with accusations of anti-police, anti-military and anti-veteran behaviour, and in one widely reported instance, of sharing an Adolf Hitler meme on Facebook.
Horwath is concerned that the reputational hit Toronto took when Rob Ford was the mayor and famously admitted to having smoked crack cocaine, could now — in arguably a less scandalous way — envelope Ontario as brother, Doug, prepares to become its new premier.
"During the campaign, having a neon sign wheeled up to the Niagara Falls border saying 'Ontario Open for Business' is showmanship and not an effective strategy to run the economy," she said.
Kansas-born Schreiner, who holds dual U.S. and Canadian citizenship, sees some similarities between Donald Trump and incoming premier Ford, whom he doesn't think is as "nativist" as the American president.
"But they did run campaigns that were more based on slogans than on substance — and now the premier-designate has the challenge to take the slogans and turn them into policy and actually govern the province," said Schreiner.
"It's hard to say how much the Ford vote was the result of people's desire for a change in government and how much of it was his appeal. When the election started, the Conservatives had a commanding lead in the polls [by as much as 20 per cent over the NDP] and saw their numbers drop steadily throughout the campaign, and got a little uptick toward the end. So I don't want to read too much into Ford Nation, and the politics of back-of-a-napkin policy promises and the lack of a thoughtful platform."
Is Ford like Mike Harris, the last Ontario PC premier and a fellow anti-establishment grassroots everyman politician?
"That's a different era," said MacKay. "I don't think you can really pigeonhole Ford at this point."
"The other obvious comparison that the Liberals and the NDP tried to make was to Donald Trump. He's not Donald Trump. Just look at the riding he represents [Etobicoke North] in terms of new Canadians. I don't see any element whatsoever that resembles the negativity and the exclusivity that you have seen in some of the policies and pronouncements of Trump," offered MacKay.
"Populism is about being very open to what people want, unlike small-l liberal tendencies to focus-group everything. It's about what you pick up at the Tim Hortons and at the ballfields, as opposed to having some well-heeled ad agency go out and run a poll."
Said MacKay: "This is about what you get on the street, and Doug has a good ear for the street."
Is former Alberta PC premier Ralph Klein a better comparison? "That's a better analogy — but different province, different time," said MacKay. "Doug seems to have a little bit more of that common touch. Not that Mike Harris didn't, but Doug's brand of populism seems a little more like Klein where he prides himself in being the guy who gets back to people."