Independent media needs you. Join the Tyee.
The Tyee Drinks BC

Read B.C. | Drink B.C.

Seven award-winning British Columbia wineries sponsoring The Tyee's spring Master Class series, hand-picked by us.
Enjoy!
NICHOL VINEYARD, Naramata B.C.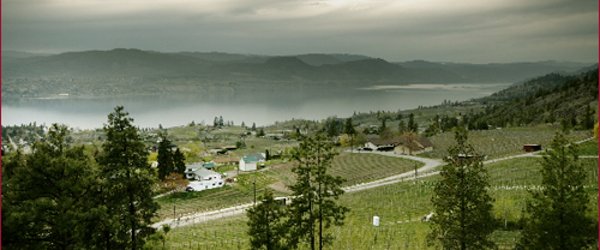 Browse: www.nicholvineyard.com
Tweet:@nicholvineyard
Nichol Vineyard, known among Canadian wine lovers in the know, has been operating in Naramata Village in British Columbia using 100% Naramata fruit since 1993.
Owner and winemaker Ross Hackworth's focus is to maintain a small estate winery, striving to grow world-class wines. The recognition Ross has been receiving for his wines is testament to the work he is doing at the tiny Naramata winery. Since 2006 he has been at the helm creating premium, limited vintage wines, carrying on the tradition of the winery's original owners and namesake, Alex and Kathleen Nichol.
The vineyards sit on a pocket of land tucked against steep, heat-radiating red granite cliffs, and are perfectly situated: under the former Kettle Valley Railway and above the deep blue Okanagan Lake. This site offers the ideal place to grow grapes that produce wines with intense fruit and bright acidity.
Looking west across from the vineyard and over Okanagan Lake, you can see the shores of Summerland and the landmark Giant's Head Mountain. The soils at Nichol Vineyard were created during the prehistoric time when volcanic activity and glaciation provided the till, granite, bedrock and silt, which all come together to create a unique, rugged site that generates fine wines.
---
HAYWIRE WINERY, Summerland B.C.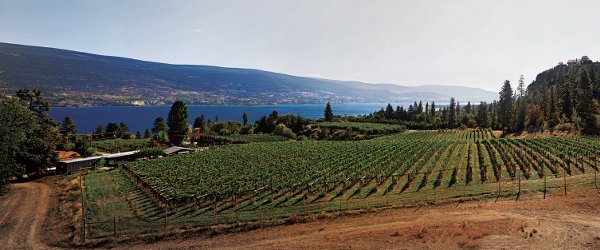 Browse: www.haywirewinery.com
Tweet:@Haywirewine
Haywire refers to wire once used for baling hay, which tended to tangle in a chaotic way.
Apt then, that Haywire wines are the result of Christine Coletta and Steve Lornie's transition from city slickers to farmers to winery owners.
Of course, they cannot do it alone. To shape their wine style, the couple is joined by the talented Michael Bartier, working with David Scholefield. The team also considers themselves fortunate to be working with consulting winemaker Alberto Antonini from Italy.
It's one thing to enjoy the fruits of one's labour but another to actually grow that fruit. It's been a long journey from a wintry morning in 2005 in Summerland when Chriss and Steve slogged through the snow to tour an old orchard for sale...
---
POPLAR GROVE, Penticton B.C.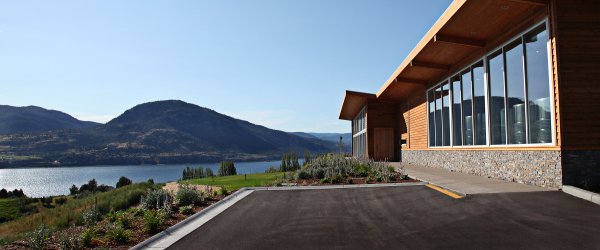 Browse: www.poplargrove.ca
Tweet:@poplargrovewine
One of the original 5 wineries on the Naramata Bench, Poplar Grove was founded in 1993 when Ian Sutherland dedicated 2.5 acres of land to the planting of Cabernet Franc and Merlot grapes. Over the past 19 years, Poplar Grove has grown into an innovative estate winery dedicated to making world-class wines that reflect the spirit of the Okanagan Valley terroir.
2007 was the year of change for Poplar Grove Winery. The evolution began when Tony Holler became Poplar Grove's majority owner and President bringing new ideas and a vision for the future. The Holler family also brought with them 110 acres of prime vineyard sites, appropriately named Holler Estate Vineyards, located throughout the Southern Okanagan Valley. The entrance of the Holler family and the addition of the new vineyards allows Poplar Grove wines to be made from 100% estate grown fruit.
The viticulture team supports the estate vineyards by practicing a sustainable farming program that works with the complexity and variability of the individual vineyards resulting in grapes that are the optimum expression of the local terroir. Some things have remained the same, Ian Sutherland continues as the Executive Winemaker at Poplar Grove. In 2008, Stephan Arnason took on the position of Winemaker and in 2011, Nadine Allandar was named Assistant Winemaker. Together the wine making team hand-crafts wines from the quality fruit harvested from each of the estate vineyards with the goal of guiding the process to allow the true expression of the fruit to shine through.
---
LE VIEUX PIN, Oliver B.C.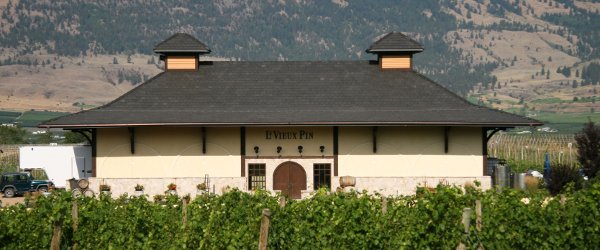 Browse: www.levieuxpin.ca
Tweet: @levieuxpin
Facebook: facebook.com/levieuxpin
YouTube: youtube.com/levieuxpin
A majestic old pine tree stands in our vineyard: Le Vieux Pin. It speaks to the earth and rain and the clean clear air of the South Okanagan. Here we have created a winery paying hommage to the great personalities and wines of France.
Our goal is to make wines that capture the essence of French winemaking tradition, but with the fruit and character of the New World. We are dedicated to making wines that are elegant and focused, with great intensity of fruit.
The pine tree stands alone.
Á votre santé!
---
CLOS DU SOLEIL, Keremeos B.C.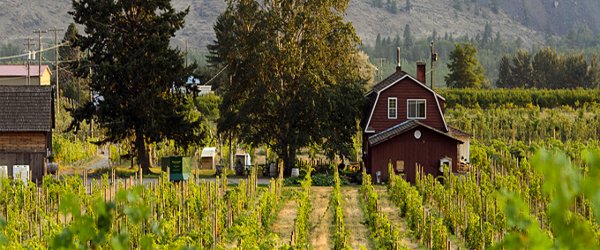 Browse: www.closdusoleil.ca
Tweet: @ClosduSoleil
Facebook: Clos du Soleil

Clos du Soleil is a small artisan winery and estate vineyard on the South Similkameen Valley Upper Bench, one of the newest, most exciting emerging appellations in the World. It is focused on super-premium quality wines in a Bordeaux style – where Old World elegance meets with New World edge!
The Clos du Soleil team includes our celebrated Canadian winemaker Ann Sperling and vineyard manager Jean-Felix Boulais, who have a passion for sustainable viticulture using both organic and biodynamic practices. Since its first yield in 2006, the limited-quantity Clos du Soleil wines continue to debut with startling accolades.
The name Clos du Soleil refers to rocks, sun and soil, representative of the land, mountain and climate of the Similkameen Valley - perfectly suited for producing ultra-premium wines.
Signature is the flagship red blend of Cabernet Sauvignon, Merlot, Cabernet Franc, Petit Verdot and Malbec, fermented in small lots, spending at least 18 months in primarily French Oak (100%) Barriques, and at least 6 months in bottle prior to release.
Capella is their premium white blend of 95% Sauvignon Blanc, 5% Semillon. The whites are whole cluster pressed, with select lots fermented in barrel, 12-18 months maturation in stainless steel tanks before bottling and release.
Clos du Soleil will unveil Spring Equinox Release on March 20, 2012. Watch for the much-anticipated debut of their first-ever, Rosé 2011. Also, the Summer Solstice, Fall Equinox and Winter Solstice Releases will include the very special & limited supply of Clos du Soleil Winemaker's Reserve, Clos du Soleil Estate Reserve and Saturn 2011.
---
LAUGHING STOCK VINEYARDS, Naramata B.C.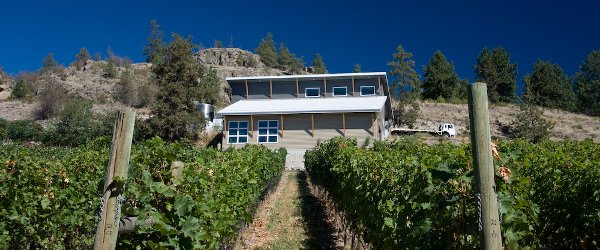 Browse: www.laughingstock.ca
Tweet: @LFNGwine
Located on the picturesque Naramata Bench in British Columbia's Okanagan Valley, Laughing Stock Vineyards is a serious enterprise with a lighthearted attitude. David & Cynthia Enns gave up their careers as research consultants in the investment industry to pursue their dream of founding a winery. And with a name like Laughing Stock, they wake up every day with the motivation of not living up to their name. Fortunately, their flagship wine, Portfolio, has received many accolades and awards.
---
JOIEFARM WINERY, Naramata B.C.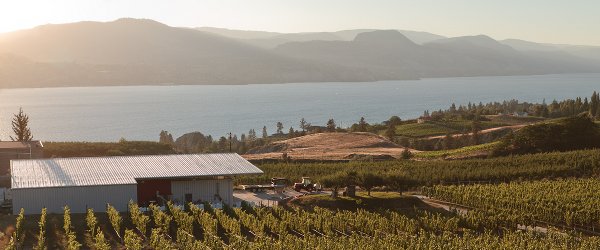 Browse: www.JoieFarm.com
Tweet: @JoieFarm
JoieFarm Winery is owned and operated by Heidi Noble and Michael Dinn and is located on the beautiful Naramata Bench in the Okanagan Valley in south central British Columbia, Canada. Joie (zh-wah) -- means "joy" in French and it expresses the pleasure that wine and food have brought to our lives both personally and professionally. JoieFarm is interested exclusively in the grape varieties of Alsace and Burgundy which excel in the cool-climate, desert landscape of the Okanagan Valley.We are particularly interested in making these wines because not only are they wines that we love and enjoy drinking, but we feel these varieties thrive and are particularly relevant to our area. As young winemakers at the forefront of a new wine region, we are interested in exploring the potential of these aromatic varietals and their role in distinguishing the culinary West Coast of Canada as an emerging cuisine.