Ottawa's Plan Not Good Enough for Disabled Vets, Advocate Says
Total rethink of strategy, supports needed, says former ombudsman Pat Stogran.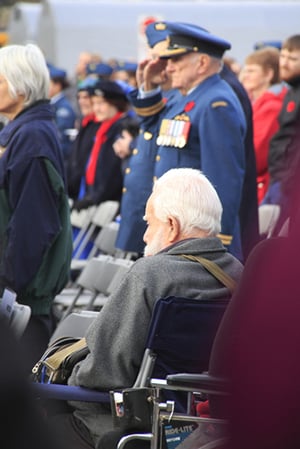 The federal government's proposed change to financial supports for disabled veterans is a "cop out" that will do little to reduce problems like homelessness, says former veterans' ombudsman Pat Stogran.
The government has been criticized for failing to provide needed help and financial support to veterans who suffer disabilities during military service. Last week, a Canadian Press story last week revealed 2,250 veterans are homeless.
Veterans' advocate Tom Beaver said earlier that a number of changes are needed, including the elimination of lump-sum payments for disabilities, which were introduced in 2006 as an alternative to pensions.
Veterans Affairs Minister Kent Hehr told The Tyee the government won't eliminate the lump-sum payments, but wants to give disabled vets the choice of either a lifetime pension or a one-time payment. Financial advice would be available to help soldiers make the decision, he said.
The option should be available before the end of the government's first term in 2019, Hehr said. "Frankly, in my view, sooner than that."
Hehr said his mandate from Prime Minister Justin Trudeau includes providing the pension option to help solve some problems facing veterans, such as mental health issues and homelessness.
But Stogran, a retired colonel who was veterans' ombudsman from 2007 to 2010, said the government should get rid of the lump sum payments, provide pensions and rethink how it deals with disabled veterans.
Stogran said soldiers injured during service may not be in the best place mentally and emotionally to make a choice between a pension and an alluring lump sum payment.
"A distressed soldier will not invest the money, they'll go out and try to find ways to relieve their pain through fast cars and fast living," he said. "I've seen it time and time again."
Other critics note some veterans dealing with mental health issues as a result of their service or disability spend the money -- sometimes on drugs or alcohol -- and are left with nothing.
Stogran said the government should not simply provide disability pensions, but appoint case managers to assess veterans' needs and work with them to ensure they have a reasonable standard of living.
"Set the conditions where disabled veterans do not have to worry about their future," he said. "A veteran should have a reasonable apprehension that they will be able to provide for their families what a full career in the military would have provided them."
Support could include grants to help start businesses or for education, as well funds to help veterans who are down on their luck with housing or other basic needs, he said.
Divorce protection not likely
Beaver, founder of the Coalition of Canadian Veterans, also proposed exempting disability pensions from being considered as income for the purposes of divorce proceedings. He said a disabled vet could end up on the street if a part of the pension is taken from them in a divorce.
But Hehr said he has faith in Canada's justice system to ensure a fair outcome in such cases.
"In my view family courts do a fairly reasonable job assessing a veteran's life, his commitment to his spouse and/or dependents and trying to work out a fair arrangement," he said.
Beaver also said current veterans should be involved in supporting those leaving the military. Veterans who have already adjusted to the change can help those about to leave, he said.
Hehr said his mandate includes addressing that issue by working to "close the seam" between the Canadian Armed Forces and Veterans Affairs. The plan is to make the transition from military to civilian life smoother through a closer relationship between the two organizations.
"We want to ensure they are tying into what VAC (Veterans Affairs Canada) has to offer," he said. "We're going to be working very hard over the next year and a half to close that seam."
That includes access to retraining, mental health services and education provided by Veterans Affairs.
comments powered by

Disqus