Brown Edges to the 'Green Games'
These Olympics use 5,600 vehicles, burn 20 million litres of petro, carve up nature. Critics cry 'greenwash!'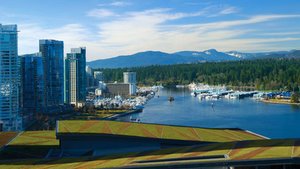 Organizers of the 2010 Winter Games are making an Olympian effort to sell the world on the idea that these will be the greenest Games ever.
New venues like the Richmond Olympic Oval and Vancouver Olympic Centre contain state-of-the-art measures to conserve energy and reuse rainwater. The international broadcast centre at the Vancouver Convention Centre even has a roof covered in grass.
The VANOC communications strategy included forging an alliance with environmentalist and CBC presenter David Suzuki, who awarded Vancouver 2010 a bronze medal rating on Feb. 3 in its efforts to be the first carbon neutral Olympics.
That's right, retired university professor Suzuki gave VANOC a grade before the crucial final exam was written. The scorecard published by his foundation was based mostly on information posted by VANOC on its own website.
VANOC estimates the 2010 Winter Games will pump out 268,000 tonnes of carbon emissions -- about what 50,000 cars emit in a year (see sidebar).
Suzuki applauded VANOC for contracting the University of British Columbia business school spinoff called Offsetters. The company is addressing fears of global warming by selling souvenir carbon offsets to sponsors and spectators flying to Vancouver, which is in the middle of a warm and wet El Niño-influenced winter. When they get here, they'll find that the Olympic rings at most venues are strategically coloured green.
What's under the green 'paint?'
"You can plaster green on anything you want to -- that's called paint -- but you better have something solid underneath that," said Simon Fraser University marketing Prof. Lindsay Meredith.
How much is underneath is hard to tell. VANOC issued a 137-page sustainability report card for itself on Wednesday that paints a green picture for the year ending on July 31, 2009. Only six pages were reviewed -- but not audited -- by PriceWaterhouseCoopers.
2010 GAMES: A BIG FOOTPRINT TO OFFSET
VANOC estimates by the time it's all over, the 2010 Winter Games will have produced 268,000 tonnes of carbon emissions. That's not a huge figure compared to B.C.'s annual 70 million tonne output. It's still the equivalent of an extra 49,084 cars on the road for a year. Or the yearly electricity needs of 37,171 homes.
For organizers promising the greenest Games ever, that's a lot of CO2.
VANOC has teamed with Offsetters -- a Vancouver carbon trading firm founded by University of British Columbia business professor James Tansey -- to mitigate the impact. The company assigns a dollar value to Games' emissions, then invests VANOC money into projects like a wind farm in Turkey or BC Hydro subsidiary Powertech.
Organizers have promised to pay for all the CO2 emitted by the planning and staging of the Games. But their plan won't cover a further 150,000 "indirect" tonnes mostly linked to a huge spike in flights to Vancouver. Spectators are urged to calculate their own emissions online and buy $25 per tonne souvenir offsets. 28 corporate and government sponsors -- including Coca-Cola and the City of Surrey -- say they'll offset some of their emissions. Sponsors get a $1 per tonne discount.
"The special pricing takes into consideration that the partners are operating on a greater scale than at the individual level," said vice-president of marketing and client engagement Kari Grist.
One of Canada's leading sustainability thinkers has serious doubts about the concept.
"It's a conscience money," said University of British Columbia community and regional planning Prof. William Rees. "The reason we get into carbon offsets in many cases is to avoid having to reduce our carbon emissions."
Rees fears many offset schemes are ill-monitored and ineffective. There's no international body to regulate the system. Money invested in a green project might become diluted in administrative costs rather than CO2 reductions, he said.
"Offsets are theoretically a good idea," Rees explained. "But they can create the illusion of progress where none is being made."
-- Geoff Dembicki, The Tyee
"A proper audit says what did you do that's green? What did that cost you in evil carbon?" Meredith said. "Let's subtract the negative numbers from positive numbers and see if you're green or not."
A Council of Canadians-led coalition called VANOC's green Games branding exercise nothing more than "greenwash" at a news conference on Thursday. Games visitors, they say, need only to see the Medals Plaza in Whistler Village and the Whistler Olympic Park cross-country trails in the Callaghan Valley -- trails that were once thick with evergreen trees.
5600 Games vehicles, a blasted mountainside
In 2006, dozens of West Vancouver residents were arrested for a sit-in protest that temporarily halted expansion of the Sea-to-Sky Highway through a forest and marsh on Eagleridge Bluffs.
The highway is the key road link between Vancouver and Whistler.
Vancouver's successful 2003 bid included trains and ferries, but those plans were scrapped in favour of rubber tires. There are now 4,500 General Motors cars and trucks and 1,100 chartered buses -- some from as far away as Alabama -- plying Vancouver roads.
Except for 20 hydrogen fuel cell buses and eight hydrogen fuel cell SUVs, the VANOC fleet is fueled by Petro Canada's pledge of eight million litres of gasoline and six million litres of diesel.
Another six million litres of fossil fuel are burned in Aggreko electrical generators for backup power at venues. Generators the size of cargo containers are parked at three locations around B.C. Place Stadium, droning day and night to provide primary power. Sponsor BC Hydro did not upgrade the electrical system at the Olympic stadium.
Take a deep breath
The RCMP chartered three luxury cruise ships for 5,000 cops and troops to stay at Ballantyne Pier while VANOC has a smaller vessel docked in Squamish. All four are running on diesel to keep lights and heat on because no shore power is available.
Energy use at B.C. Place and the cruise ship docks doesn't show up on the Pulse Energy website, which offers real-time monitoring of energy use at venues selected by VANOC. The acres of temporary tents and portable buildings behind the scenes are also not included.
Ultimately, it's what Vancouverites breathe and what the world sees on TV that could turn the green Games brown.
"An influx of new people, considerably more buses, more idling traffic and air quality will be worse. How much worse is hard to say," said University of British Columbia environmental sciences Prof. Michael Brauer. "If we have cold, calm sunny days that look gorgeous, that would be worse for air quality."
The fuel for VANOC's hydrogen powered vehicles, by the way, has been transported from Quebec, and fossil fuels were burned to get it here.
comments powered by

Disqus