Microtek's Money
University owns piece of fish-farm vaccine-maker accused of poor practices. Last in a series.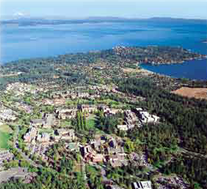 A fish vaccine company that has had ongoing problems following animal care and other regulations at the University of Victoria was an early product of the school's efforts to commercialize its research.
The Tyee reported that untreated waste water was leaving labs used by Microtek Research & Development Ltd. for fish disease tests and entering Capital Regional District's sewers, where it passes through a screen before entering the ocean.
The overflow problem came as the UVic employees who run the facility tried unsuccesfully to get the company to follow operating procedures, policies and rules set out by various bodies, including the school, the Canadian Council on Animal Care and the Canadian Food Inspection Agency. UVic administrators eventually told the employees to "back off" on the company, according to a formal complaint filed by two staffers.
The apparent failure to deal with the ongoing problems raises questions about the relationship the public university has with Microtek and whether it stands to make money from it. They are key questions at a time when public institutions are increasingly turning to businesses to look for revenue beyond tuition fees and government grants.
Certainly facility managers, frustrated in their attempts to do their jobs, had a hypothesis for what was happening. In documents submitted to UVic, they suggested the relationship between the school and Microtek is a public-private partnership where the university will use student fees to "heavily subsidize" the company until it is financially viable.
UVic helped company launch
There is little doubt there is a close relationship between UVic and Microtek. There are two companies registered under the Microtek name in B.C., Microtek Research & Development Ltd. and Microtek International Inc. Each company has just one director, UVic professor William Kay. Kay did not return calls by press time.
Kay teaches in UVic's department of biochemistry and microbiology, and a department newsletter from 2005 describes Microtek as "a UVic company." Since 1990, some 32 UVic co-op students have worked for Microtek and eight of the company's 13 employees are UVic graduates, a university spokeswoman said.
UVic helped launch Microtek through its Innovation and Development Corporation, an office that exists to commercialize the work of university researchers. While UVic is normally entitled to up to 50 per cent of the net revenues of spin-off companies, that's not the case with Microtek.
"We have no relationship with them anymore," said Kathy Veldhoen, IDC's vice-president of operations. "We don't have any of their patents. They've absorbed all that."
Often the companies IDC works with become independent, she said. "It's not abnormal. There was no more need for IDC's involvement. That was the best solution for everyone at the time." She didn't know the details of how Microtek left, but said, "I imagine they spun out and they were making a go of it."
School owns piece of Microtek
The university does own a small percentage of Microtek, Veldhoen added, but it is less than three per cent of the company. "That's it."
A UVic spokeswoman, Maria Lironi, later said that since Microtek is a private company, the value of UVic's share is unavailable. She suggested asking Steve Carlos, a Microtek vice-president.
Carlos said Microtek is owned by the Kay family. The owners "gifted" 4.5 per cent of the company to UVic's IDC, he said. It's hard to say how much the company or UVic's portion of it is worth, he said, since there's never been a formal valuation of the company. "It is not our policy to disclose Microtek's revenues save to say they are very modest," he added.
Microtek's products are distributed around the world by the German pharmaceutical giant Bayer. "We apply the science of modern biotechnology to living things, and produce beneficial health products for the worldwide aquaculture industry," Microtek's website said.
The company's products are used for salmon, trout, tilapia, hybrid striped bass, turbot, flounder and other fish species, the website said, and are used in Canada, the U.S., Chile and Norway.
While profit figures are unavailable, it's clear the market for suppressing sickness on fish farms is large and growing. A Canadian government website said Microtek made advances with a vaccine for a salmon disease called furunculosis, which "costs the B.C. salmon aqua-culture indurstry $5.4 million annually." Worldwide, the disease kills $100 million in salmon farming profits, the Networks of Centres of Excellence said.
UVic subsidizing business?
A "facilities agreement" between UVic, Kay and Microtek said the school would "house Microtek animals" and "assign space to Microtek within the Aquatics Research Facility for research relating to the development and testing of vaccines for fish." The space rental is included in the fee Microtek pays to UVic, which charges 31 cents per litre of tank volume the company uses each month.
The bill works out to about $40,000 a year, according to a source familiar with the arrangement, who added the fee is much less than it likely costs the university to run the facility and provide service to Microtek. UVic spokeswoman Lironi could not confirm the figures by deadline.
Similar agreements go back to at least 1999. At that time, the company agreed to finance up to $75,000 worth of improvements to the facility so that it would meet its needs. UVic agreed to pay the company back by reducing its bills until the upgrades were covered.
The agreements specify that anything learned during the research remains property of the company. UVic can use any such information only for "internal academic purposes of a non-commercial nature."
While she declined to talk about Microtek and UVic in particular, the federal NDP's advanced education critic, Victoria MP Denise Savoie, said that in recent decades there's been a push for universities to commercialize their research. "It impacts where we're going with basic research," she said. "What are we gaining here and what are we risking?"
There are many cases where finding ways to market knowledge gained at universities is good for the public, she said. "I don't think there's anything intrinsically wrong with transfer of technology for practical applications," she said. However, she added, it shouldn't be the main thing driving research.
"Universities' and colleges' increased reliance on either private or commercial funding is directly, directly related to reduced support by government of universities," Savoie said. As funding shrinks, university administrators have fewer choices and finding products to sell becomes more attractive.
"It's clear that universities, having been underfunded, have turned to commercialization of research," said Savoie. "You shouldn't be forcing a commercialization, a product, on the researcher.... I think there is a danger that we are going to so narrow not just research, but education."
The ethical lines should be clear, she said. It would be very tempting for schools to think "because we're so short funded, we'll round the edges a bit," she said.
Nor, as the case of Microtek's disease-laced waters going into the ocean shows, is it enough to have ethical guidelines and regulations on paper. Schools like UVic have to commit to enforcing them as well.
Related Tyee stories:
comments powered by

Disqus