Tainted Water from UVic Fish Lab
Pathogens, chemicals, flowed out untreated. First of a three-part special report.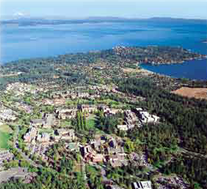 During the spring, large volumes of untreated water laced with fish diseases were travelling from a University of Victoria laboratory used by a private company through the city's sewerage system and into the ocean, a situation that caused alarm among some employees.
"This situation is not acceptable since untreated water with pathogens [is] going into the general sewer line instead of being treated by our system," wrote Ralph Scheurle, UVic's manager of animal care services, in a May e-mail to Dino Valeri, the school's manager of capital projects.
The problem was only the latest at the lab used by Microtek Research and Development Ltd., a company that makes vaccines for the fish farming and hatchery industries. A UVic microbiology and biochemistry professor, William Kay, heads the company. Documents obtained by the Tyee trace a history of problems with the lab, and the frustration of the UVic employees who are supposed to make sure the facility follows health and safety rules and regulations.
The ongoing problems raise questions about the relationship the public university has with Microtek, whether it is subsidizing the company or stands to make money from it, and whether it has done enough to make sure the lab runs properly. They are key questions at a time when public institutions are increasingly turning to businesses to look for revenue beyond tuition fees and government grants.
"My understanding is as follows," wrote Scheurle in a May 6 e-mail to seven people, including UVic's director of research services Rachael Scarth and Microtek's vice-president of operations, Steve Carlos. "Under certain conditions the water which leaves the [pathology] labs (Microtek side) can leave the system WITHOUT any water treatment and enter the city sewer system. I concur with Mike [James, aquatic facility manager] that this is MAJOR concern and MUST be dealt with immediately."
Authorities not contacted
Despite the urgency of the e-mail, another document said Scheurle had known about the problem as early as Feb. 27, though he did not respond until reminded on April 24, nearly two months later. Nor does he appear to have acted on the problem until his May 6 e-mails.
At that time, Scheurle said UVic plumbers would add more piping to "increase the height of the overflow pipe" and a Microtek employee would reduce the volume of water going into the overflowing pump. Scheurle would consult an engineer and begin working on a long-term solution.
There is no indication in the documents, however, of any plans to contact the Capital Regional District, Environment Canada, the Department of Fisheries and Oceans, or any other authority that might be interested in bio-waste entering the CRD sewerage system and the ocean.
Scheurle is quoted in one summary telling facility staff not to contact the CRD. He did not return calls by press time. Nor did several other representatives of both the university and Microtek.
UVic's vice-president of research, Howard Brunt, who returned to the school in April 2007 after four years away, said the Vancouver Island Health Authority was brought in to investigate the problem with the treatment system because there were concerns the water was being re-used on campus for things like irrigation. VIHA's interest ended when it was found the water was not being used on campus and did not pose a public health risk, he said. He said he didn't know whether the CRD, DFO or Environment Canada were contacted once it was discovered the overflow was entering the region's system.
The documents fail to note exactly what diseases would have been in the water that was going into the CRD pipes. The regional government is moving ahead with plans to build an estimated $1.2 billion sewage treatment system -- despite lingering resistance from some vocal opponents, including several UVic professors -- but currently does nothing but run it through a screen before it enters the ocean. Besides fish diseases, the water from the UVic pathology lab likely also contained formalin, a parasite killing solution made from formaldehyde gas and commonly used in aquaculture.
Experiments with sea lice
Microtek is the largest user of the university aquatic facility. In November 2007, Microtek sent the university a list of 12 studies it was doing in the lab on campus. They included tests on tilapia and rainbow trout to study vaccines for several diseases. At other times, records show, the company was studying diseased Atlantic salmon. At least one experiment involved sea lice, a parasite some salmon researchers say likely spreads from fish farms to wild fish.
A DFO media contact said questions about fish viruses being discharged into the ocean should be directed to Environment Canada. An official from that ministry responded by e-mail to general questions about monitoring and enforcement by saying, "more info would be required on the discharge itself. You are going to have to be very specific." She did not respond to a second e-mail by press time.
Trevor Smyth, the supervisor of the CRD's source control program, which aims to prevent toxins and other hazardous waste from entering the system in the first place, said the Sewer Use Bylaw puts the onus on people or institutions to advise the CRD whenever something that shouldn't be there enters the pipes. "They should be advising us through an application form or at least a contact," he said. The CRD would then decide what to do.
The definition of "hazardous waste" included in the bylaw lists, among other things, "animal waste, untreated microbiology laboratory waste... and untreated human blood and body fluids known to contain viruses."
The bylaw allows for fines of up to $10,000 a day while a violation continues.
Smyth could not say whether UVic's fish facility is under investigation. "We're investigating lots of cases right now."
Tomorrow: Evidence that when problems grew at a UVic bio lab, administrators were slow to react.
Related Tyee stories:
comments powered by

Disqus