Something Funny About the Yoshida Brothers
"Japanese banjos and Star Trek flutes" only sounds horrible on paper, trust us!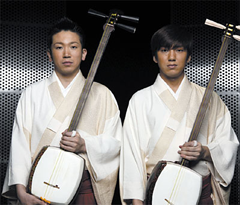 Taylor Swift, Miley Cyrus, and Lady Gaga -- what do these three musical artists have to do with Japan's Yoshida Brothers? Absolutely nothing, which is reason enough to catch them when they roll into town next week with their shamisens (a three-stringed instrument not unlike a banjo). The brothers let their strings do all the talking, forsaking words for syncopated rhythms and lightning-fast finger-picking. Considering most songs give us endless couplets with "love" and "thinking of", this can only be seen as a good thing.


If you've seen a commercial for the Nintendo Wii then you've heard the Yoshida Brothers, their ridiculously catchy melodies sending the salary men off in the little car. Five albums in, including a somewhat premature Best Of, and they now command a worldwide audience -- the video for "Rising" has over a million views on YouTube (and the opening notes from the former Hockey Night in Canada theme song). And while they could easily fill an entire show simply plumbing their back catalogue, here's hoping they will lean heavily on their latest album, Prism, which could see them break into the mainstream.


Things get off to a riotous start on Prism with a cover of Radiohead's "The National Anthem", which makes a strong case for Jonny Greenwood to pick up the shamisen. The Yoshida Brothers make it entirely their own, transforming the song from a funked-out rock groove to a full out hoedown... but cooler. "Mr. Nagano's Foolish Proposal" has a title and a sound that would make it seem not out of place in a Merchant Ivory film. "End of the World" sounds less apocalyptic than lamenting, until the one-minute mark where it goes full snake charmer with Star Trek flutes and James Bond bass lines and strings. Part of the Brothers' musical genius is that they make this horrible-sounding combination work really, really well.


Their two shows in B.C. follow a five-night stand at Yoshi's Jazz Club in San Francisco. Catch them Friday, May 22 at the Alix Gooden Hall in Victoria, and Saturday, May 23 at the Vogue Theatre in Vancouver.
Related Tyee stories:
comments powered by

Disqus