My Protest Against the Zep
Guitar Hero gets great music, but not Zeppelin. Why I don't care.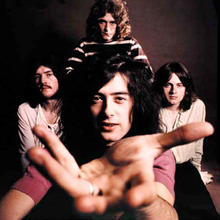 Have you noticed that the Guitar Hero video game, for all the noise and hoopla, is really just Simon, the 1980s Milton Bradley game? Well, it's Simon with syncopation and a seriously good soundtrack. The second edition, Guitar Hero II, featured "Can't You Hear Me Knockin'" from the Stones' Sticky Fingers, "Search and Destroy" by the Stooges, "Institutionalized" by Suicidal Tendencies, and Thin Lizzy's "Bad Reputation," to name a few. That's a pretty incredible lineup, right there.
The Sex Pistols reunited again to record (badly) "Anarchy in the U.K." for the new Guitar Hero III, which also features "The Seeker" by The Who, "Kool Thing" by Sonic Youth, the awesome "Lay Down" by under-appreciated Montreal midget-uglies Priestess, and of course, an officially sanctioned Slash avatar running around in a top hat. For something as potentially naff as a game that requires a plastic axe accessory, the Guitar Hero series has gotten everybody hooked. And it really is a lot of fun.
Noticeably absent from the Guitar Hero universe is anything by Led Zeppelin. Insurmountable licensing issues, perhaps? Who knows? But since we're on the subject, I have something I'd like to say about Led Zeppelin. Now that the brouhaha had died down over the big reunion gig in London last month, perhaps my voice will be heard:
How can they call the band Led Zeppelin if John Bonham isn't in it?
This is an enormous affront to me and my partners in the rock drummer community. If Jimmy Page were the dead one instead of Bonzo, would they still call it Led Zeppelin? Of course not. Robert Plant? Of course not. John Paul Jones? Yeah, probably, but that's not the point. Even if you accept that most drummers are dispensable, John Bonham is surely the one overwhelming exception to the rule.
And I don't even care about the Zep, to be honest. When I was a kid, admitting you listened to Led Zeppelin meant having the crap kicked out of you in the shower after PE.
"You better... (thwack!) ...start listening... (thwack!) ...to The Clash... (thwack!)... Or perhaps The Jam! (ooof!) Hippie! (crunch!)"
So I never really got into the Zep all that much, since it was hazardous, and also because they kind of suck. But I don't intend to let this so-called reunion pass without comment. The first band I was ever in, Tupperware Party (I was 14), would never reunite without me, their original drummer, and if they did, they wouldn't call it Tupperware Party. Why is this basic courtesy so difficult to grasp for Led Zeppelin, or their millions of "balding" fans? I mention "balding," by the way, because that was one of the jarring details that leapt out of a Reuters piece on the reunion show: "'I saw them in the '70s, and I think they were actually better,' said John, a balding man in his 50s."
How exactly is John's hair loss relevant to this story? Equally jarring, for me anyway, was a quote from Jimmy Page. Asked if the London gig would precipitate a -- gasp -- world tour for the fake Led Zeppelin with the wrong drummer, the guitarist replied beneath a full if greying head of hair, "Let's just do the O2 and we'll see what happens from there. I haven't got a crystal ball here, and nor have you."
What? Jimmy Page doesn't have a crystal ball? What the hell did he spend all that money on in the '70s, then? The man had his own occult bookstore for Christ's sake. He was the world's premier collector of useless crap related to Aleister Crowley, and he even bought the Great Beast's Boleskin Manor house on the shores of Loch Ness; you can watch Page prancing around the grounds of Boleskine in The Song Remains the Same (although I don't recommend it).
You'd think he'd get a crystal ball or two out of the deal, wouldn't you? Apparently not. Sounds like a rip off.
Anyway, a good fried of mine -- a guitar-player, as a matter of fact -- was motoring around the less populated Mexican coast a couple of years ago on a scooter, and bumped into Jimmy Page sitting on a remote beach in the Yucatan peninsula. They hung out together, shot the breeze and drank a couple of Coronas. My friend had to pay for the beers. Must have had something to do with licensing issues.
But to wrap all this up: here's the story of "Stairway to Gilligan's Island" as related on their website by the novelty band Little Roger and the Goosebumps. What I like about it is that it's actually played rather well, considering its provenance as a cheap and stupid knock-off of one of rock's all-time great masterpieces (according to some folk).
I'm posting "Stairway to Gilligan's Island" as a form of protest, however. As far as I'm concerned, Little Roger and the Goosebumps have as much of a claim on the Zep legacy as any three guys who might have been in the actual Led Zeppelin, but who chose recently to piss on the grave of their dead drummer. The hell with that.
"Come 1978 and Little Roger and The Goosebumps recorded their claim to fame -- a controversial tribute single, their third, which featured 'Stairway to Heaven' joined in most unholy wedlock with the lyrics to the Gilligan's Island television show. (The first rock mash-up!) Band gets national radio hit, Led Zeppelin sues, record disappears, Trivial Pursuit card honours event. Last year on NPR, Robert Plant called it his 'all-time favourite Led Zep cover version.' Thanks for nothing, Bob."
Related Tyee stories:
comments powered by

Disqus