Super, Horrific BC
Death by Taser, Pickton's evil and severed feet. That's our brand now.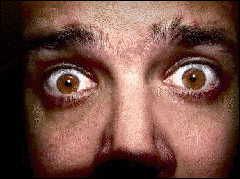 The "faux paw" has been one of the top stories in world headlines this week. International media consumed local reports that a sixth disembodied foot had washed up on B.C.'s shores. Even the bizarre revelation that it was an animal paw didn't dampen the media or public interest. And around Vancouver, gossip about celebrities, real estate and the U.S. election have been temporarily shoved to the back of the line at the water cooler.
Ask any Vancouverite what we're known for internationally and he or she will probably tell you it's our status as the world's most livable city, the fact that we're hosting the Olympics, or maybe that the X-Files was shot here eons ago. But though the dozen or so well-read friends I asked in the U.S., U.K., Europe and Australia said Vancouver was pretty and green (and a bit of a backwater when it comes to business), neither they nor international media knew much else. CNN for example, only ran one short piece about the livable city rankings, four years ago, which included all the other winners too. And only one person I asked could list a 2010 or 2012 Olympic host city. "Toronto?" asked one U.K. friend.
CNN's horror show
Instead, CNN, strangely a good barometer of international media interest in Vancouver, has only focused its most intense spotlight on three B.C. stories in as many years: the disembodied feet, the Pickton trial and, the Tasering tragedy, of which the disembodied feet saga has so far got at least as much attention as Pickton.
"Mystery deepens as fifth human foot lands," wrote the Melbourne Herald Sun last week. "Whodunnit: community baffled by severed feet washed up on shore" ran the headline for one long story in the Guardian, followed by "The strange case of the severed feet" for another. The Manchester Guardian poked fun with its headline, "Six Feet Under." And even David Letterman questioned two Canadian audience members about the mystery.
It's not just internationally that the story got legs (sorry). "The mystery of the feet," was front-page news in the Vancouver Sun, and the Province proclaimed, "Sixth foot raises hopes" before the hoax was discovered. One 31-year-old friend, a new mother short on reading time, told me it was the only story she followed last week. Another, a 40-year-old, said her aunt actually phoned her, and breathlessly asked if she knew about the story. She rolled her eyes, then went straight to her computer to read about it.
Exploring Savage Road
Perhaps this means Vancouverites have the image equivalent of body dysmorphia (having the wrong idea about what we actually look like to others). But that would mean global media is in fact an accurate mirror reflecting who we are. Let's pause and reflect upon which topics are media magnets and why. Horror, crime and mystery, are key elements. And they create a perfect storm of tension when the setting is otherwise tranquil and idyllic:
"Even on a bright, breezy summer's day, there is something uninviting about Savage Road," writes Dan Glaister in the Guardian. "Its single lane track runs straight as an arrow before stopping at the water's edge on Westham Island, 15 miles from downtown Vancouver.
"At one end, a farm shop offers honey, fresh eggs and, incongruously, prawns. Nearby is a rod and gun club. Beyond the flattened delta landscape, mountains shimmer on the horizon.
"At the far end of Savage Road stands a boatyard. Hulking pieces of rusted machinery lie close to a concrete ramp leading to the water. It was here on Monday that the couple that owns the yard found something not entirely unexpected in the water: a severed human foot."
Cue shivers and music.
"When you look at the history of crime reporting, horror is a significant piece of it," says Mary Lynn Young, a professor of journalism at UBC. Young points to Karen Haltunnen's well-known book on the subject, Murder Most Foul: The Killer and the American Gothic Imagination, published by Harvard University Press in 1999, which looks at the public's fascination with horror stories.
A few centuries ago, crime stories focused on spiritual redemption: whether or not the sinner repented before being sent to the gallows, explains Young. But then crime stories inspired the gothic literary machine, and elaborate narratives, full of mystery, suspense, rich detail and horror became popular. Then, with the rise of sociology and obsession with forensic and scientific details (the 18th century equivalent of CSI), people started to be interested in crime stories because of the specific scientific and psychological details of the case.
'Boys covering boys'
Several friends who read the Guardian story on the mystery feet said they had specifically been drawn to the macabre, the gore, the grisly detail.
But Young, who focused on the Pickton trial in her PhD thesis, says media overestimates the degree to which people are interested in crime, and "misreads the public's appetite for these stories." She says the norm of making 20 to 25 per cent of news sections' content crime -- and violence-related in the U.S, Canada and Europe (with more in TV than print) -- is partly due to a gender component: police reporting tends to be "boys covering boys."
People like stories full of tension, but covering, say, day-care issues, if done with suspense and narrative would generate the same interest as stories full of "crime, violence, mystery and horror," asserts Young.
While narrative, suspenseful day-care stories do appeal more to me, I tried that on a few (male) friends who disagreed. One 42 year old who works in film, said he likes stories that focus on the bizarre, the absurd and even the horrific -- because it makes him feel more normal and sane in comparison. He also likes a lot of tension and suspense because the bigger the terror, the bigger the satisfaction of the resolution (it was Colonel Mustard in the library with the candlestick).
Gallows humour
The established scientific views about why people love horror movies and novels echo his. But last year, two scientists released a study showing that people actually experience both negative and positive emotions simultaneously. Much like in extreme sports, people may actually enjoy being scared, not just feel relief when the threat is removed.
It may be why comment rooms lit up with puns (after the discovery that the discovery was a hoax), despite the obvious violence and pain of this story -- and despite scoldings for deep insensitivity by other commenters: "I think the police got off on the wrong foot; their case didn't have a leg to stand on; the irresponsible heel should step up and take his kicks; they'd better hop to and get this sorted out; it should be a shoe-in, assuming they've done their legwork properly; it's obvious it was the work of their Arch Enemies."
Groans aside, how would you resolve the mystery of how Vancouver has become horror capital in the global media imagination?
Perhaps the reason is our pristine nature. The tales of the severed feet, Tasered passenger, the pig farming serial killer, gain their mass appeal locally and internationally because they so contradict the pleasant way of life we enjoy here.
Or not. "It seems like a beautiful city but it has an ugly heart," said one friend. "It has mountains and shiny sky scrapers, but doesn't take care of its own people. It's about looking good not being good."
The suspense builds.
Related Tyee stories:
comments powered by

Disqus