Six Feet Under-grads
Studying up on how to embalm a Hells Angel.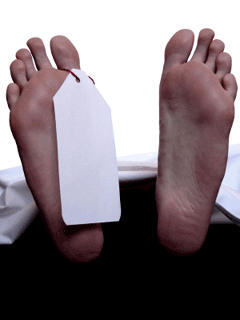 There's just a small incision to be made above the collarbone on the right side of the body before inserting a tube. From there, it usually takes three hours to replace the bodily liquids with embalming fluid -- depending on the person's size, age and how he or she died.
It's not something the average person ponders, but for students in the funeral services education program at Humber College, embalming is a big part of the workload.
On this particular day, Ryerson University business management grad Emerson Jaime, 26, is picking up a body from Pearson airport and driving it back to the funeral home where he works. With his manager riding beside him in the van, they stop at the loading docks where transfers are processed. They pay the customs fees and check the documents again to make sure that there are no diseases or other special conditions they should know about.
The body arrives already embalmed and sealed in the coffin. They encase it in a white cardboard box a little less than three feet wide by eight feet deep with the words "Handle with extreme care" written in dark green on the side. Next, they strap the box onto an air tray -- similar to a stretcher -- so they can easily transport it back to the funeral home, where the family is coming for a visitation later in the evening.
All of this is nothing out of the ordinary, Jaime shrugs, it's his job. But for most young adults, the concept of funeral homes is foreign. Jaime is part of a growing group of young people who are getting involved in the funeral industry.
Steady job
More and more students are applying to the two-year funeral service education program. This year, 350 applicants are vying for 130 spots, up from 300 last year. Program coordinator Jeff Caldwell points out that the number of applicants goes up if the economy is bad because people see the industry as a "recession-proof" business. Anecdotal evidence suggests that that television shows like the popular Six Feet Under series may have had a hand in raising the profile of the profession as well. At any rate, two years ago there were only 160 applicants, while a decade ago, 1,000 people applied.
Humber is the only English-speaking school in Ontario where students study all the aspects of funeral direction, such as how to cosmetically restore sick and injured bodies, diagnose diseases, manage a business and comprehend human anatomy.
But before applying to the program, students have to spend 40 hours volunteering at a funeral home.
Paul Newbigging, who taught the funeral services program for 14 years and is the owner of the Murray-Newbigging Funeral Home in Toronto, explains candidates are required to volunteer so they don't have a skewed vision of funeral homes when they come into the program.
He also says that there are two reasons why people choose to enter the profession: either they grew up in the industry (which was his experience, having grown up in the funeral home his father purchased in the '50s) or they had a positive experience with a funeral director and want to give back to the community in the same way.
Career prep
After graduating from Ryerson last December, Jaime started his 40 volunteer hours immediately to qualify for the program. Within his first week working at the McDougal and Brown Funeral Home, he asked if he could help prepare a body for embalming. He was shown all the steps in the next five hours -- from sanitizing the deceased to deciding how to embalm the body.
"During my time at Ryerson, that's when it popped into my mind to get into the funeral industry. It wasn't because of a death in the family. It was something that part of me thought was an industry that'll always be there, and knowing that you could help people in the process along with having job security and a secure future," says Jaime, who was hired as a funeral director's assistant at the same home where he did his 40 hours as a volunteer.
"I wanted to help people, knowing that there's a large, older population coming along now and they're going to need our help. There are a lot of young people who don't know what needs to be done in a funeral. At least I can learn about the aspects of preparing a funeral help others since it's something everyone will face."
First brush
Jaime's first experience with death was in the first grade when one of his classmates was run over by a car during a class outing. No one knew what to do amidst the confusion, anger and sadness. Now, whenever he has to prepare a funeral for a child, he tries not to get too close.
"You start thinking of what the parents, the brothers and sisters, and the schoolmates are thinking, about how this child inspired and affected so many people in his short lifetime," says Jaime. "It drives home that death doesn't discriminate by age, gender or race. When it comes, it comes, but you have to remember that you can't let it affect you or it will change the way you work."
Personal/professional
There is an unwritten code among funeral directors not to bring up work at home or to get too attached to the families, though Jaime has made two exceptions.
At one funeral, no one showed up. "He didn't have a family," recalls Jaime of the man about to be interred. "This person was someone's son, someone's uncle or someone's friend, but no one was alive or there for him at the end." Another time, the deceased had only one living relative, his wife.
"She was left alone, so I went to her house and kept her company for a day to show that it's not just about the business," says Jaime. "She was really grateful that someone took time out to have a cup of tea with her and reminisce about her husband."
Those moments cheer Jaime up, but after learning at Humber about how different cultures deal with death, he realizes that death isn't the be all and end all.
"Not every religion sees death as depressing. Some see it as a celebration of life because they're going to a better place, so I never thought about it one way or the other. I don't know about it [death], so I won't form an opinion about it unless I'm there."
However, Jaime does know what his final year at Humber will be like. He's looking forward to having more responsibilities at his internship and helping out with the actual arrangements of the funerals. It's a good learning experience, he says, and it'll get him closer to becoming a funeral director himself.
Grave news, mom
Adam Marshall is in his last year of the same program and looking forward to starting his job in April. When he signed up for a co-op placement in high school, he initially planned on working in the forestry or fishery industry. But when he was unable to find a workplace close to his home, he chose the next occupation on the list -- funeral director.
"I didn't really realize how much funeral directors do, how much they help out the families and how much compassion they have for them," says Marshall, 24, whose co-op placed him in a trade company that helped different funeral homes transport the deceased.
"I thought that they would be very sombre and the whole place would be depressing but at the end of the day, funeral directors are people too."
Marshall's parents laughed in disbelief when he told them about his placement because he never mentioned wanting to be a funeral director.
But once they realized how serious he was and how much he enjoyed working at the co-op, they were rooting for him.
Requiem for a biker
Marshall enrolled in the program, learning embalming theory and human psychology in the first year. Now he's spending his last year working as a funeral director's assistant at a funeral home in North York.
"When I entered the prep room for the first time, the person in there was someone I knew," says Marshall.
"Fortunately, the guy was from a long time ago and I didn't recognize him that much."
While he does have other memorable experiences, like organizing a funeral for a member of the Hells Angels -- he says that they're all nice guys but the 50 bikes were very noisy -- there weren't any unpleasant surprises.
"The funeral directors that you work with are there to help. The last thing they want is for someone to be caught off-guard and do something wrong, so they're very accommodating," says Marshall. "They're like mentors -- though at one of the first homes that I worked at, the director joked that the best thing for me to do is to pick a different career."
Like Jaime, Marshall tries to remember that he didn't know the deceased and that his job is to be there for the family rather than the funeral. "Regular day? I'm looking forward to one of those," he laughs.
Old calling, new trends
The surge of interest from a younger generation isn't revolutionizing the way the industry operates, he points out. Instead, technology and societal values are steering how the industry is being run.
"We believe in personalizing funerals now, it's really big in the industry. One funeral had big plastic cows and hay bales because he was a farmer. Another time I've had the guy's La-Z-Boy chair set beside him, it gives a homely atmosphere," says Marshall.
Newbigging also points out that a lot of homes, including his, offer DVDs of services for people who couldn't make it to the funeral. A handful of homes can even get a live telecast of the procession for families in another country.
Good time, not a long time
Before Marshall graduates and gets his funeral director's licence, he needs to pass a three-part exam at the end of the year, which includes embalming a body under the supervision of a medical examiner. He can still become a funeral director without embalming, but most students choose to do it all.
Because of his classes and the bodies he sees, Marshall is more aware of the effects of certain diseases. But he doesn't worry about his own mortality.
"When it comes to accepting death, I'm ready. You'd think that directors would smarten up and not smoke or drink or drive their cars fast," he says.
"It's unavoidable, I wish I could say that it changed my life for the better but I still drink and stay up late. You don't have much of a choice, you try to live life to the fullest. It's not easy but if I went today, I'd have a smile on my face."
As for Jaime, he plans to have a huge blowout when he dies.
"I'd like a grand spectacle since I should go out with a bang. I'd like to have friends and family there, and anyone who felt comfortable around me," says Jaime. "They should all be there and support each other 'cause I won't be there to give them a laugh."
comments powered by

Disqus