The Return of 'Prog Rock'
BC bands like Bend Sinister revive era when songs were ten minutes long. Remember Yes?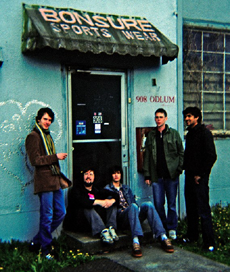 Like an aging rocker who won't retire for good, progressive rock is on a comeback.
Prog rock, with its lofty ambitions to link classical music and rock and roll, was trumped by punk decades ago, but it's now resurging from Britain to British Columbia.
As the UK's Guardian newspaper reports: "For the past couple of decades, few people have been able to speak the words 'prog rock' without collapsing in tears of helpless mirth. Suddenly, however, there's a change in the wind."
Call it a backlash to a backlash.
"In the late sixties and early seventies music got very stretched out, very involved. Art rock was really heavily laden with really intricate movements and songs were ten minutes long," says Dale Davies, a regular DJ at the Morrissey Club in Vancouver.
"Then as a backlash was punk rock. So by the mid seventies you had bands starting to make music in their garages again instead of labouring over songs for months in a studio," says Davies, an aficionado of indie rock in all its permutations. "It killed that art rock movement for a number of years."
But like a bad psychedelic 1970s album cover, prog is rising from its crypt. The band Yes, massively popular in prog rock's heyday, recently composed the soundtrack for the video game Homeworld. Seventies prog-rockers Van Der Graaf Generator released their double disc Present last month.
Beyond 'musical wankery'
BC bands under the influence of prog rock include the Beans, Secret Three, and to some extent They Shoot Horses, Don't They?
Another is the Kelowna-formed, Vancouver-based symphonic prog group Bend Sinister, whose influences also stray as far as metal and folk. Bend Sinister, named after Nabokov's 1947 dark allegorical novel, launches a cross-province tour tonight in Victoria.
The quintet includes frontman Daniel Moxon, lead guitarist Naben Ruthnum, vocalist and guitarist Jon Bunyan, bassist Dave Buck and drummer Kevin Keegan. The band's oldest member, Bunyan, is 23, which means prog's big moment came and went before Bend Sinister was born.
And yet, its influences are noticeable in Bend's type of rock. Ruthnum has some epic guitar solos, while Bunyan and Moxon's use of an electronic keyboard hearkens back to a time when that technology was cutting edge.
"It's just really passionate rock and roll. Really passionate and somewhat aggressive," says Ruthnum. "We just love making this music so much it seems ridiculous to confine it to our basements."
Critics often accuse prog and its offshoots of being pretentious and indulgent, which Ruthnum says does not apply to the way Bend approaches its music.
"It's not about musical wankery," he says. "It's about writing a good song." No matter how good a song is, tempo changes and melody shifts can be off-putting to some listeners.
"It's not music for everybody, but that's okay with me," says Ruthnum.
Thriving in cyberspace
If it hadn't been for cyberspace, prog rock may have continued its peaceful slumber. But established prog rock bands such as Britain's Marillion have used the internet as a viral marketing tool to promote their albums. The net also enables new bands to promote music that wouldn't necessarily get radio rotation. Bend Sinister's Moxon considers purevolume and myspace valuable resources. To promote their upcoming tour, Moxon sent Bend's songs to listeners on those sites who have expressed an interest in similar bands.
"I'm all for getting as many people in the world as possible to listen to our music," says Moxon.
Bend Sinister is gearing up for a tour across the country to promote their sophomore release Through the Broken City. In the coming weeks they will play Nanaimo, Kamloops, Kelowna and Vancouver, and, of course, Victoria. They've been approached to do a tour in the U.S. and the boys in the band have their eyes fixed on Europe.
Bend Sinister's second album differs from their first, The Warped Pane, in one significant way: it has vocals, something the lead singer didn't want to attempt on the first disc.
"I was too shy – I didn't want to sing," says Moxon. "It took ages before I was comfortable singing in front of people."
Their recent CD release party was the only time Bend will play their album in order from start to finish without stopping. Because of the way they write their songs, Moxon and Bunyan alternate between guitar and keyboard, which makes performing certain songs back to back an onstage scramble.
Squeaky clean albums
"When a lot of the songs were written or the ideas were brought to the table, half the time I was on the guitar or on the piano, so if I was on the piano then Jon would hop on the guitar and if I was on guitar, vice versa," says Moxon.
If it seems like a haphazard method of composing, it's because Bend focuses on songwriting first and performing second. Band members say they make a concerted effort to polish these two sides of the Bend Sinister coin – their squeaky clean albums and their raucous stage show.
"With a CD you have a controlled environment and all the time in the world to make it what you want. But live, there's more of a will to project the music and just basically play it for these people and put motion into it," says Moxon. Playing prog rock live is a lot more challenging that punk rock's famous two chords with attitude.
And the prog rock purists play a brand of music even more challenging than that of Bend Sinister.
"Most of those dudes could outplay us with their toes," says Ruthnum. But that doesn't stop them from going all out when performing.
"On stage it usually feels pretty glorious. It's a moment of total abandon that you don't get in everyday life."
At the sausage sound factory
Recording an album is the opposite experience.
Bend's producer, Shawn Cole, compares making a studio record to making sausages: it's a terrible process that nobody wants to see, but the end result is often quite delicious.
The tedious luxury of repetition isn't something afforded to live performances.
"There's no room for the niceties of a 30-layer vocal part so you have to compensate for that somehow," Ruthnum says. "The benefit is that those songs never do get boring to play live because you have to be 'on it'. We really do like to perform."
They're not alone.
"There's a whole string of bands here that are all involved with each other and know each other and do shows with each other because they share similar ideas and similar ways of approaching music," says Davies.
"It's more craft-related, more community-related, more introspective, more meticulous and more involved than the rest of the punk rock or indie rock bands in the city."
This revitalization comes after a slight lull in local independent music, so slight it was probably only noticed by those who are deeply immersed in the scene.
"A couple years ago you had a couple bands that were playing a lot of shows and were getting a lot of attention locally. There wasn't really anything new happening and those bands were playing all the time. People got a little tired of them and it died out a little bit," says Davies.
"But it's back up again. There's a resurgence of a whole bunch of new bands."
Kelsey Dundon is on staff at The Tyee.
comments powered by

Disqus