The Good Family's Country Traditional
The Sadies round up the rest of the clan for a family portrait.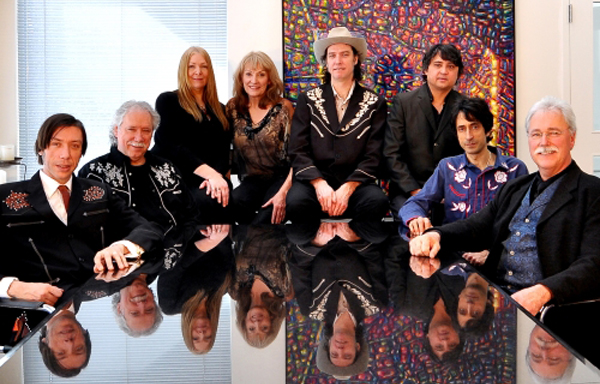 Forget that Shania ever existed, and there's much to admire about Canadian country music. It's never been a big enough deal north of the 49 to support a grotesque star system like the one stretching between Nashville and LA. Instead, Canada produces smart new modernists like Corb Lund, Dan Romano and The Sadies, or sincere practitioners of pop-trad music like The Good Brothers, who've been around since the '60s.
Not including Lund, all of the above converge on The Good Family Album, which comes out on April 30. The Good Brothers begat The Sadies, of course; Dallas and Travis are the sons of Bruce, and nephew of Larry. They're joined on The Good Family Album by mom, Margaret, and cousin D'Arcy, who fiddles up a storm across the 10 tracks here (with an especially ferocious spotlight in the instrumental "Instantmental Breakdown").
D'Arcy also takes on vocal duties for a couple songs. She sounds a little too uncertain inside the dark psychedelic ambience of the Dallas penned "Leaf in a Storm," but "Coal Black Road" is another story, with D'Arcy soaring over the clamorous drumming of Mike Belitsky -- on loan along with bassist Sean Dean from The Sadies -- while everybody else gears themselves into rave-up mode.
Actually, the Belitsky-Dean rhythm section is something of a separate national treasure. They're punk enough for the club habitat The Sadies call home, but they can also tighten up for something as politely lovely as Bruce's "Restless River," a crisp shuffle like "Taller than the Pines." or Margaret's Kitty Wells-ish "Paradise" (which happens to be co-written with Blue Rodeo's Greg Keelor).
Speaking of co-writes, emerging star Dan Romano -- a perfect cross between Hank Snow and Gram Parsons if ever there was one -- collaborated on "Life Passes (And Old Fires Die)" with Dallas, who brings his deep range to maybe the kitschiest thing on the record. Which is not a slam, by the way. One of the great things about The Sadies is that they'll pour buckets of sweat into their hokiest material because they have so much respect for the past. We can probably put that down to Good parenting.
comments powered by

Disqus