Your January TV Workout
Vlog, don't jog! Plus, more highly watchable series on screens this season.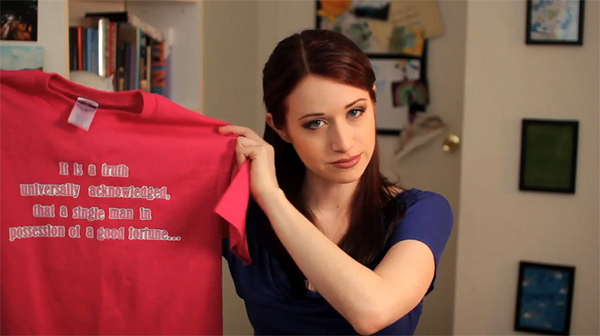 While much of the world believes that January is the month of closet organizing and gym profitability, I've long viewed the short dark days as a chance to catch up on screen amusements.
Trust me: if you haven't organized your closets by the time you're 30, you never will. Ditto your abs. What you really need is something to distract yourself from all those unsightly views.
First fire up YouTube.com on your computer, tablet, or phone and catch the break-out web series of 2012, The Lizzie Bennet Diaries. The professional production reinterprets the plot of Jane Austen's Pride and Prejudice and gives us the story of Lizzie as a SoCal grad student coping with her annoying family via a video-diary-cum-thesis project.
They began last April and are about halfway through the tale with more than 75 three-minute episodes posted. While the first few are rocky, by the time you're about 15 minutes along you'll be hooked and faintly disappointed to learn that there's only about five hours of vlogging.
Although the Jane Austen Society might find a few things to quibble with in the scripts, they do catch the spirit of Austen's astute social satire. Casting Mr. Collins as an entrepreneur who's big with the babblespeak shows real insight into the brown-nosing clergyman of the book. Boy-crazy Lydia is a fashion hauler (I'm sure Ms. Austen would approve of that too). She's played with over-the-top enthusiasm by Mary Kate Wiles as a heavy-drinking party girl and writers cleverly echo the Lydia of the novel every time she muscles her way onto camera and announces she's bringing' the adorns!
Other inspired reinventions include Catherine de Bourgh as a know-it-all venture capitalist (as opposed to a know-it-all aristocrat) and charming bad boy George Wickham as a college swim coach. He removes his shirt and shows off his abs, leaving us in no doubt of how he seduces the ladies. Darcy, meanwhile, is some sort of self-satisfied hipster -- is there any other kind? -- running a new media company, PemberleyDigital.com. They fill out the novel's many subplots by having the characters deliver the story via Twitter, Tumblr, and Pinterest.
The show is nicely written and -- even better -- sharply edited. There is none of the rambling or embarrassing attempts at cuteness that infect so much online broadcasting. And fledgling actress Ashley Clements, who plays the opinionated and often clueless Lizzie, can take much of the credit for the devoted and fast-growing audience of 120,000 YouTube subscribers.
She's remarkably engaging and that's no mean feat on a webcam. Effective vlogging delivers an illusion of raw, unstudied authenticity all the while being well polished and few people are comfortable enough with the camera to be anything but annoying on it. But as the series develops, Clements seems to have taken a few tips from Internet It Girl Felicia Day, who has mastered the current fashion for "adorkable" heroines.
Speaking of Day, her self-produced star vehicle The Guild, a comic web series about eccentric online gamers becoming real life friends, just finished its sixth season. It also uses the vlog format, although with success came bigger budgets and field trips for the cast of delightful oddballs. Think of it as Cheers with a gaming platform instead of a bar.
It's also on YouTube along with Day's own channel, Geek & Sundry, which produces other web series and talk shows with a science fiction bent.
Bigger screen picks
If you prefer big budgets and biggish screens, this is the month to catch the AMC series Justified, which I often argue is the single best written show on television. And I have to argue about it, since so many Canadians have missed the show. This series makes it onto my list for the all-time top five dramas (which includes Mad Men, The Wire, Deadwood, and Buffy the Vampire Slayer). Season 4 just kicked off, which means the Season 3 DVD is now available giving you 36 glorious hours of smart storytelling. The first episode is free in iTunes.
I nearly gave the show a miss because I couldn't care less about the life of a U.S. marshal in Cracker Town, Kentucky -- or so I thought. With a dry wit as quick as his trigger finger, Elmore Leonard's Raylen Givens is a fascinating character who escaped his criminal upbringing but can't quite outrun himself. Showrunner Graham Yost, who hails from Etobicoke, does a remarkable job of making Harlan County -- the coal mining region of the Steve Earle song, Harlan Man -- more than a hillbilly cliché.
Timothy Olyphant, who was best known as Seth Bullock on Deadwood, plays Raylan with a disarming charm and it's quite a while before we realize that there may be a few facts missing from Raylan's twisted backstory. His frequent shooting reports give the series its name: the gunplay he insists, in the lingo of the marshal service, is always "justified." Sure it is. Just like every other crazy thing he does.
As each season unfolds, we understand a little better how Raylan and his childhood pal turned crime boss Boyd Crowther are just flipsides of the same coin. Walton Goggin's Boyd is so charismatic that half the time we're rooting for him, even if he is a drug peddling neo-Nazi who occasionally gets religion. Season 2 is particularly good featuring Emmy-winning character actress Margo Martindale as Harlan's answer to Ma Barker, running the family's dodgy business while outwitting the coal mining companies. Yeah, we're rooting for her too, even when she kills people (like the coal mining corporations don't?).
I can't think of higher praise for the show than to say that after spending a few hours in Harlan's hazy grey world you'll be debating exactly what is justified.
The other bang-up TV show that many Canadians are missing is the Brit mini-series The Hour, about a TV public affairs show in late '50s London. It features Ben Wishaw as a working class hero with ideals about what TV news reporting should be, The Wire's Dominic West as a morally-challenged TV presenter, and Romola Garai as his ethically-flexible producer in fabulously tailored 1950s suits. Yes, the costumes are much of the charm of this show. They just wrapped up Season 2, which is available on DVD or in iTunes.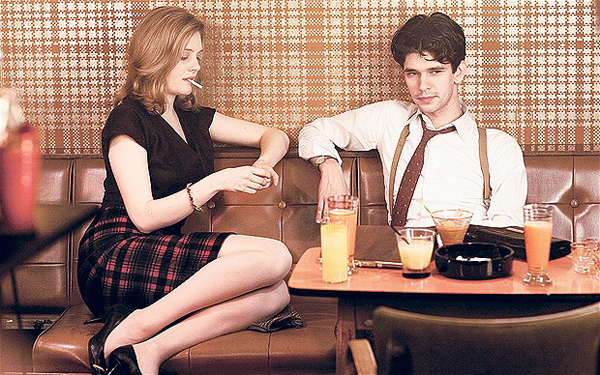 They're sticklers for period detail -- which is fascinating all by itself -- and the show offers a glimpse of the technical side of how live TV was produced, circa 1957. It's bloody frightening. No broadcast delay. No tape. No safety net. But television is only a backdrop. The six-episode seasons are sharply written and acted thrillers featuring characters that are much too flawed to be likeable. But they are irresistible. We may not like her selfish ways, but we can't help but cheer Garai's Bel when she complains that the married men she works with get to sleep around with impunity, why shouldn't she?
I can't guarantee this 60+ hours of video will make you feel more virtuous than buying a gym membership, but I bet it will be a lot easier to stick with through the dark days.
comments powered by

Disqus